"A person can learn a lot from a dog, even a loopy one like ours. Marley taught me about living each day with unbridled exuberance and joy, about seizing the moment and following your heart. He taught me to appreciate the simple things-a walk in the woods, a fresh snowfall, a nap in a shaft of winter sunlight. And as he grew old and achy, he taught me about optimism in the face of adversity. Mostly, he taught me about friendship and selflessness and, above all else, unwavering loyalty." -John Grogan, Marley & Me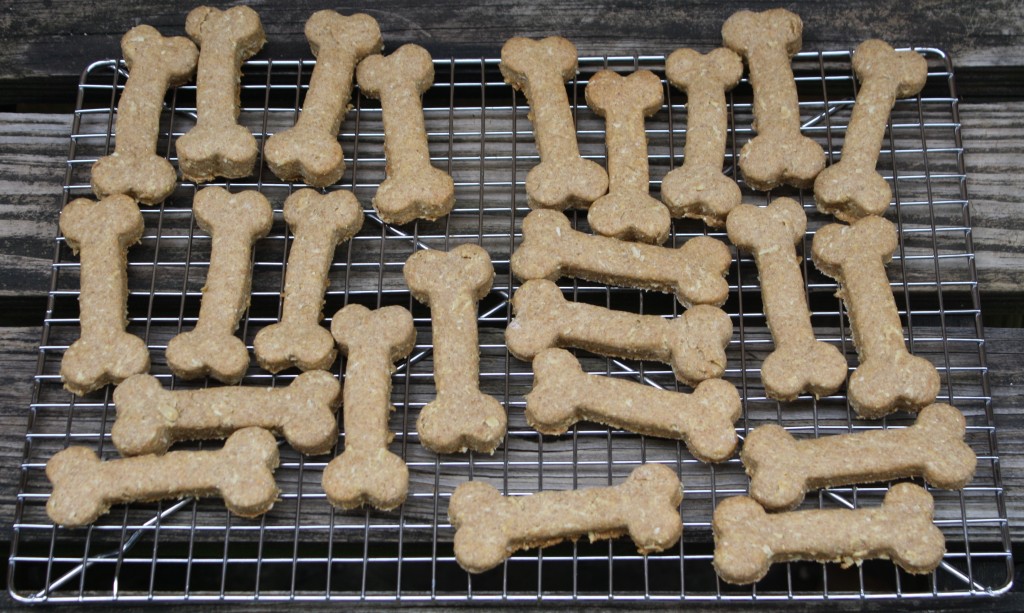 I'm always thankful that I have family members who are willing to try my new dishes, act excited when I propose the idea of a "Meatless Monday", and allow me to create the grocery list each week! I realized though, since beginning my cooking adventures I have yet to make something special for the one member of my family who is always by my side when I'm in my kitchen…my dog Marley! His full name is Jacob Marley (yes – from A Christmas Carol!) and he practically guards the one entryway to the kitchen and won't budge until he gets a taste of what I'm cooking.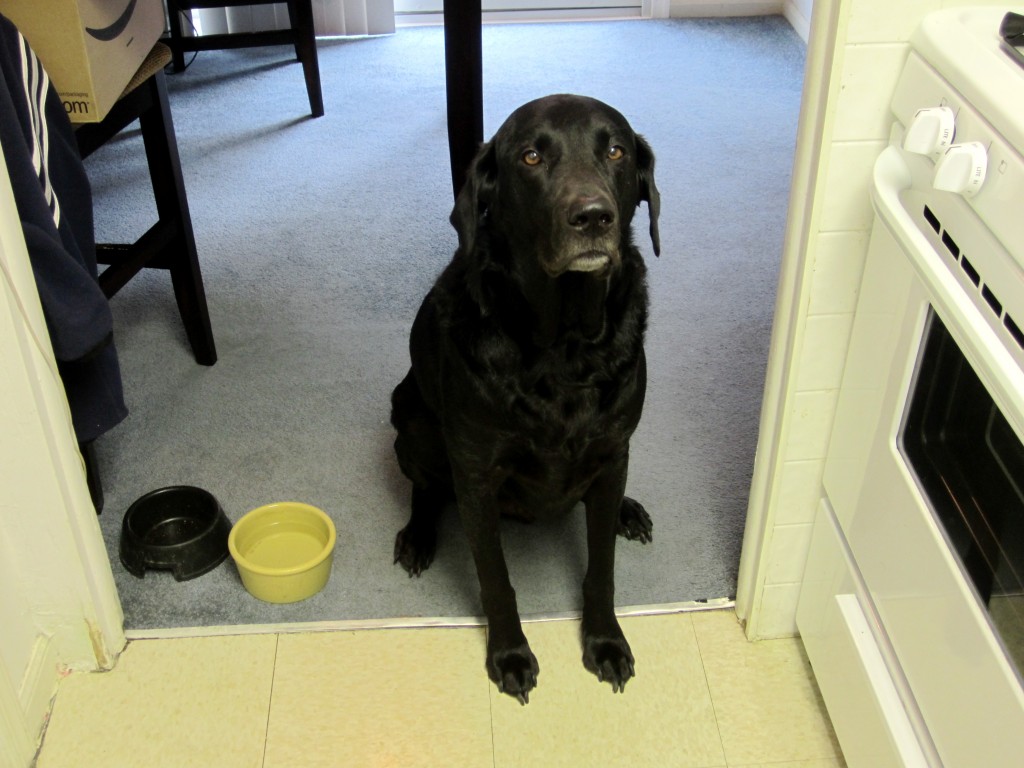 Up until now I've been buying his dog treats from a store, but after making them myself I don't think I'll go back to store bought! This type of DIY recipe is fun and definitely saves money. Plus, for me, the fun came in the form of the look on Marley's face when he realized I was baking treats for him! And then proceeded to bark at them while they sat outside cooling off…
Here's the basic lineup of ingredients: many of which I already had on hand. I only needed to run to the store for the beef bouillon & beef broth. Follow the recipe and you'll end up with a dough that is slightly sticky but easy to roll out.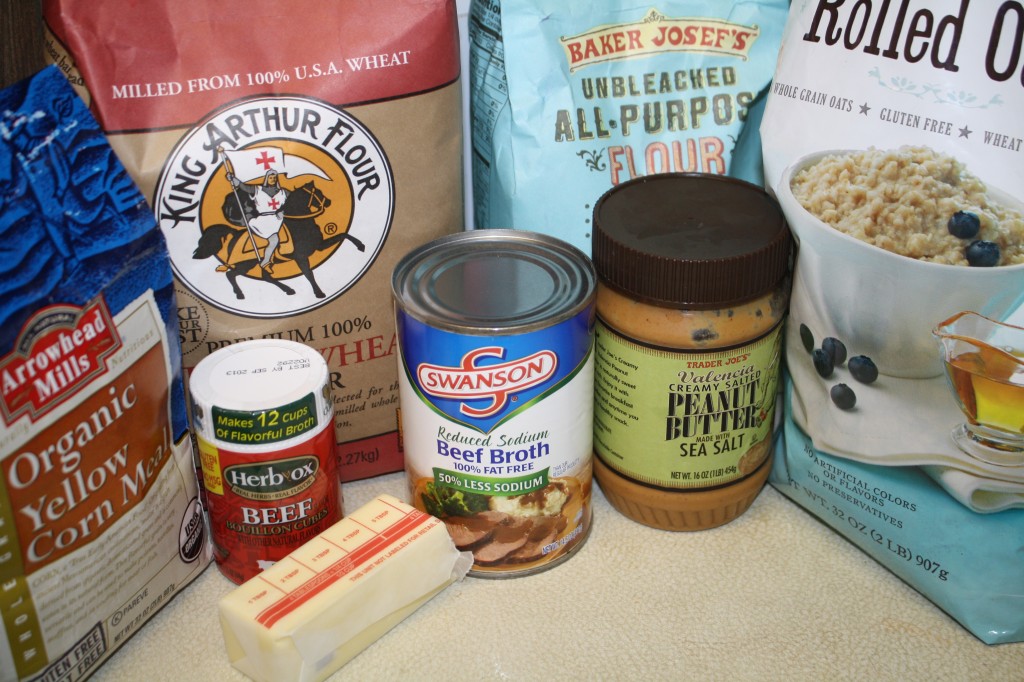 Roll out the dough to about 1/4″ thickness and begin using cookie cutters to cut out shapes.
 I found a large bone shape & a small bone shape for under $1 at a local kitchen store (score!) but I've also seen dog treat cookie cutters at A.C Moore & Michael's. Alternatively, you can use any shapes you want but I recommend using small shapes if baking treats for smaller dogs.
As for the end result?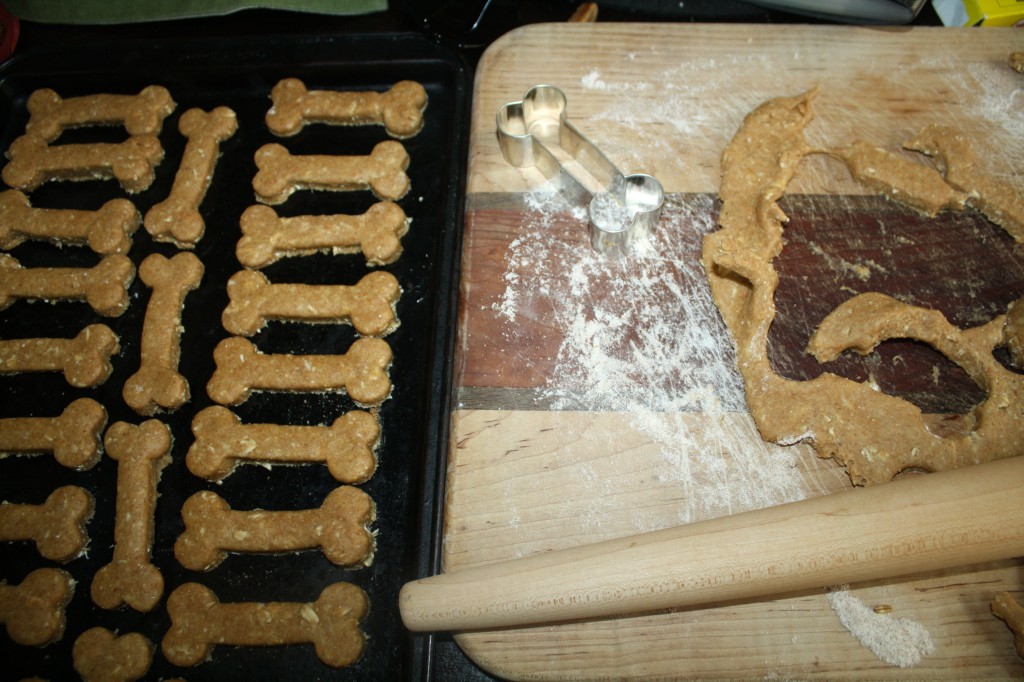 He came, he saw…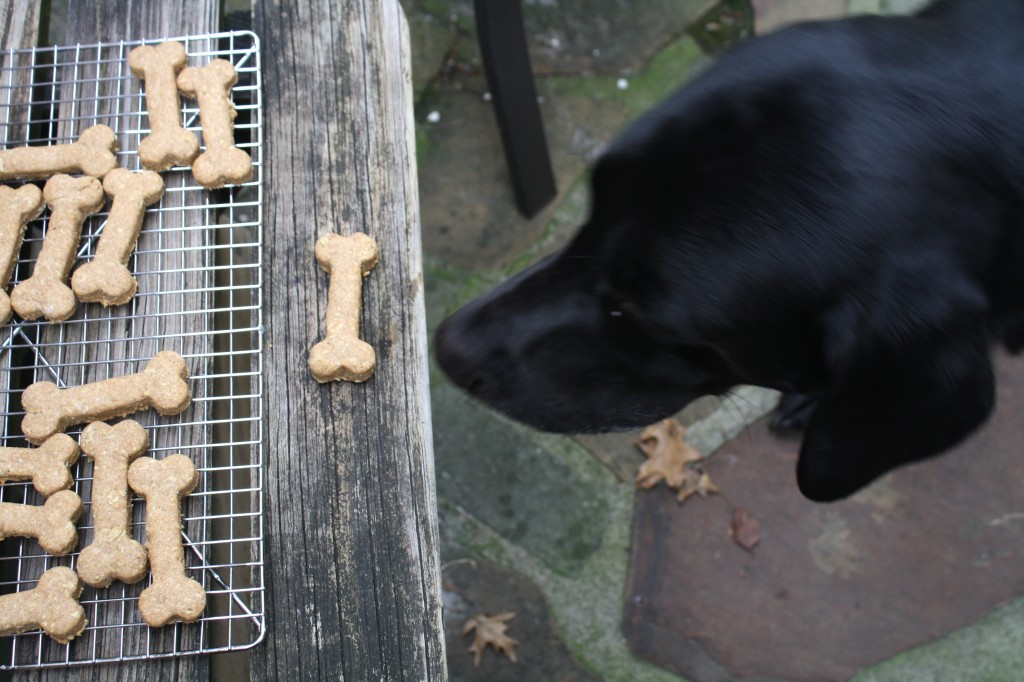 He conquered.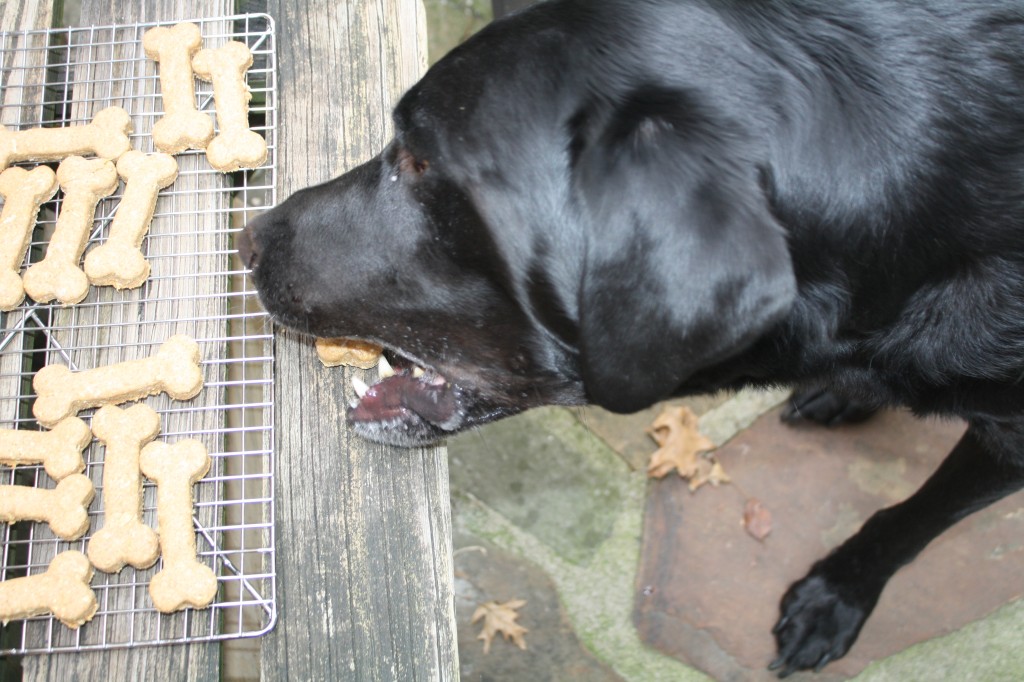 This recipe makes a lot of dog treats. I lost count but I think I made about 3 baking trays full.  The treats won't spread out so you can fit a lot on one sheet. I packaged up a bunch of treats to give to all the dogs in our family, as well as some for my co-workers dogs. Everyone said the dogs went crazy for them!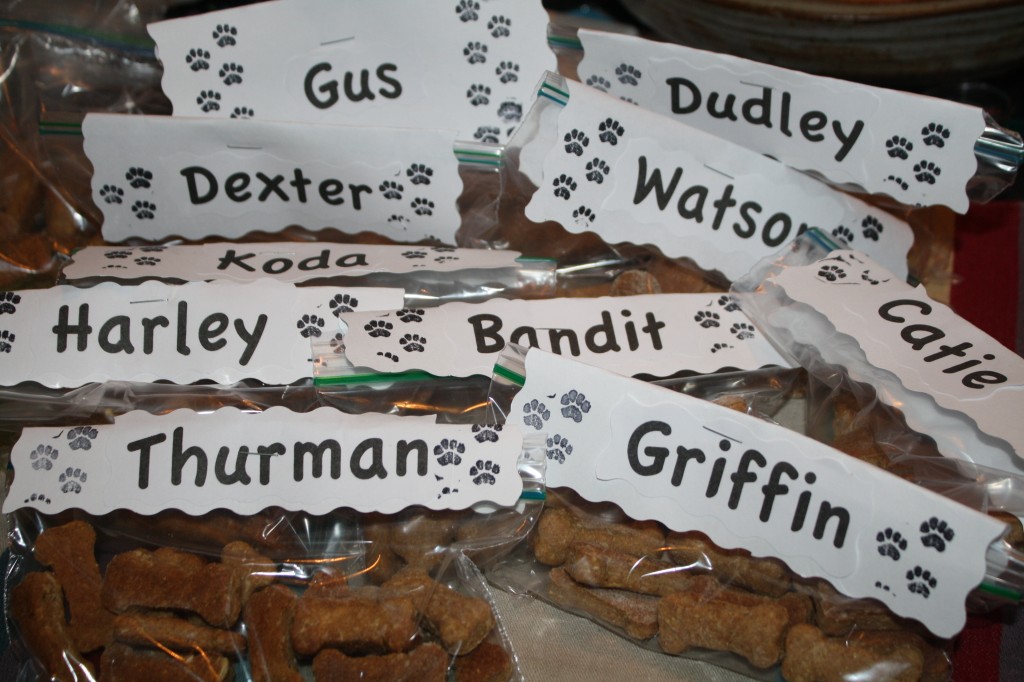 After eating a few Marley was definitely one happy dog!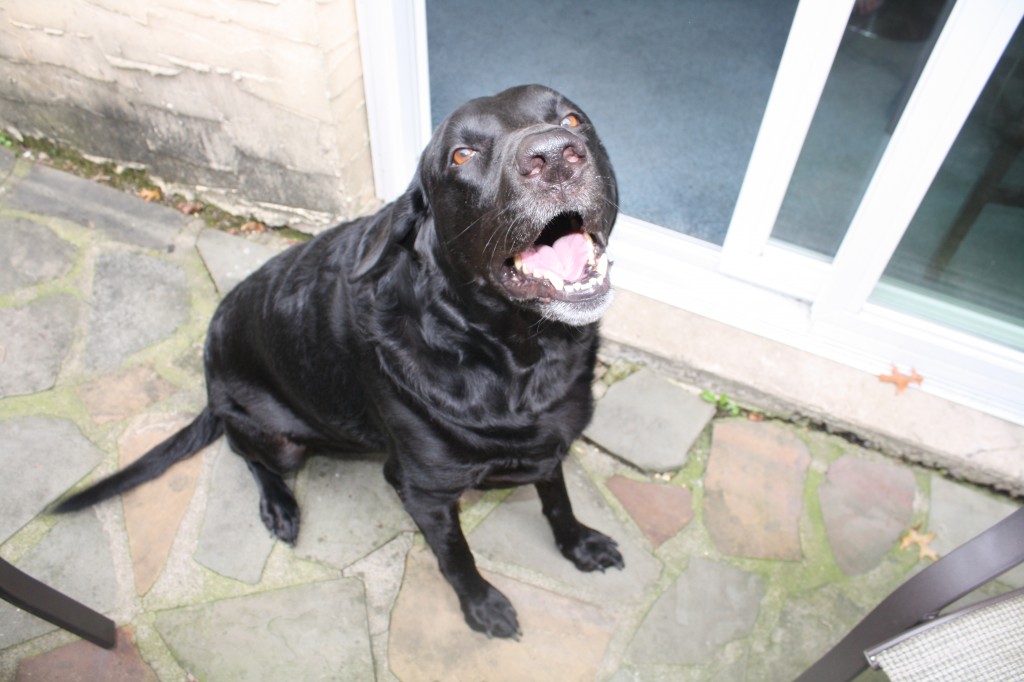 Beef Flavored Dog Treats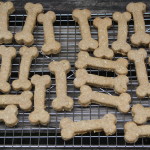 Adapted from, Come on, Ilene!
Instructions
Combine rolled oats, butter, and boiling beef broth in a large bowl. Let stand and soften for 10 minutes. Thoroughly stir in cornmeal, sugar, bouillon, milk, peanut butter, and egg. 

Mix in flour, one cup at a time, until dough comes together.
Knead dough together then roll out dough to 1/4" thickness on a lightly floured surface.
Cut out shapes with cookie cutter(s).
Place on a baking sheet. The treats won't spread apart so you can fit a lot on one sheet.
Bake 35 to 45 minutes at 325°, until golden brown.
Remove from oven and let cool.
**Note: if baking treats for older dogs you can use 2 eggs (this will make the treats softer).
Print