"To make a good salad is to be a brilliant diplomatist–the problem is entirely the same in both cases. To know exactly how much oil one must put with one's vinegar." – Oscar Wilde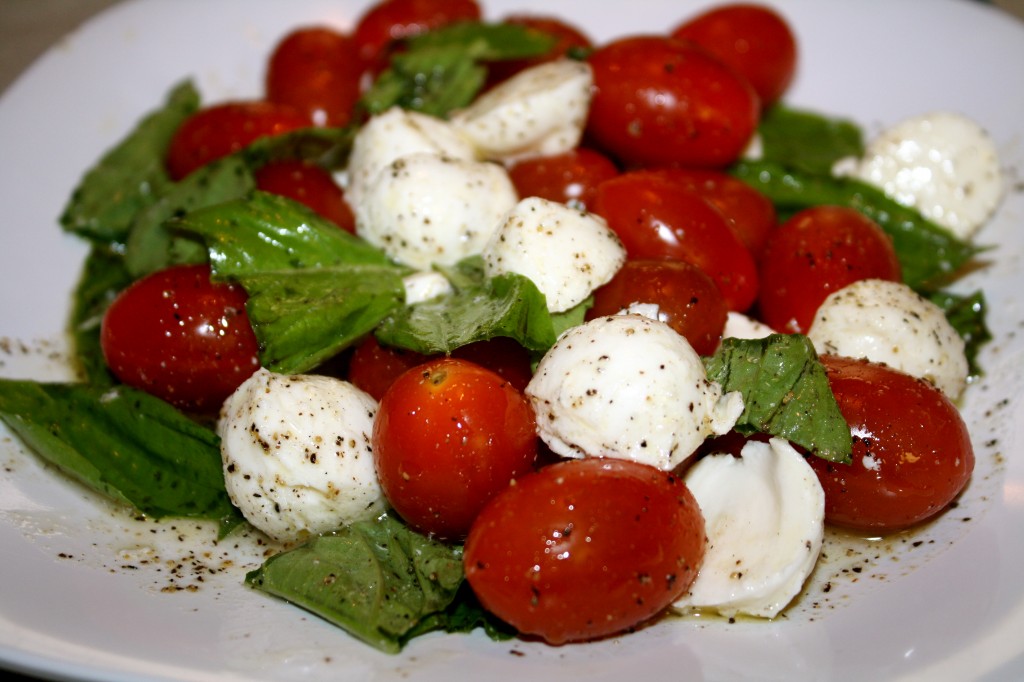 When I saw this recipe in Cooking Light Magazine I wanted to make it immediately! Cooking Light is always focused on using fresh ingredients to make simple but delicious dishes. This is a perfect side dish to serve with some fresh ravioli (which is exactly what we did tonight!) or you could double the recipe and serve it for a light lunch with some fresh bread. This recipe is healthy & flavorful – what's not to love? You can find the fresh mozzarella balls in many grocery stores, Trader Joe's sells them in a marinade as well but I chose to go with the unseasoned ones for this recipe. I've also seen them sold at Giant Food Stores. They're perfect to toss in salads!
Cherry Tomato Caprese Salad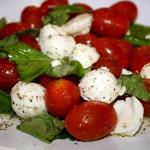 Adapted from, Cooking Light Magazine June 2012
Instructions
Combine 1 tablespoon white wine vinegar, 1 tablespoon extra-virgin olive oil, 1/4 teaspoon salt and 1/4 teaspoon pepper in a medium bowl, stirring well with a whisk.
Add 1 pint halved heirloom cherry tomatoes, 1/4 cup fresh basil leaves, and 1/4 cup halved miniature mozzarella balls. Toss to combine.
NUTRITION FACTS (from Cooking Light Magazine): Serves 4 (serving size about 1/2 cup) Per Serving: CALORIES: 84, FAT 6.8g (SAT 2.5g), SODIUM 132mg.
Print