"There is nothing more luxurious than eating while you read—unless it be reading while you eat. Amabel did both: they are not the same thing, as you will see if you think the matter over." -E. Nesbit, The Magic World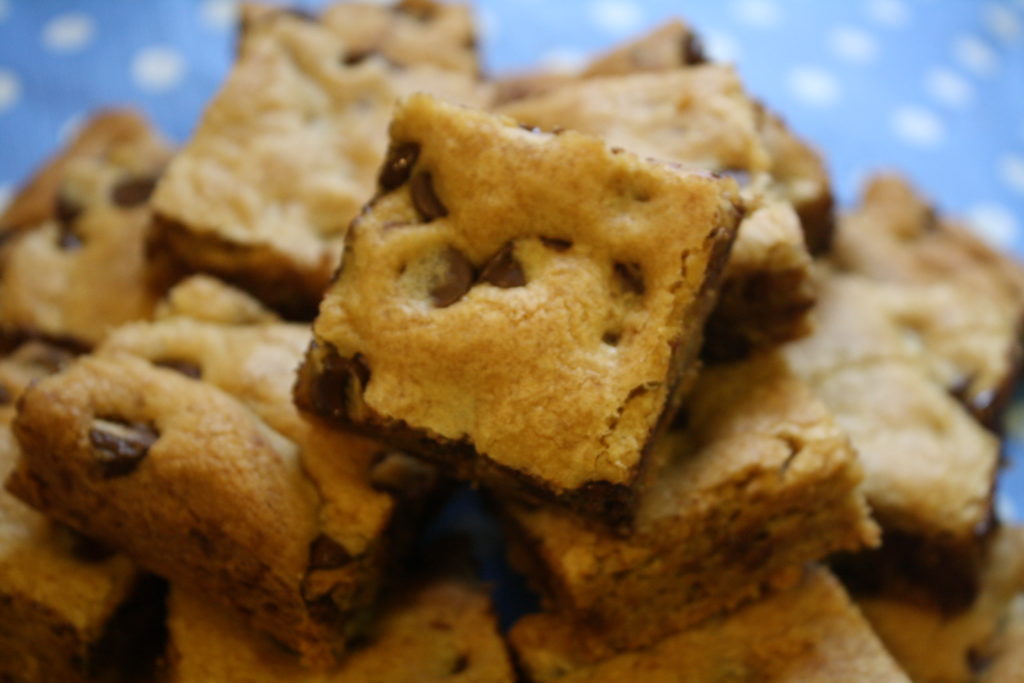 Currently, I have two passions: reading and baking. One of the greatest things I love about both my passions is how they inspire me to share with others. Whenever our family is together, I feel so grateful to be able to contribute to the celebration by baking a dessert for someone. It doesn't matter if we're celebrating a graduation, a birthday, or just the fact that it's the weekend. It's the same feeling I get when I share a book with someone and we spend time discussing it. It's about connecting with the people in my life, and it's something I am thankful for every single day.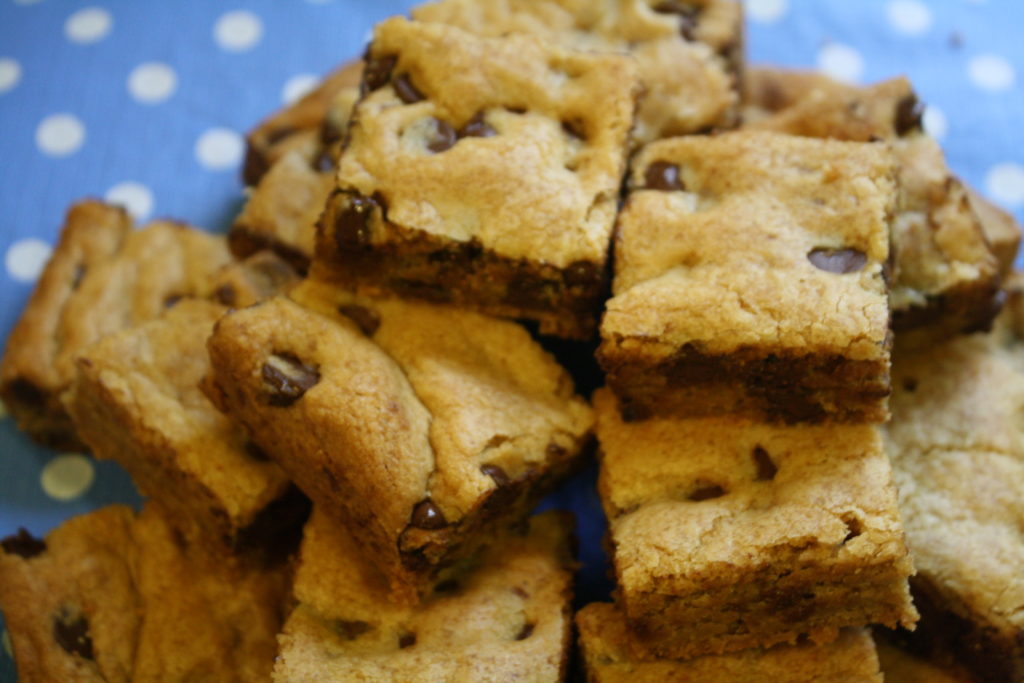 It is equally as gratifying how others have shared my passions with me. I still have the books my mom bought me as a kid, Shel Silvertein's Where The Sidewalk Ends and Good Dog Carl. A message from her on the inside front cover, always with encouraging words. I also have the books I read in high school, given to me by a teacher who was more like a best friend, and still is. Now I find myself surrounded by books in an apartment I share with my fiance. When we moved in we combined our book collections and now they're side by side on shelves. As we are now four weeks out from our wedding I can't help but think about how our books are symbolic of the two lives, families and cultures we are joining together now.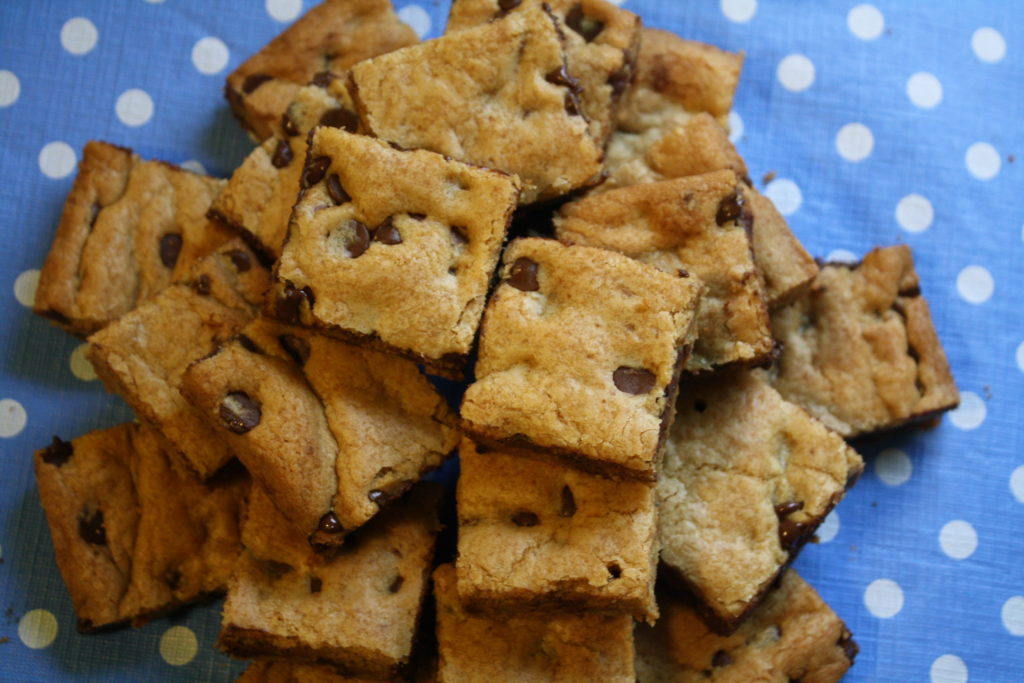 I remember the day I spent picking blueberries with my mom, niece  and nephew, and then returning home to bake a blueberry pie. More recently, I baked these chocolate chip cookie bars for a co-worker who had just taken the bar exam (and yes, I made these because of the opportunity to make a pun out of a great recipe and no, she did not roll her eyes). The memories change as the years pass, as do the baked goods. Forever changing with what age, gift, or milestone we are currently celebrating. I baked cookies for my Pop-Pop's 80th birthday two years ago, and we gave them out as party favors. My sister baked chocolate chip pumpkin bars for me for my 25th birthday. Needless to say, both of my passions are seamlessly woven into my life day in and day out.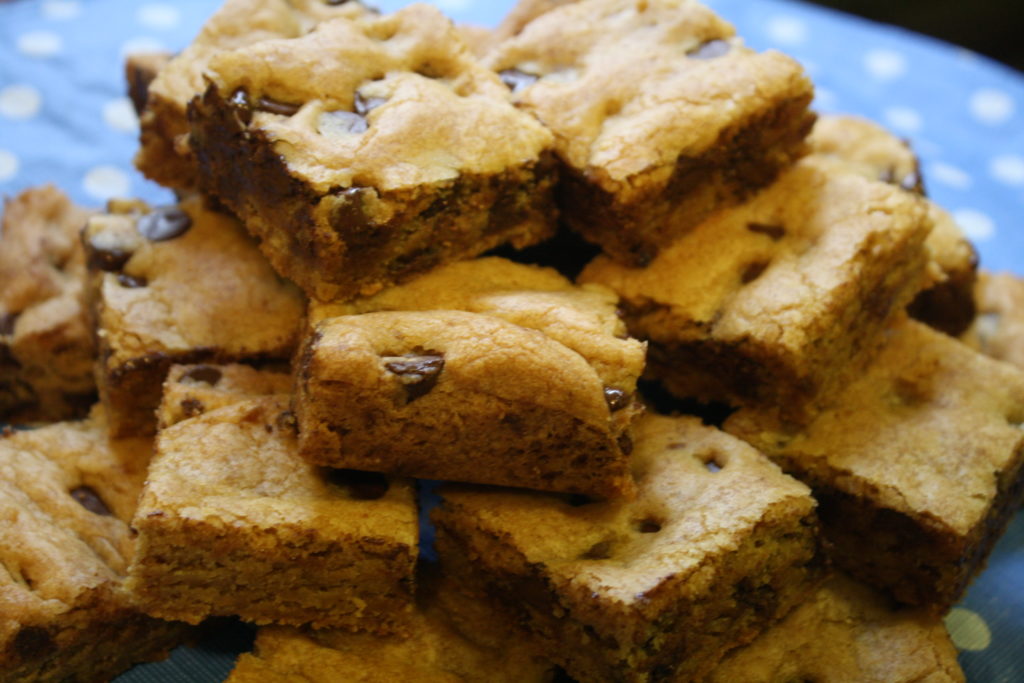 Reading and baking are my constants in life. No matter what else is going on around me, when I read in my room or spend time in the kitchen baking something delicious, I develop a peace of mind that makes me feel grounded, hopeful, and still. It's important to savor and enjoy that peace when we find it – and why not savor a chocolate chip cookie bar while you're at it?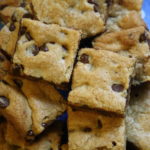 Chocolate Chip Cookie Bars
Ingredients
Instructions
Preheat oven to 350° F, then grease a 9 x 13 inch pan with butter or cooking spray.
In a small bowl, whisk together the flour, baking soda and salt until combined. Set aside.
With a mixer on medium speed, cream together the butter, both sugars and vanilla until creamy. Add in eggs one at time. Add in the flour mixture until combined.
Gently fold in the chocolate chips with a rubber spatula.
Spread dough on the greased 9 x 13 inch pan. Bake for 20 minutes, or until lightly golden brown on top.
Depending on size you can cut these large or small, but you can get approximately 24 cookie bars.
NUTRITION FACTS (from myfitnesspal) based on 24 medium bars: serving size 1 bar, CALORIES 235, FAT 11g (SAT. 6.7g, MONO 2.2g, POLY 0.4g), PROTEIN 2.8g, FIBER 1.2g, CHOLESTEROL 35.8mg, CARBOHYDRATES 32.3g, SUGARS 20.5g, SODIUM 158.9 mg.