"First you make your habits, then your habits make you." – Lucas Remmerswaal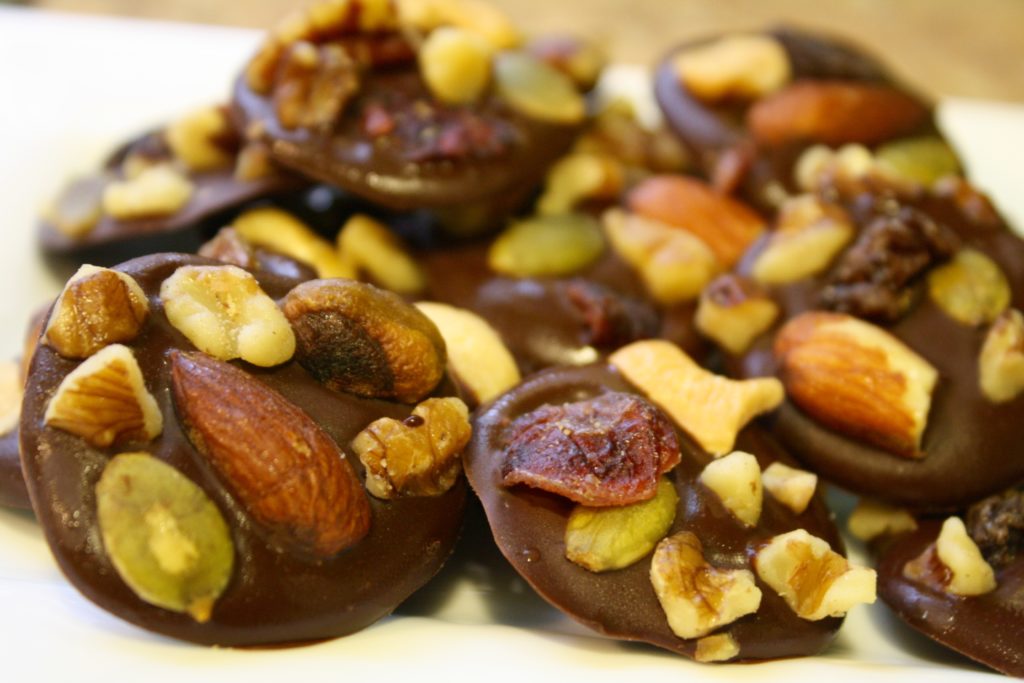 When it comes to snacking – it's important to be mindful about the choices we make. It can be overwhelming with how many options are out there. I went shopping the other day for granola bars and I spent twenty minutes in the same aisle just reading ingredient labels and making comparisons in search of the best option. I picked up a well-known brand that claimed to be "whole grain" and contained "real fruit" only to find a laundry list of ingredients, of which the first five were all different words for sugar. Luckily – I did find what I needed, it just took some searching. When I got home I decided to see what snacks I could make for myself and stumbled upon these simple and delicious trail mix bites.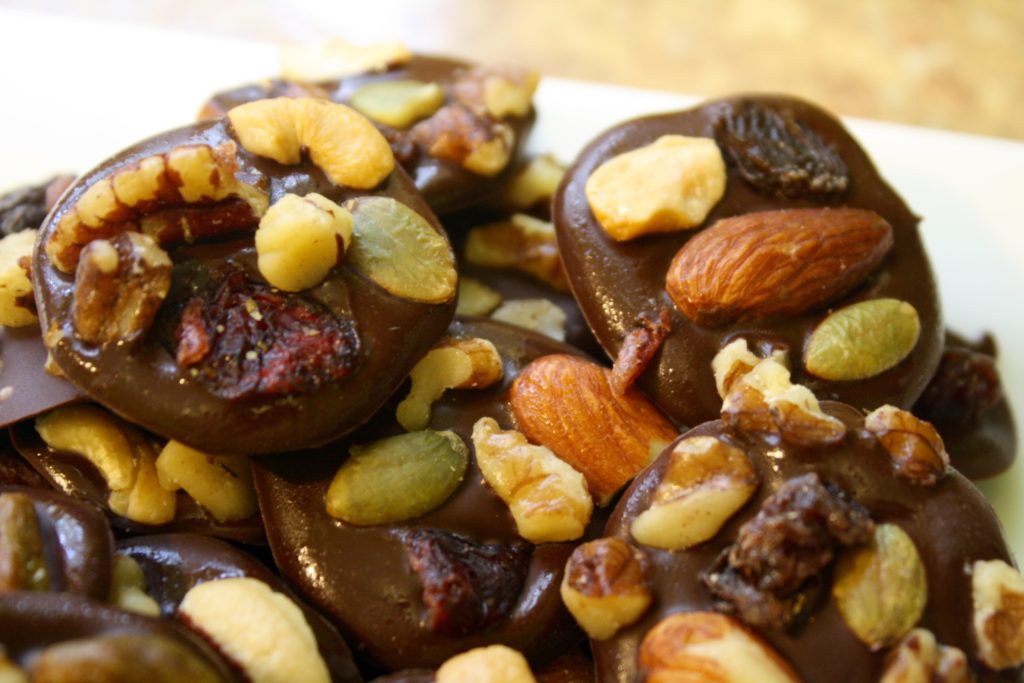 This recipe is so simple and provides a dynamic combination of healthy fats and protein with the added happiness that comes from eating chocolate! I usually make a batch of these on Sunday so I can just grab & go throughout the week. This recipe makes plenty to share so spread the deliciousness to friends and family and get ready to feel the love.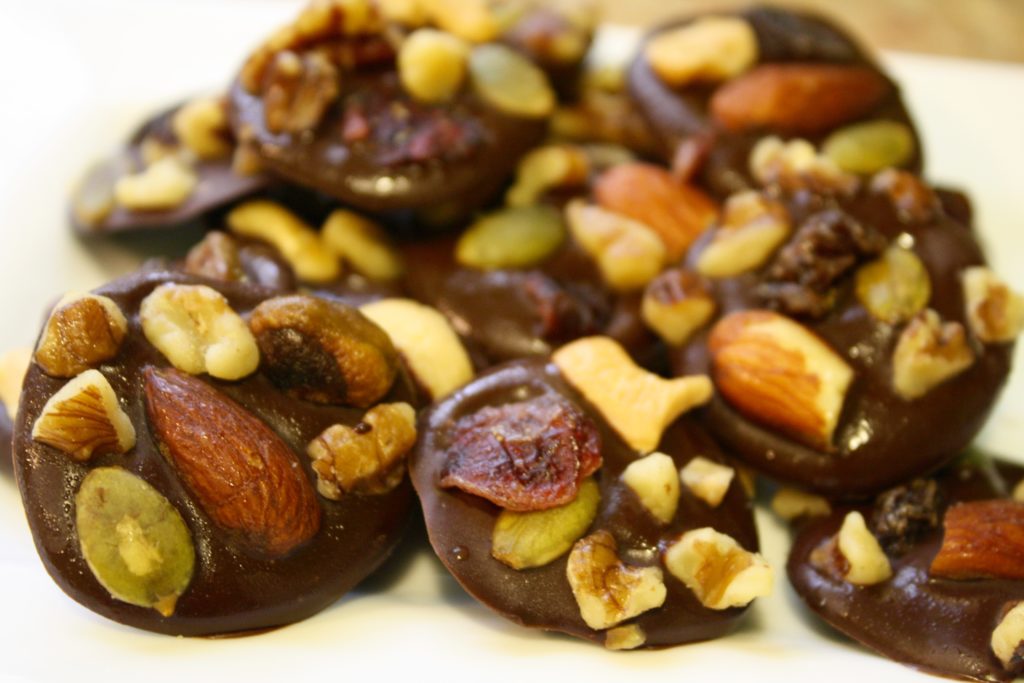 While it may seem like a chore to constantly worry about eating healthy – once you make it a priority in your life and it becomes a habit you'll realize how simple it can be. Here are my five tips for healthy snacking:
Snack Mindfully: Make it a habit to turn off the T.V. if you're going to have a snack. If you're focused on the T.V. you won't be focused on you're snack and you might end up eating more of it. Eating without distractions helps you appreciate the food, focus on the process, and helps you to stay grounded in the present moment.
Snack for Nutrition: Even though we've been told many times that we need to eat more fruits & vegetables, most of us still don't get the recommended daily suggestion (which is between 5-9 servings). Consider munching on celery with peanut butter, blueberries with a tablespoon of walnuts, or carrots and hummus for an afternoon snack. You'll feel better about incorporating more veggies and fruits in your daily routine and get the added nutrition your body needs.
Plan Your Snack Ahead: I keep a small stash of healthy granola bars, applesauce and trail mix in my desk at work for when hunger strikes. On the days I'm not prepared it's way too easy to reach into the office candy basket or stumble upon desserts left in the break room. This recipe is perfect to bring with you on the go, plus it incorporates smooth dark chocolate, healthy nuts & dried fruit to curb hunger without overindulging.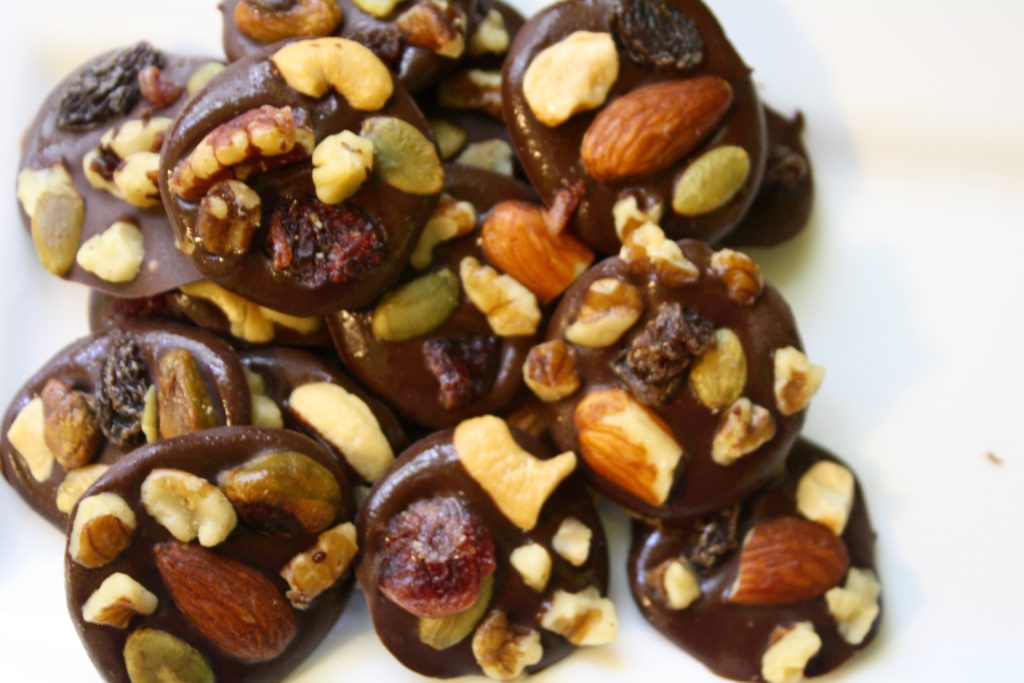 4. Snack for Hunger, Not Boredom: This one might seem obvious, but I have been known to start snacking when I'm bored, anxious, frustrated or tired. When you're in a feeling state of anxiety or boredom it's difficult to make smart choices. The key is to take a breath, and just ask yourself "am I actually hungry or just trying to avoid this feeling?" It's amazing what a little awareness can do for us. If you are eating because you're feeling emotional, try going for a walk, write in a journal, or call up a friend to talk it through.
5. Snack Smart: As I mentioned before, while some snack options may claim to be healthy, such as bran muffins, cereal or even granola bars – there could be hidden sugars and artificial flavors that aren't doing your body any good. Pay attention to the food label and opt for snacks with five ingredients or less. And be sure to stay away from chemicals – Michael Pollen said it best: "If you can't pronounce it – don't eat it."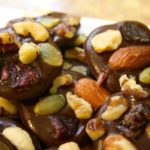 Dark Chocolate Trail Mix Bites + 5 Tips for Healthy Snacking
Ingredients
Instructions
Line a large plate with parchment paper.
Melt chocolate for 30 seconds in the microwave. Stir and continue to melt chocolate in the microwave for 10-20 seconds until fully melted.
Using a small spoon drop about two teaspoons of melted chocolate onto the prepared plate and spread it into a round circle with the back of the spoon. Repeat until you have made about 20 circles.
Top each chocolate circle with trial mix pieces and let the chocolate set in the refrigerator until solid.
NUTRITION FACTS: Yield: 10 servings, serving size: 2 trail mix bites - CALORIES 88, FAT 5.8g,  PROTEIN 1.4g, CARBOHYDRATES 8.2g, FIBER .8g, SUGAR 4.2g.