"The good news is we can change today. One of the few choices a person has, is what they will or will not eat." – Andrew Saul, Food Matters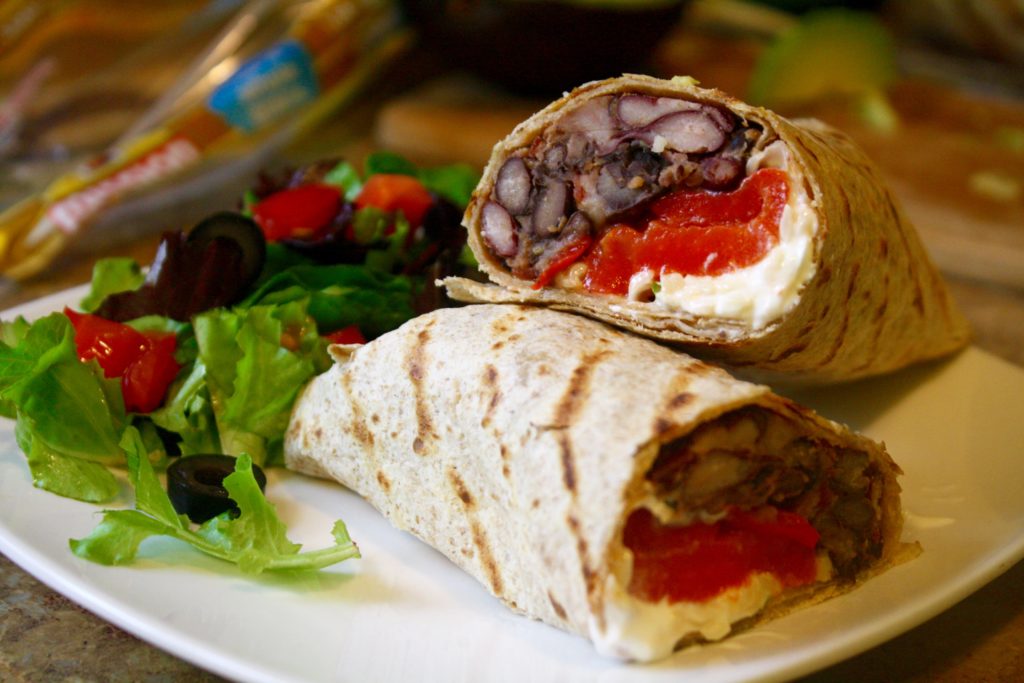 Fall has arrived and I am loving this sweatshirt-wearing season. Or I should say, I am loving it now because a few weeks ago my husband and I both came down with really nasty colds and neither of us were loving the constant sneezing and coughing. It's been a while since I was that sick, which is a good thing because it reminds me how healthy I am most of the time…but it definitely knocked me down and knocked me out of the healthy eating mindset because all I was craving was soup with an overload of bread and crackers and since the season commanded it, Halloween candy. Yikes.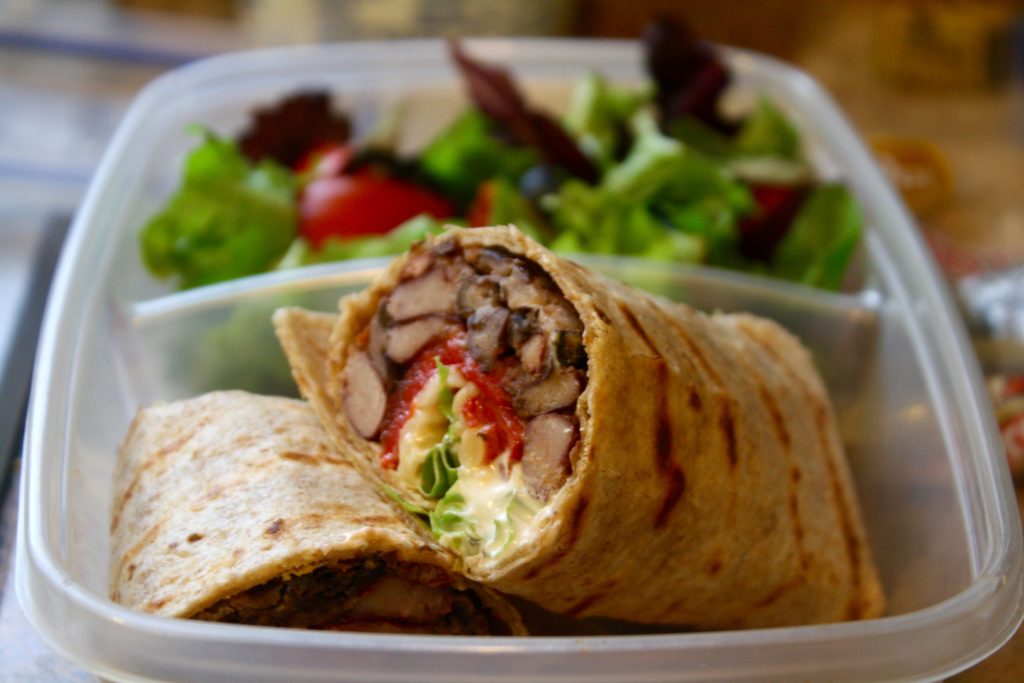 Now I feel 100% better and I have been working out again, eating healthier and taking the time to prepare meals for the week. Meal prep is always a great way to get back on track after you've let the healthy eating subside. I made this recipe recently and it was so good I knew I'd have to share it because it's been in the meal-prep rotation twice since. I also wanted to share some of my meal prep tips for beginners that have helped me immensely!
1. To Start: Keep It Simple
I have a lot of cookbooks in my house, and I love looking through them to find new recipes. However, the spinach & roasted red pepper stuffed chicken breast served over parmesan risotto is probably not the ideal recipe for a quick meal-prep lunch recipe. Keep it simple. Think about what recipes you and your family enjoy that require staple ingredients you already have on hand. Start with sandwiches, wraps and salads that you can easily customize.
2. Use What Is Already In Your Cabinets
If you need inspiration for a recipe, take a look in your cabinets and see what ingredients you already have on hand. There was a sale on organic low-sodium black and kidney beans at Giant awhile ago and I stocked up on both of these. I already knew I wanted to prep meatless lunches and when I saw I had a few jars I decided to look through my recipe books to find a recipe I could use with beans as the main ingredient.
3. Look for Shortcuts
Any grocery store I've been in has a pre-chopped/pre-sliced section where you can find onions, peppers, broccoli, zucchini etc. pre chopped and ready to be cooked. On the days I have time to cut and chop my own ingredients I will; but on jam-packed weeknights buying these pre-chopped ingredients can really save time. I usually love taking the time to roast my own red peppers but for this recipe I bought a jar of them to free up some of my time.
4. Invest in good food-storage containers.
I know what you're thinking, "why do I need MORE tupperware?" BUT not all tupperware is created equal. I've found it's much easier to plan out meals and snacks with good quality, pre-portioned containers than searching through your cabinets of jars and lids trying to find a match. One of my favorite brands that I found in HomeGoods is Sistema. They have all different shapes and sizes and are ideal for portion size. My two favorites are the sandwich containers and the salad container.
5. Do not prep EVERY meal
This leads back to number 1 about keeping it simple. While you might be so motivated that you want to plan every breakfast, lunch and dinner for the weekend, as a beginner you will probably get overwhelmed. I started out preparing dinners for the week and I would make extra so I would have the leftovers for lunch. Then I started preparing a few separately lunches. You can always mix it up each week. Some weeks I don't have the motivation to prep my lunches and breakfast, so I know for breakfast I can just have a smoothie, granola bar or some oatmeal.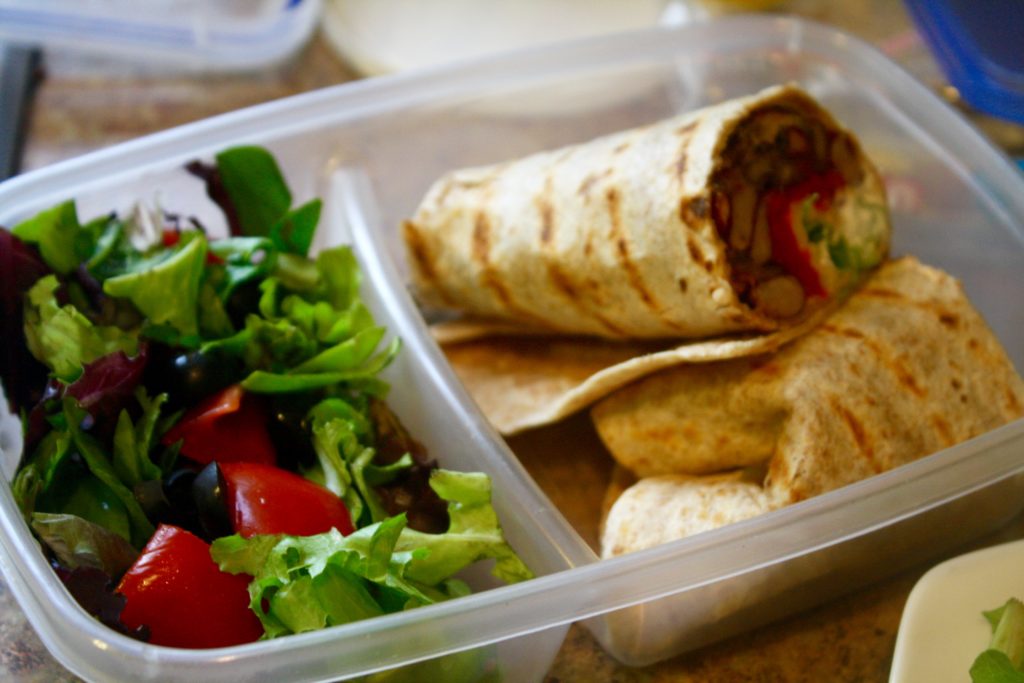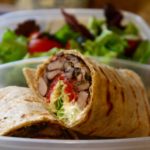 Print
Nutrition facts

(per portion)
Nutrition facts
(per portion)
Calories: 360
Carbohydrate Content: 41g
Cholesterol Content: 35mg
Fat Content: 13g
Fiber Content: 7g
Protein Content: 18g
Saturated Fat Content: 7g
Sodium Content: 528 mg
Sugar Content: 3g
Double Bean Burritos + 5 Beginner Meal Prep Tips
Ingredients
Instructions
Heat canola oil in a large nonstick skillet over medium heat.
Add garlic to pan, cook for one minute, stirring frequently. Add in the chipotle chili powder and salt and cook for 30 seconds.
Stir in 1/3 cup water and both beans and bring to a boil.
Reduce heat and simmer for 10 minutes.
Remove from heat, stir in the salsa and partially mash the bean mixture with a fork.
Warm tortillas according to package directions then spoon about 1/3 cup of the bean mixture into the center of each tortilla. Top with 2-3 slices of roasted red peppers, 2 tablespoons cheese, 1/4 cup lettuce, and 1 tablespoon sour cream. Roll up and slice in half.