"Against the grain should be a way of life, what's worth the prize is always worth the fight." -Nickelback, "If Today Was Your Last Day"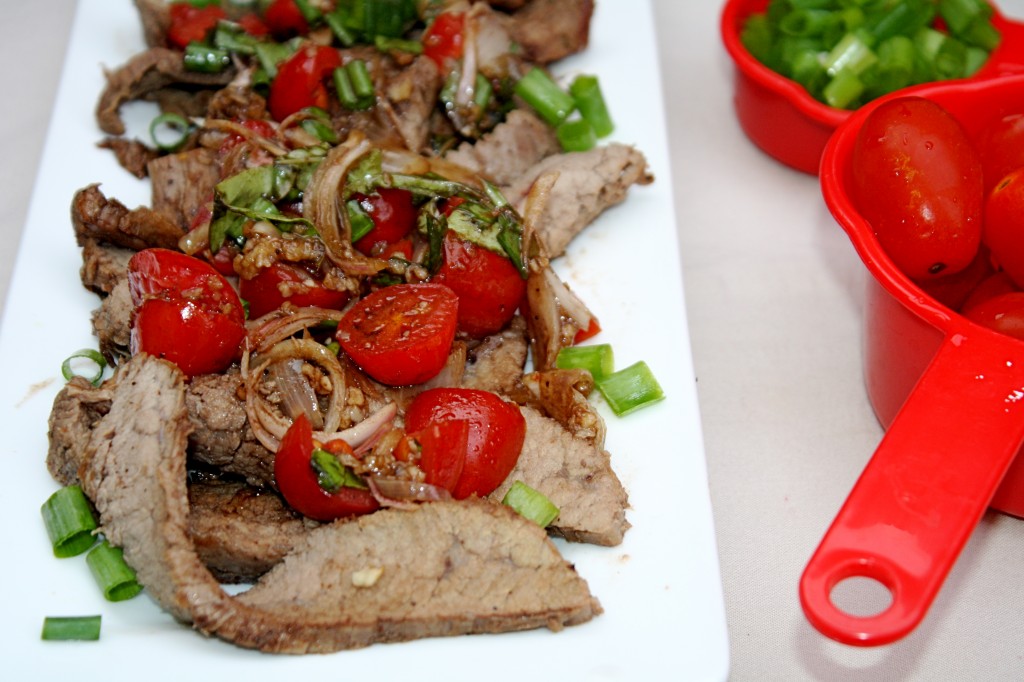 It's amazing to me how much my taste buds have changed since I was a kid. Actually, I don't know if it's necessarily that my taste buds have changed or that I've lost some (but not all) of my stubbornness when it comes to trying new foods. Either way, lately I find myself tasting and enjoying new kinds of meats, spices and vegetables in the hopes of becoming more food savvy.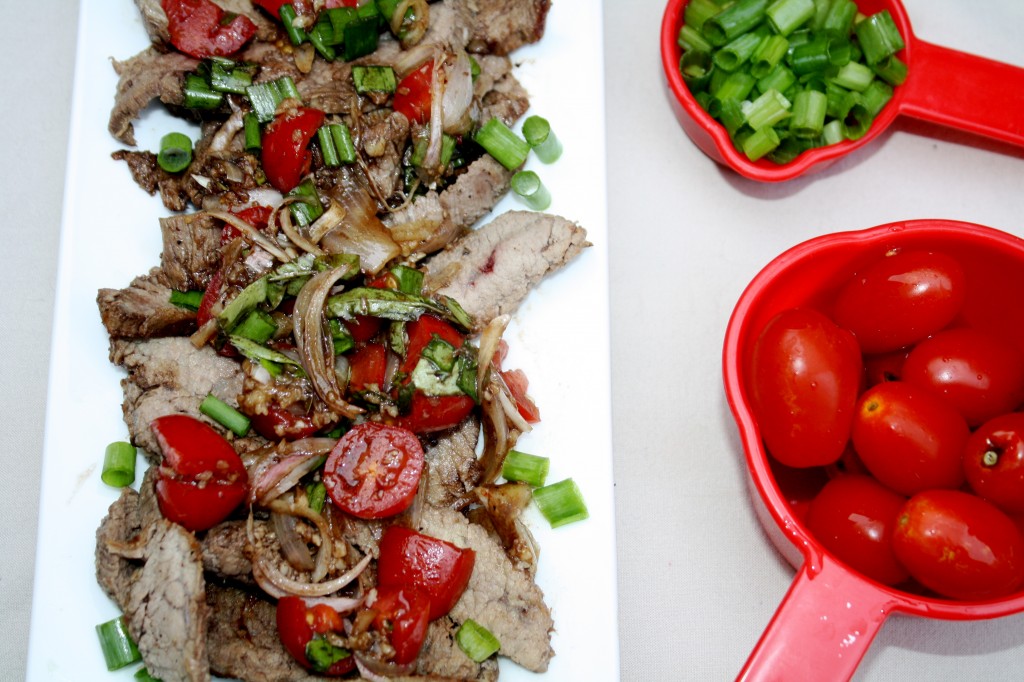 I still consider myself a "beginner" when it comes to any type of beef. Up until about a year ago I wouldn't even look at it, and now I find myself warming up to it. I'm able to prepare ground beef on my own but needed a little help from YouTube and my mom for preparing this recipe. And while we were cooking my mom started singing the Nickelback song (lyrics above) since the correct way to slice steak is against the grain.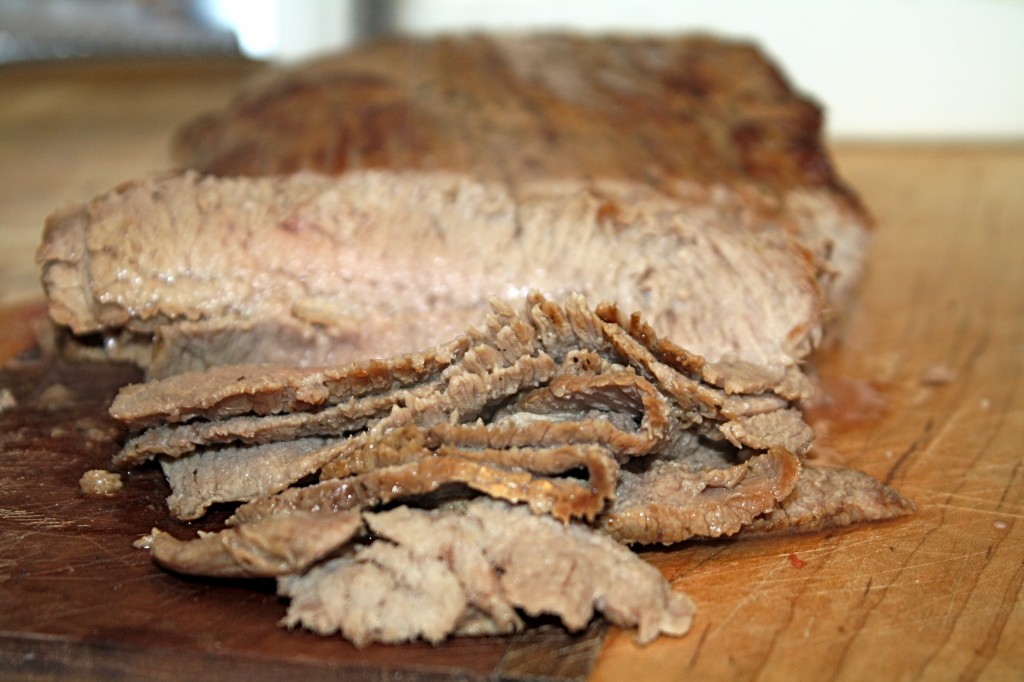 I had read this before in many cookbooks and seen it said sternly on cooking shows but had no real idea what it meant because I never cooked steak myself.  I learned flank steak is a cut of meat that has long fibers running through it, which are difficult to chew through. Cutting against the grain ensures that the fibers are cut, which makes the meat is easier to chew because it is more tender.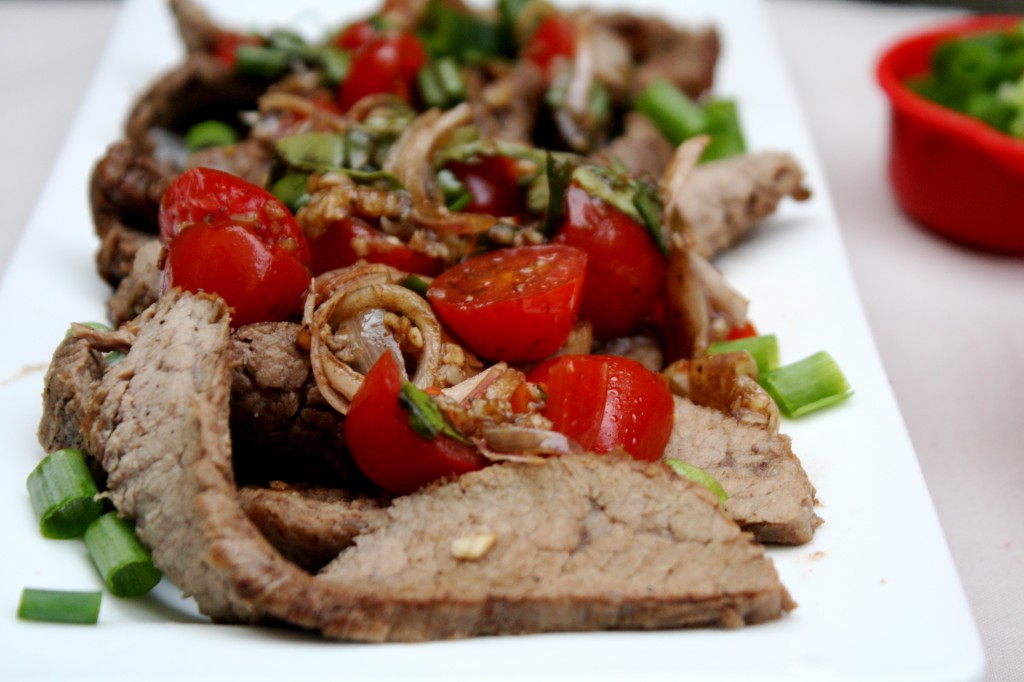 It's as simple as that but for some reason the emphasis on how important it is made me nervous and I had my mom cut it anyway. What can I say – when a man on T.V holding a large knife lectures you about how if you cut your steak the wrong way it will be "indigestible and unsavory" – it's a little intimidating. So this recipe was a small victory for me – and I'm hoping there will be many more to come.
Flank Steak with Tomato-Balsamic Sauce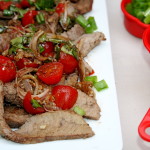 Adapted from, Cooking Light Magazine September 2013
Instructions
Heat a large skillet over medium-high heat. Add olive oil and swirl to coat the pan. Sprinkle steak with salt and 1/4 teaspoon pepper. Add steak to pan, cook 5 minutes on each side or until desired degree of doneness. Transfer steak to a cutting board; let stand 5 minutes. Cut across the grain into thin slices.
Add garlic and shallot to pan; sauté until lightly browned (about 1-2 minutes). Add balsamic vinegar, and cook until liquid almost evaporates (1 & 1/2 minutes). Add tomatoes, 1/4 cup basil, 1/4 cup green onions, and remaining 1/4 teaspoon pepper. Cook for two minutes or until tomatoes soften and begin to release their liquid, stirring occasionally.
Serve tomato mixture over sliced steak. Sprinkle with remaining basil and remaining green onions
NUTRITION FACTS (From CookingLight): CALORIES 246, FAT 11.7g (SAT. 3.9g, MONO. 5.8g, POLY. 0.8g), PROTEIN 25.5g, CARBOHYDRATES  8.5g, FIBER 1.3g, CHOLESTEROL 74mg, SODIUM 366mg.
Print