"Cake baking has to be, however innocently, one of the great culinary scams: it implies effort, it implies domestic prowess; but believe me, it's easy." -Nigella Lawson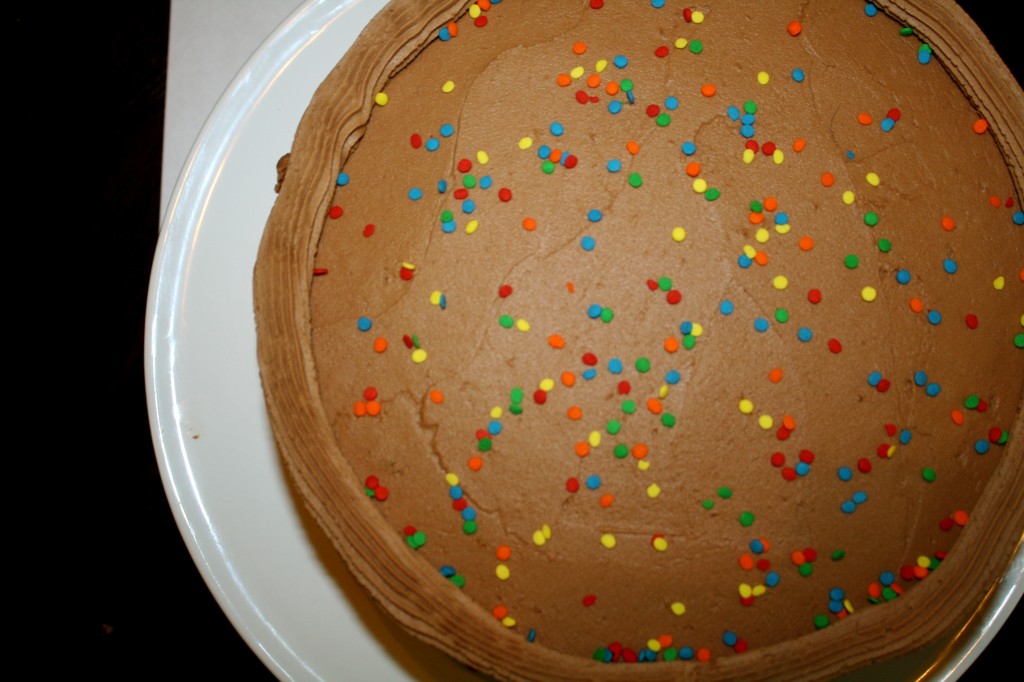 It's Birthday season!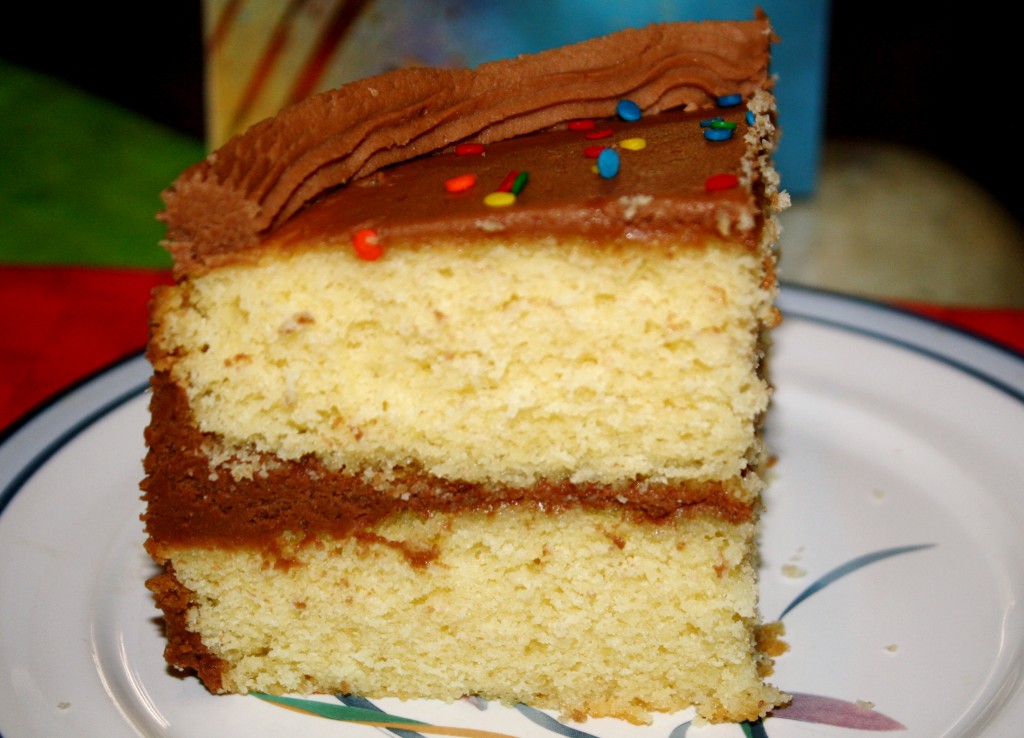 At least – it is for my family! With more than a few birthdays coming up it's time for me to start organizing some recipes as I always volunteer to make homemade desserts for our family birthdays. A classic yellow layer cake with chocolate frosting is always my go-to for a simple but delicious tasting dessert to celebrate a birthday.
 This recipe uses a chiffon cake technique to develop a light and fluffy cake with rich flavor. It requires a little focus and attention but trust me, it's easy. Beating the egg whites and then folding them into the batter helps to develop the texture of the cake.
The more time I spend baking the more I realize it's necessary to experiment with a few recipes  because there are so many different combinations of ingredients that can change the taste/texture of a cake. I prefer this cake because it uses a combination of oil and butter which makes the cake moist in addition to the chiffon technique to achieve nice volume and texture.
My favorite part of the birthday cake baking process is decorating. I usually always decorate with a stiff buttercream frosting because it's easy to decorate with  and it always tastes great. I used a Ghirardelli Chocolate Frosting recipe as a guideline for decorating this cake. I also use this recipe often for decorating cupcakes, both taste great. I tend to use half & half over milk in buttercream frosting because it creates a more stiff consistency. I also added some colorful sprinkles and few colorful accents I had on hand to finish decorating.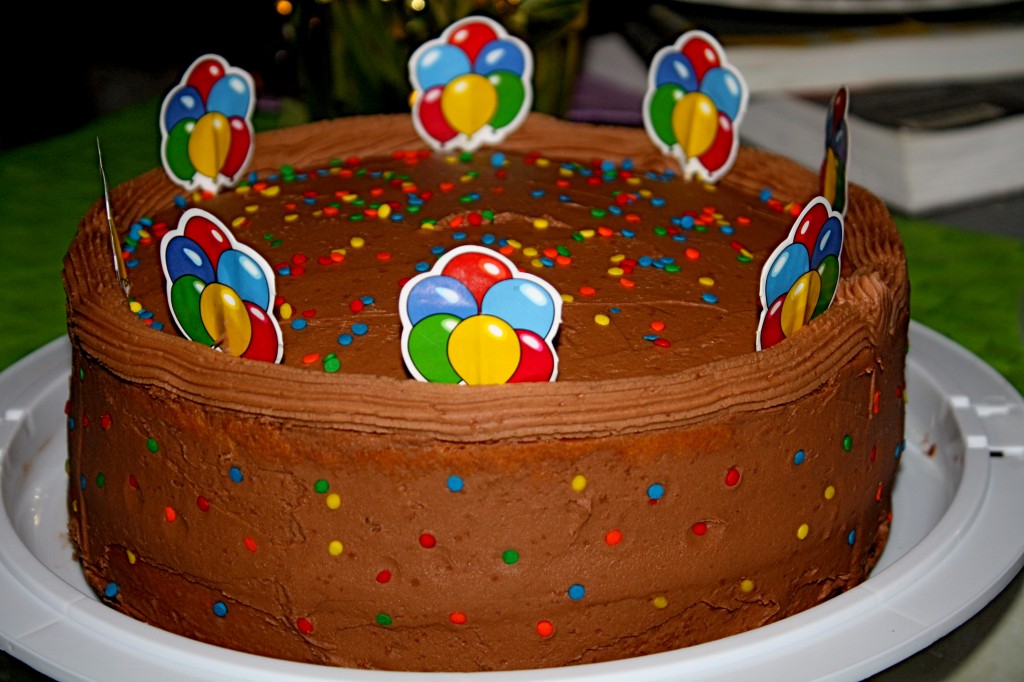 The cake tasted delicious, the birthday honoree was delighted, and good times were had by all. What more could you ask for?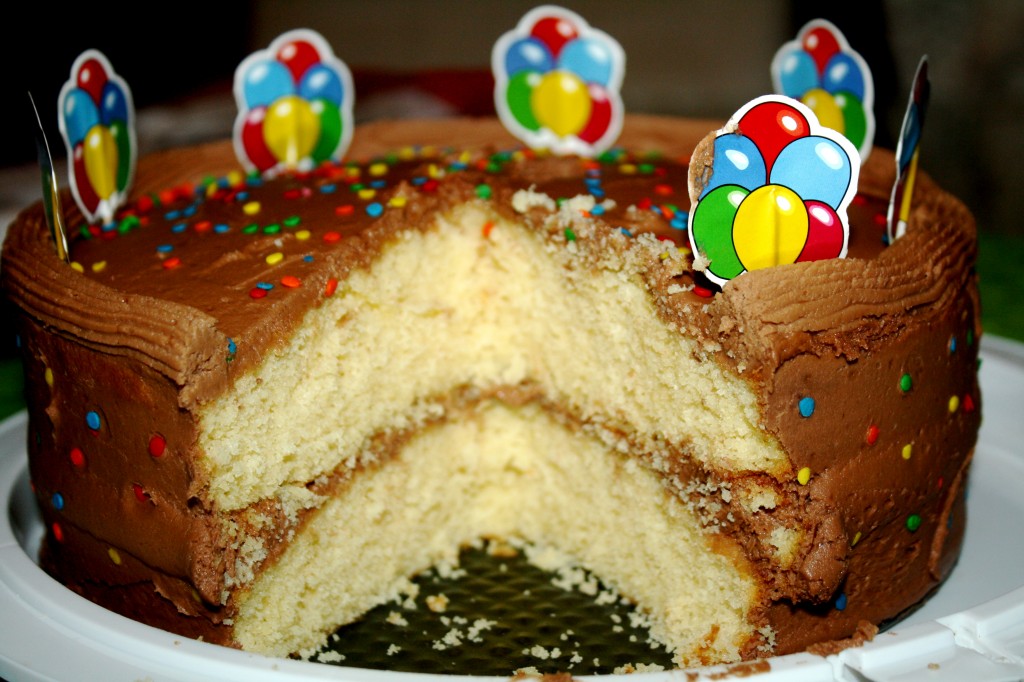 Fluffy Yellow Layer Cake with Chocolate Frosting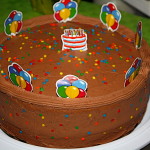 Adapted from, Cook's Illustrated
Instructions
Preheat oven to 350° and adjust oven rack to middle position.
Grease two 9-inch wide by 2-inch high round cake pans and line bottoms with parchment paper. Grease paper rounds, dust pans with flour, and knock out excess.
Whisk flour, baking powder, baking soda, salt, and 1 1/2 cups sugar together in large mixing bowl.
In a separate medium mixing bowl, whisk together melted butter, buttermilk, oil, vanilla, and egg yolks.
In the bowl of a stand mixer (or a separate bowl/using a hand mixer) beat the egg whites at medium-high speed until foamy, about 30 seconds. While still beating the eggs, gradually add remaining 1/4 cup sugar and continue to beat until stiff peaks just begin to form, 30 to 60 seconds (whites should hold peak but mixture should appear moist). Transfer to a bowl and set aside.
Gradually pour butter mixture into the flour mixture and mix until almost incorporated (a few streaks of dry flour will remain), about 15 seconds. Scrape down sides of bowl and continue to mix at medium-low speed until smooth and fluffy, about 10 to 15 seconds.
Using a rubber spatula, stir in 1/3 of egg whites into batter to lighten, then add remaining egg whites and gently fold into batter until no white streaks remain.
Divide batter evenly between prepared cake pans. Lightly tap pans against counter a few times to eliminate any large air bubbles.
Bake until cake layers being to pull away from sides of pans and toothpick inserted into center comes out clean, 25 t0 30 minutes. Cool cakes in pans on wire racks for 10 minutes. Loosen cakes from sides of pans with small knife, then invert onto greased wire rack and peel off parchment. Invert cakes again and cool completely on rack, about 1 & 1/2 hours.
Decorate cake layers as desired.  I used a Ghirardelli chocolate frosting recipe (link above).
Print