"From the fig tree learn its lesson: as soon as its branch becomes tender and puts out its leaves, you know that summer is near." – Matthew 24:32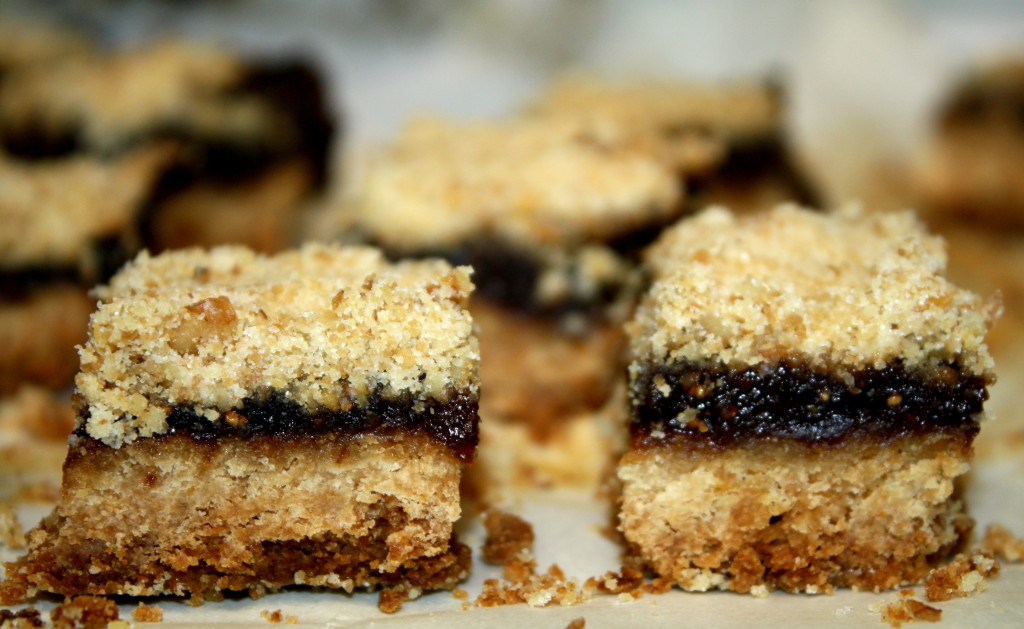 Did you know that fig newtons are the third most popular cookie in the U.S? Over 1 billion of them are consumed each year! So it's not surprising to me when I hear the word "fig" I automatically picture a fig newton. It's been years since I've had one (and truthfully, I never liked them that much anyway). When I wanted a cookie I want chocolate so fig newtons just didn't do it for me. However, after baking this recipe, my ideas and appreciation of figs has certainly changed for the better.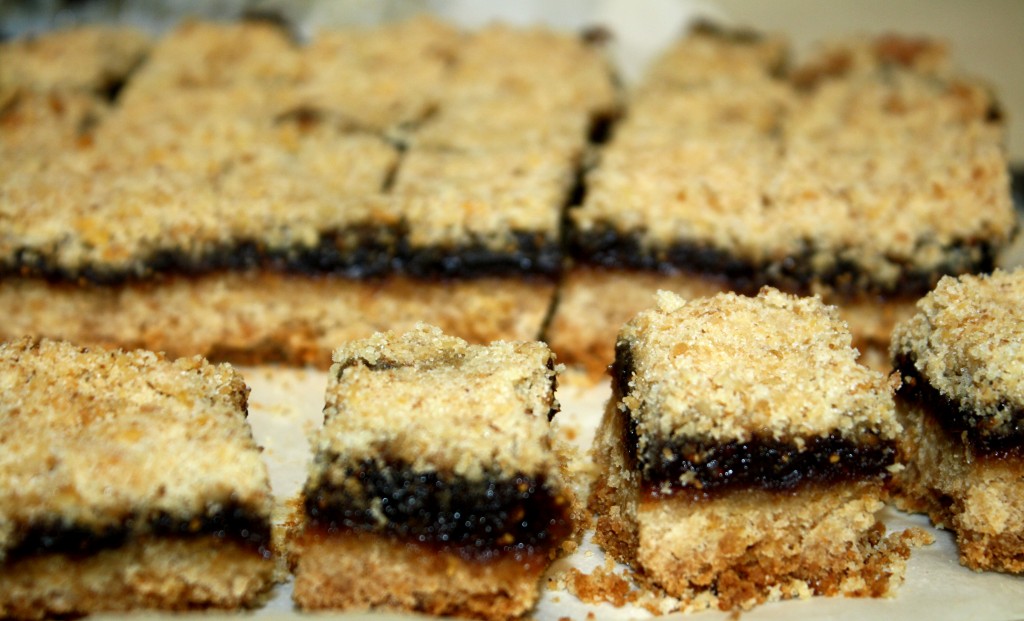 Whenever I cook or bake with a new ingredient, I like to do a little background research. Even though I graduated, clearly my subconscious is missing school. Anyway – I learned that figs have been around for centuries, and have been referred to as "the heaven fruit".  The fig tree is also mentioned in The Bible numerous times. I'm currently watching the HBO T.V series Rome, and figs make an appearance in several episodes. In Rome, figs were also considered a sacred fruit. The lesson here is, figs have a much sweeter reputation than they are known for.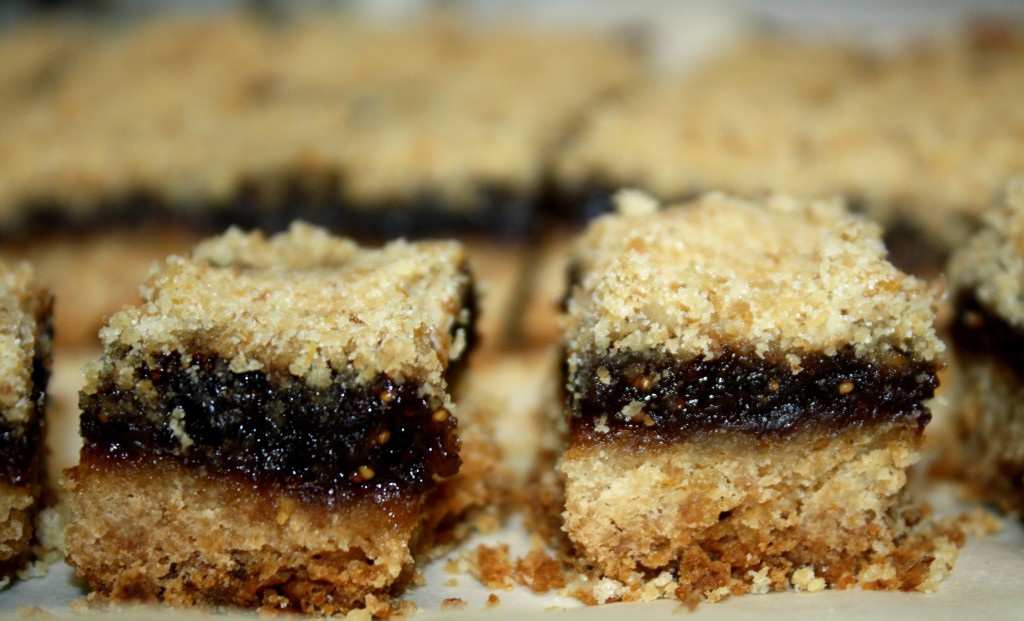 It's no wonder this fruit has been enjoyed by many for years, because it's flavors pair nicely with sweet and savory main dishes, as well as desserts. Since this was my first time experimenting with fresh figs, I decided to stick with a dessert recipe (although, to be completely honest, I also ate three bars for breakfast one day).
 For this recipe I used black mission figs that I found at Trader Joe's. Black mission figs are known for their sweetness, whereas other kinds of figs (such as Calimyrna figs) are known for their nutty flavor. The original recipe called for two pounds of fresh figs to make the jam, but I only had one pound (about 12 small figs) so I substituted a 1/2 cup of fig butter (also found at Trader Joe's). You could probably use fig preserves or fig jam, but I stuck it out with the fig butter and the results were delicious. Fig butter (by regulation) must contain five parts fruit to two parts sugar, which, in my opinion, makes for a better choice over preserves or jellies.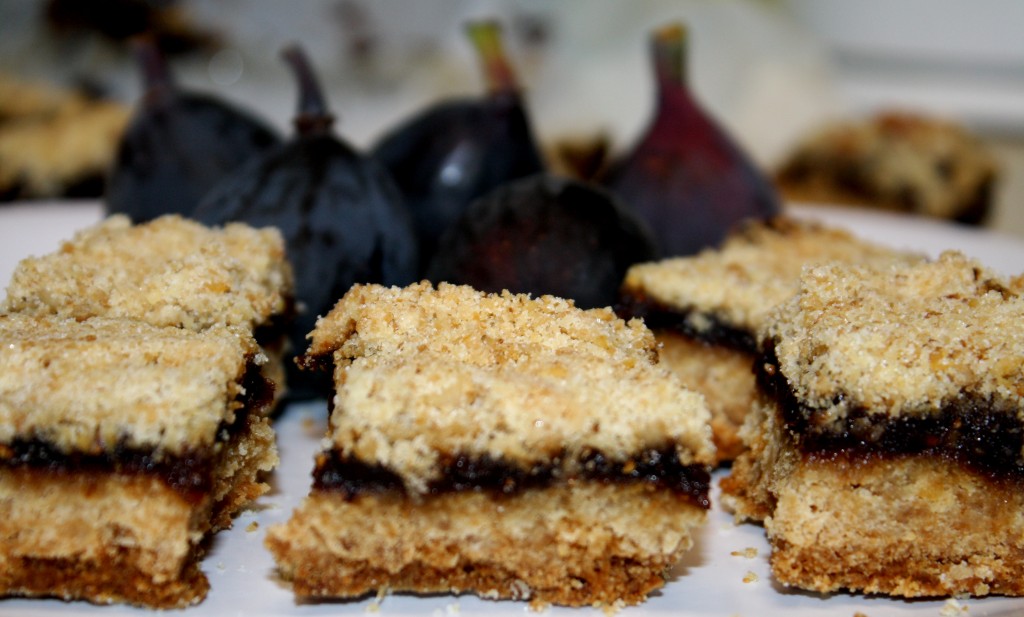 It's not often that after baking a recipe once I immediately bake it the next day – but that was the case with this recipe. I loved the outcome and immediately wanted to share it with others. I think I also felt an immediate need since figs are only season for such a short window of time! Luckily, I made a second batch that made more than enough for my co-workers and family, with some leftovers that are wrapped up and sitting in my freezer. These bars freeze really well, which is just another awesome aspect of this recipe!
Fresh Fig Crumb Bars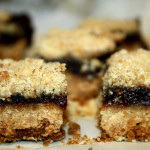 Adapted from, Fine Cooking and Lemons and Anchovies
Instructions
To make the pastry: preheat oven to 350. Using a food processor, grind the walnuts and 2 tablespoons of sugar until finely ground; remove and set aside. Pour the flour, remaining 1/4 cup of sugar, brown sugar, salt, and baking powder in the food processor and pulse until well-blended. Add in the butter and process until the mixture looks crumbly. Add in the egg yolk and vanilla extract and pulse (for about a minute) until mixture is slightly wet and clumping (it won't form a ball). Pack two-thirds of the dough into an 8x8-inch baking dish lined with parchment paper; set aside the remaining 1/3 of the mixture. Bake until the dough is lightly browned and keeps a slight indentation when you press into it, about 20-25 minutes.
To make the jam: While the crust is baking, cook the coarsely chopped figs and the 1/4 cup of sugar over medium-high heat, stirring occasionally. Heat for about 20 minutes until the juices have reduced and the fruit is tender and thick. Remove from heat and stir in the lemon zest, lemon juice (to taste) and the fig butter.
To Assemble The Fig Bars: In a mixing bowl, crumble together the remaining dough with the reserved walnut and sugar mixture. Gently spread the fig jam on top of the baked crust and sprinkle the dough mixture over the filling. The top will look crumbly.
Bake until browned on top, about 30-35 minutes.
Cool completely before cutting into 1 & 1/2 inch square bars.
NUTRITION FACTS (from Fine Cooking):  CALORIES 140, FAT 5g (SAT. 2.5g. MONO., 1.5g, POLY. 1g), PROTEIN 2g, CARBOHYDRATES 23g, SODIUM 90mg, CHOLESTEROL 20mg, FIBER 2g.
Print