"Oh how we love pumpkin season.  You did know this gourd-ish squash has its own season, right?  Winter, Spring, Summer, Pumpkin…. We anxiously anticipate it every year."  –Trader Joe's Fearless Flyer, October 2010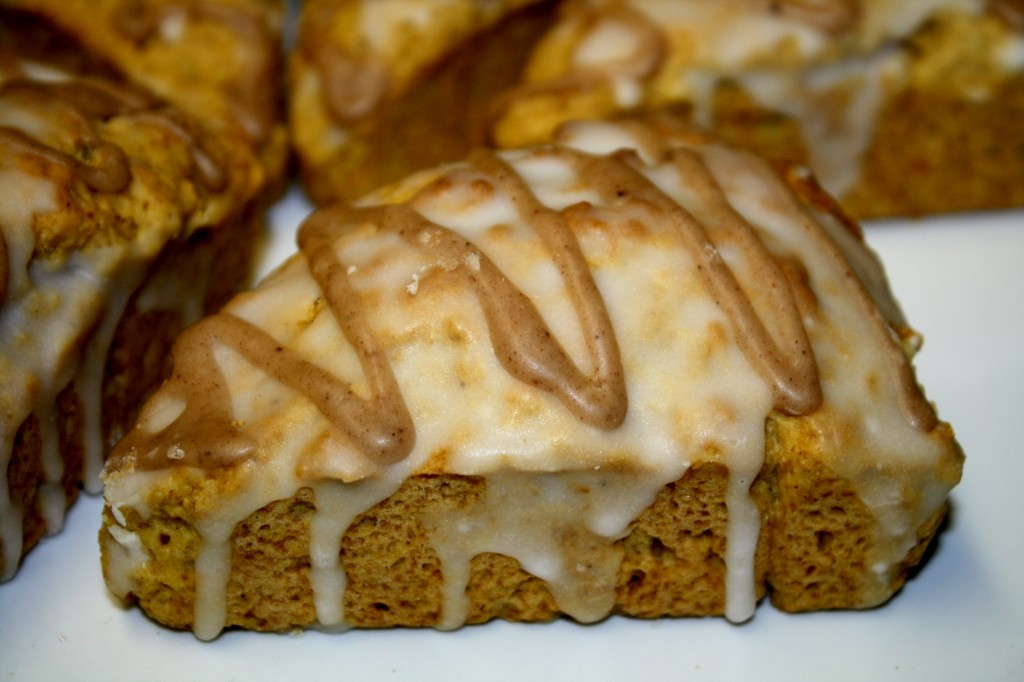 There are many reasons to be excited for the fall season – but pumpkin is definitely at the top of my list! My mom has already been decorating with pumpkins around the house and since it's almost October I had the feeling it was about time I start my baking off with a delicious pumpkin treat!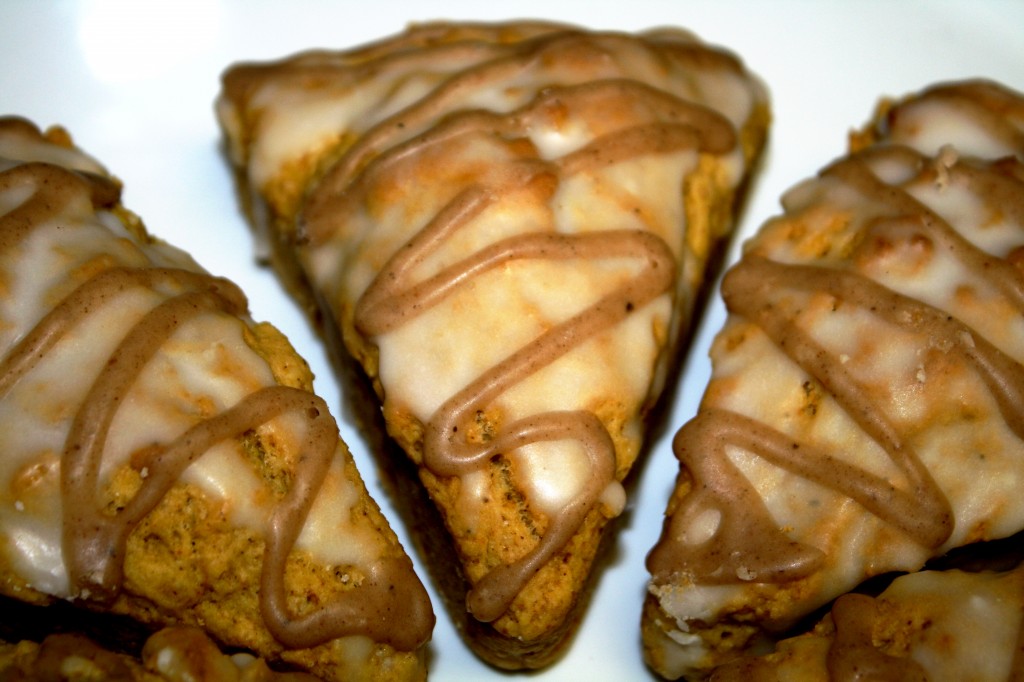 I enjoy making my own scones and for that reason I purchased my very own scone pan awhile ago. It's great and it really cuts down on prep. time when making scones. Even if you don't own a scone pan, this recipe is still easy enough to prepare and so worth it because they taste amazing!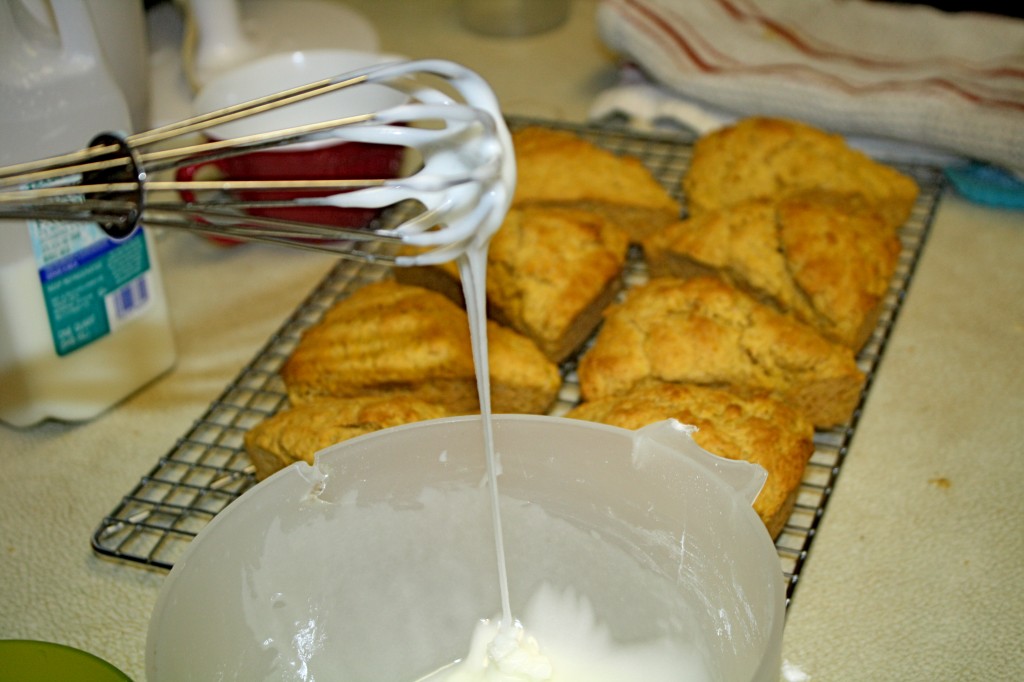 My favorite part is the two types of glaze that cover these sweet scones. Who knew a simple combination of milk and powdered sugar would yield a melt-in-your-mouth, delicious icing? Plus, did I mention these are healthy? Swapping in one of these scones instead of buying one at a local coffee shop could save you 250 calories! Definitely worth it in my opinion!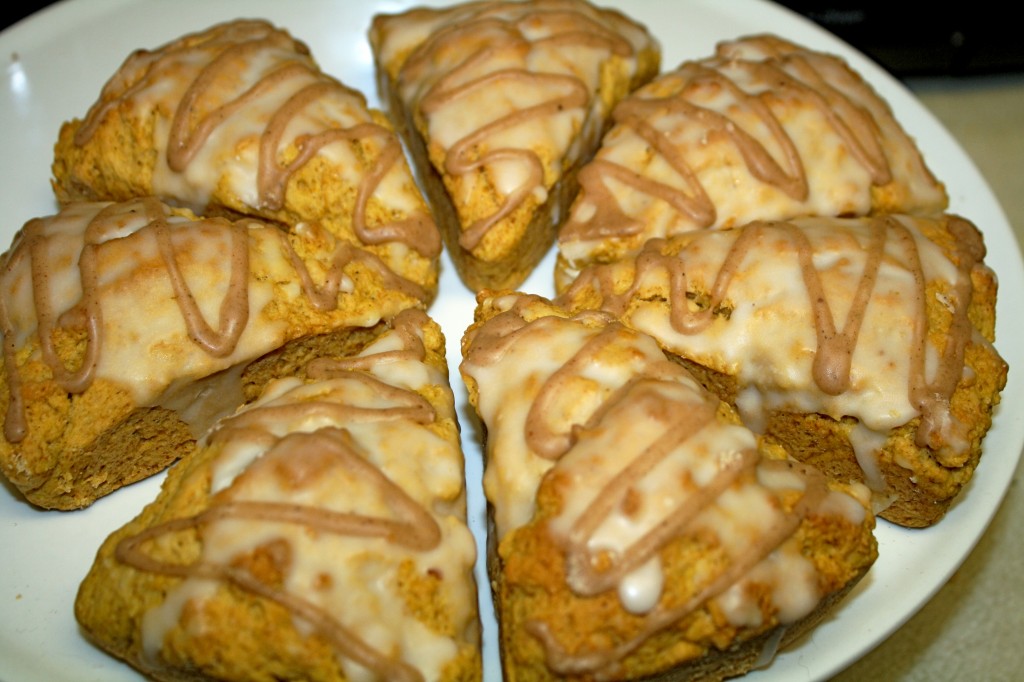 And yes – there should be eight scones in the above photo but I had to eat one!
Glazed Pumpkin Spice Scones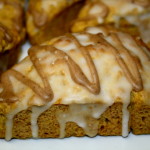 Adapted from, Sweet Pea's Kitchen, original source: Brown Eyed Baker
Instructions
Preheat oven to 425

°.
In a large bowl stir together the flour, sugar, baking powder, salt, cinnamon, nutmeg, cloves and ginger. Add the butter and toss with a fork to coat with the flour mixture. Mix with a hand mixer on medium-low speed until the texture resembles coarse meal, with the butter pieces no larger than small peas.
In a separate bowl, whisk together the pumpkin, half & half, and egg. Fold wet ingredients into dry ingredients, and form the dough into a ball.
If using a scone pan, pour batter into pan coated with cooking spray. Otherwise - line a baking sheet with parchment paper and pat out dough onto a lightly floured surface. Form dough into a 1-inch thick rectangle about 4 inches by 12 inches. Use a large knife to slice the dough making three equal portions. Cut each of the portions in an X pattern (four pieces) so you end up with 12 triangular slices of dough. Place on prepared baking sheet.
Bake the scones for 14-16 minutes, or until light brown. Place on a wire rack to cool.
While the scones are cooling, make the base glaze by mixing the powdered sugar and milk together until smooth.
When the scones are cool, use a pastry brush to spread base glaze over the top of each scone (use about 1 tablespoon of glaze per scone). Set aside extra glaze.
While the powdered sugar glaze is firming, combine remaining glaze and spices for the spice glaze. Drizzle over each scone and allow the icing to dry before serving (about an hour).
**Note: this recipe will yield 8-12 scones depending on the size pan being used or how the dough is sliced. The scone pan I used yields 8 scones.
NUTRITION FACTS (from MyFitnessPal.com) - Serves 8, Serving Size 1 scone, Per Serving: CALORIES 250, FAT 9.6g, PROTEIN 3.3g, CARBOHYDRATES 36g, FIBER 1.1g, SODIUM  358mg, CHOLESTEROL 52mg.
Print