"Well," said Pooh, "what I like best," and then he had to stop and think. Because although eating honey was a very good thing to do, there was a moment just before you began to eat it which was better than when you were, but he didn't know what it was called." -A.A. Milne, Winnie-the-Pooh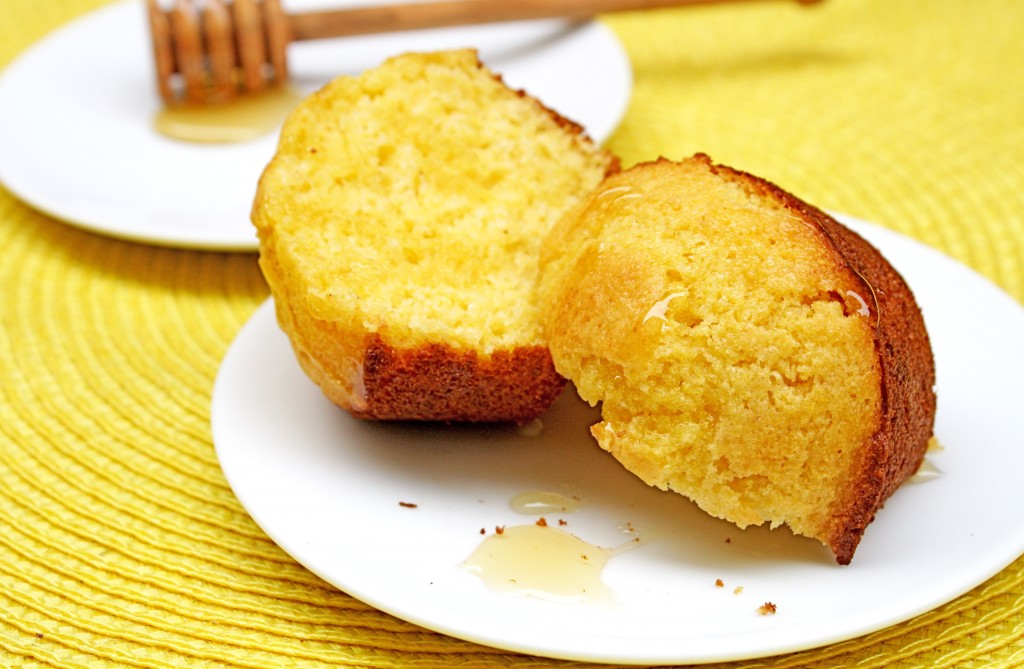 I don't know exactly where my obsession with honey came from, but you can always find a jar, bear bottle, half gallon (yes, I'm serious) sitting on my kitchen counter. It's the one ingredient that is always incorporated into my life each day, whether it's a teaspoon in my morning cup of tea or a secretly sweet ingredient in my favorite stir-fry.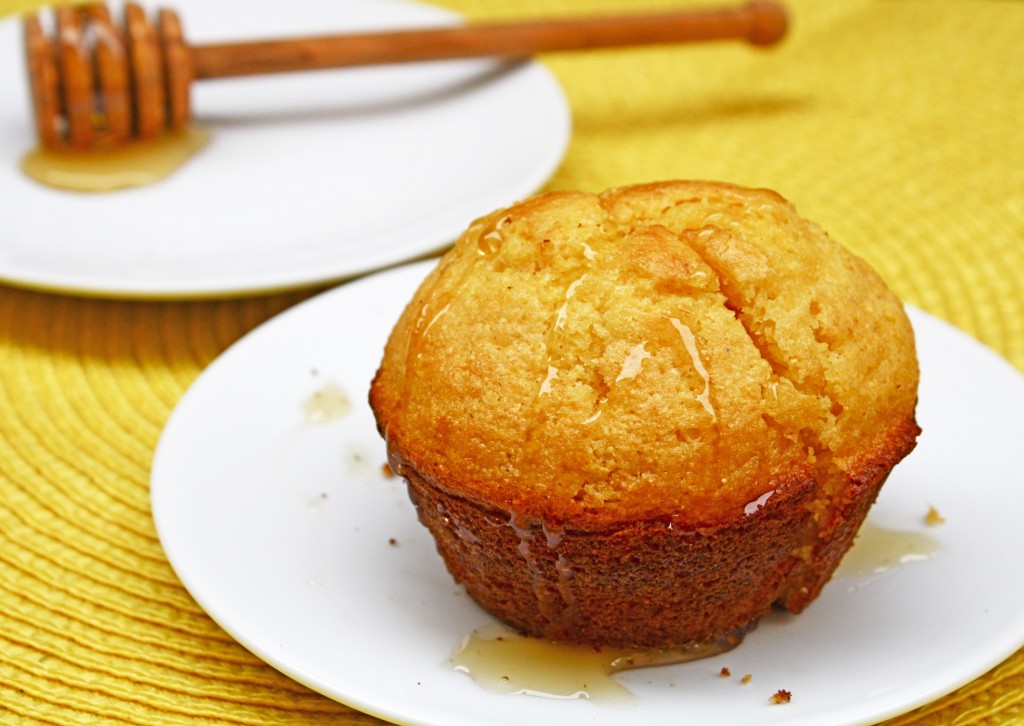 Honey is a very versatile ingredient and can be used in many recipes, from smoothies to breads to cookies. I love baking with honey because of its sweet flavor and the way it creates super moist baked goods. Not to mention the beautiful golden color it creates – especially with these corn muffins!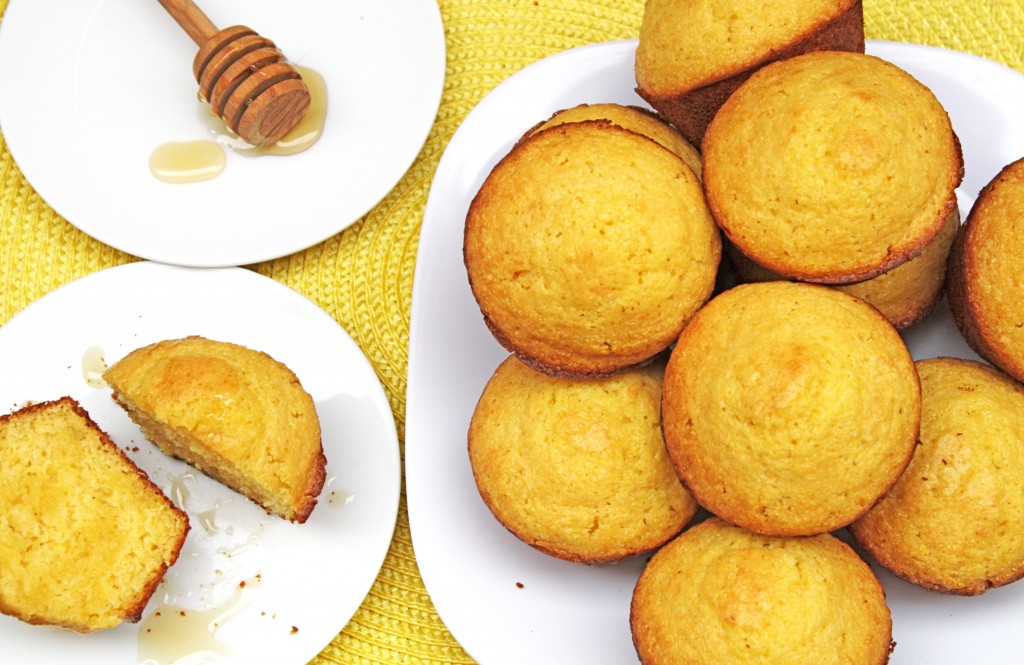 For a long time I struggled with finding a good cornbread muffin recipe. Krusteaz makes an all-natural honey cornbread muffin mix and I gave up trying to make my own for a while because whatever I tried couldn't live up to the taste of those honey cornbread muffins, until now. I made this recipe once and I was instantly won over. This is a great recipe because I can make it with ingredients I have on hand but also because these muffins taste exactly like the box mix. They're moist, crumbly and deliciously sweet. Feel free to drizzle just a little extra honey over the top of the muffins before placing them in the oven – trust me. Who among us couldn't use a little extra sweetness?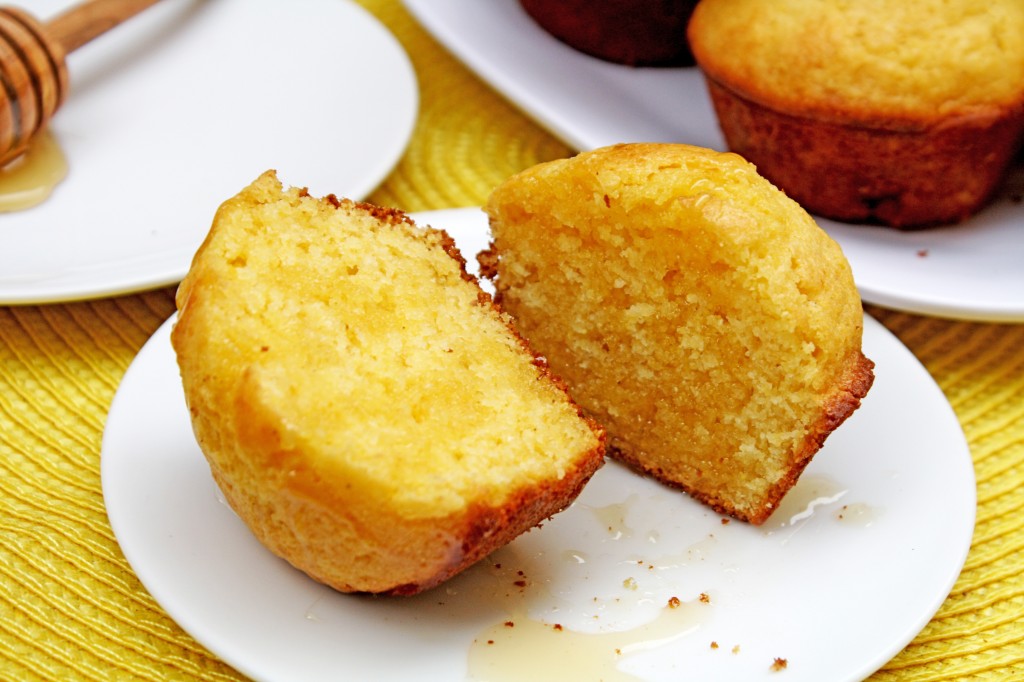 It's finally starting to feel like Spring around here and I'm already dreaming of summer BBQs with plates of grilled chicken served alongside this delicious cornbread. If you're not a fan of sweet cornbread I highly recommend my buttermilk corn bread recipe, it's an easy recipe to make and very flavorful. I have a feeling you won't be disappointed with this recipe though – it's definitely one of my  favorites!
Honey Cornbread Muffins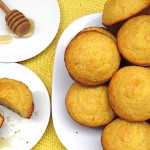 Adapted from, Patrick & Gina Neely of The Food Network
Instructions
Preheat oven to 400°F.
In a large bowl, whisk together the cornmeal, flour, baking powder, granulated sugar and salt.
In another bowl, mix together the milk, eggs, melted butter and honey until combined.
Make a well in the center of the flour mixture and pour the wet ingredients into the dry ingredients.
Stir just until combined and little specks of flour remain (do not over mix).
Evenly divide the cornbread batter into the prepared muffin tins and drizzle with additional honey (if desired). Bake for 12-15 minutes, until golden. Serve with additional honey, or butter, or honey-butter! Did I mention I have an obsession with honey?
NUTRITION FACTS (from myfitnesspal): Servings Size 1 corn muffin, CALORIES: 183, FAT 5.3g (SAT 2.9g, POLY 0.2g, MONO 1.1g), PROTEIN 3.7g, CARBOHYDRATES 30.3g, FIBER 2g, SUGARS 15.2g, CHOLESTEROL 47.6mg, SODIUM 329.8mg.
Print