"Let things taste of what they are." – Alice Waters, The Art of Simple Food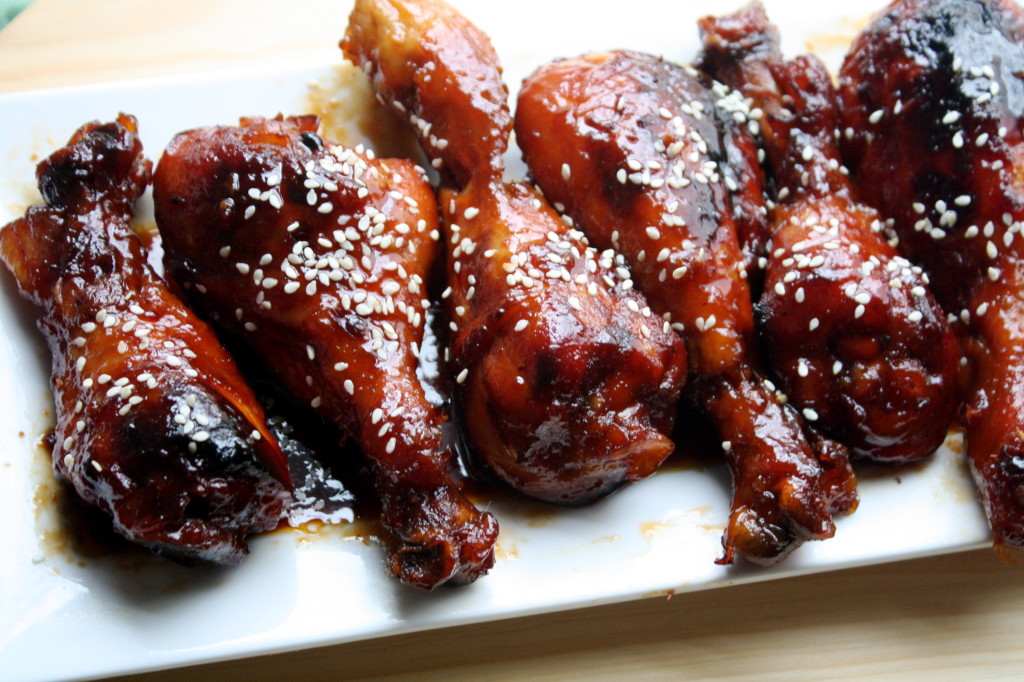 Sometimes the best recipes I have in my collection are often the simplest. With good quality meat and a delicious sauce – it's easy to create a delicious dinner with minimal effort.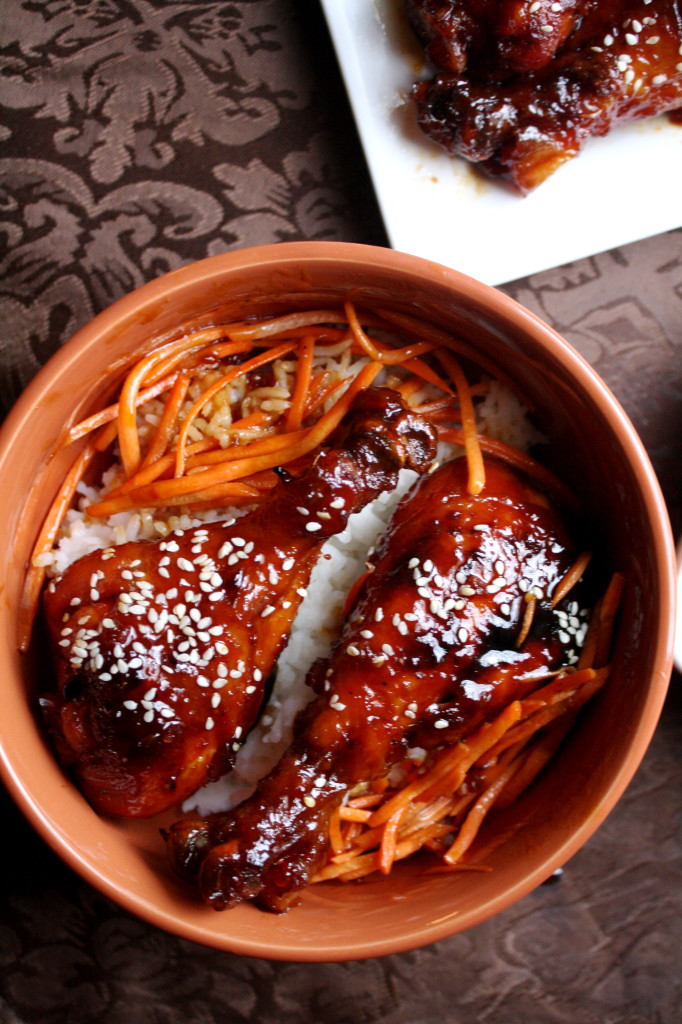 Honey, soy sauce, oil, ketchup and fresh garlic are the only ingredients you need to make a delicious sauce. It thickens as the chicken bakes in the oven and the outcome is a sweet sticky coating. Top it off with some sesame seeds or green onions, and you'll have everyone thinking you spent hours in the kitchen preparing this dish.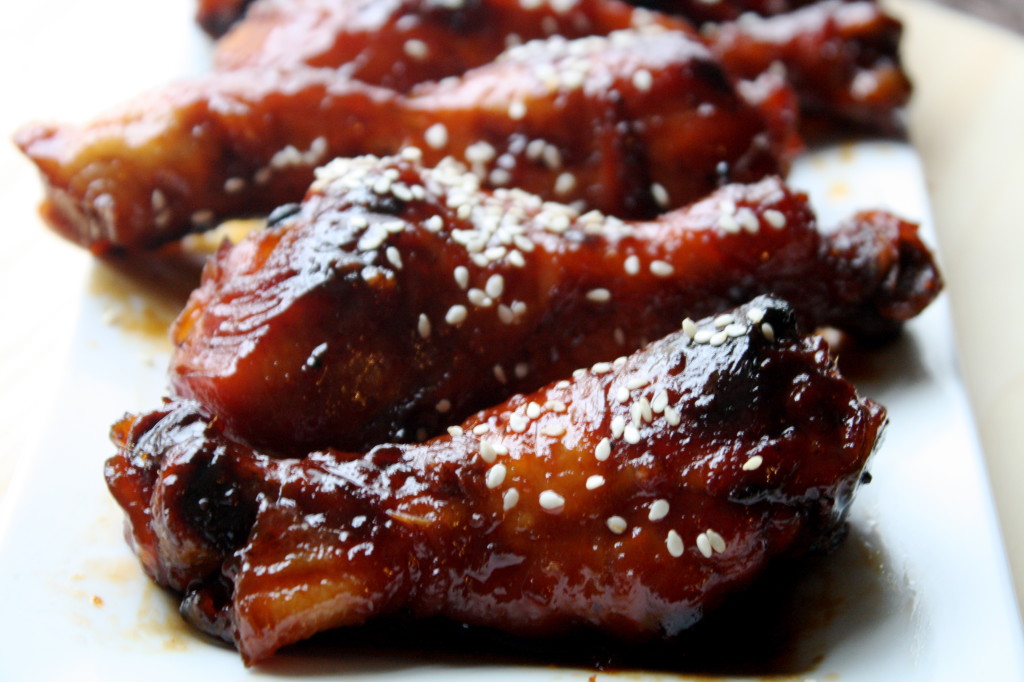 Chicken drumsticks are one of the least expensive cuts of meat, which also makes this recipe budget-friendly (now that's something to get excited about!) Drumsticks take longer to cook because of the higher fat content, but you don't need to worry about overcooking. Dark meat doesn't dry out like white meat does, so basically, this recipe is foolproof. It's definitely a good option to have on hand when you're out of ideas for dinner and looking for something easy to prepare.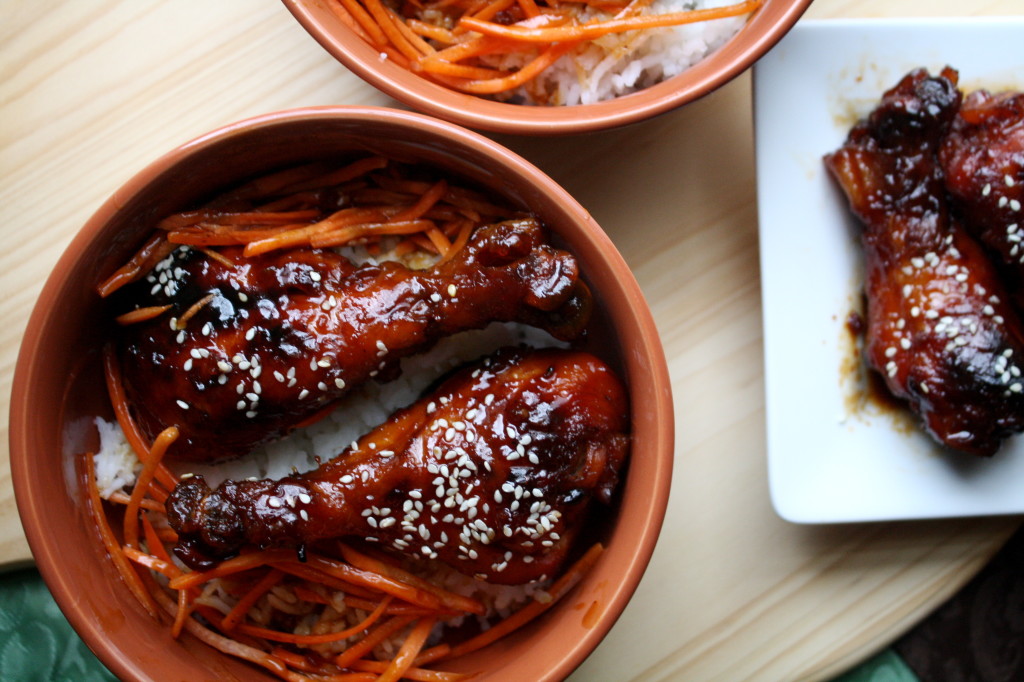 This recipe is also very versatile. Serve it with rice and vegetables or serve it as a finger-lickin' good appetizer. The basic recipe makes enough for two to three people but can easily be doubled to make more. I know I'm already planning on making a double batch so I can serve these at our upcoming super bowl party. Speaking of which, you can also sub chicken wings or chicken thighs in place of drumsticks for this recipe.
Honey-Soy Chicken Drumsticks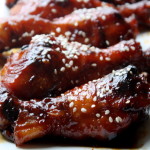 Adapted from, Alexandra's Kitchen. Original source: The New New York Times Cookbook
Instructions
Preheat oven to 400

°

degrees. Place chicken drumsticks in an 8x8 inch baking pan lined with aluminum foil. Season with salt and pepper to taste. (TIP: Lining the pan is optional but helps immensely when cleaning up the sticky sauce afterwards!)
Combine remaining ingredients in a small bowl and stir together with a whisk. Pour the sauce over chicken and toss chicken with tongs to coat. Arrange skin-side down in the baking pan.
Bake in the preheated oven for 30 minutes. Remove pan and turn chicken over, and return to the oven for another 30 minutes. Remove pan and turn chicken over once more and return to oven to bake for the remaining 15 minutes or until sauce is thickened.
Serve & enjoy!
If doubling the recipe - bake in a 9 x 13 inch baking pan.
NUTRITION FACTS (From MyFitnessPal): Yield 3 servings, serving size 2 drumsticks, CALORIES: 310, FAT 14.7g,(SAT. 2.8g, MONO. 6.8g, POLY. 5.1g), PROTEIN 20.2g, CARBOHYDRATES 27.5g, FIBER 0g, SUGARS 24g, CHOLESTEROL 90mg, SODIUM 759mg.
*Calories will vary depending on what size drumsticks you are serving (I usually serve the large variety).
Print