"Good bread is the most fundamentally satisfying of all foods; and good bread with fresh butter, the greatest of feasts." – James Beard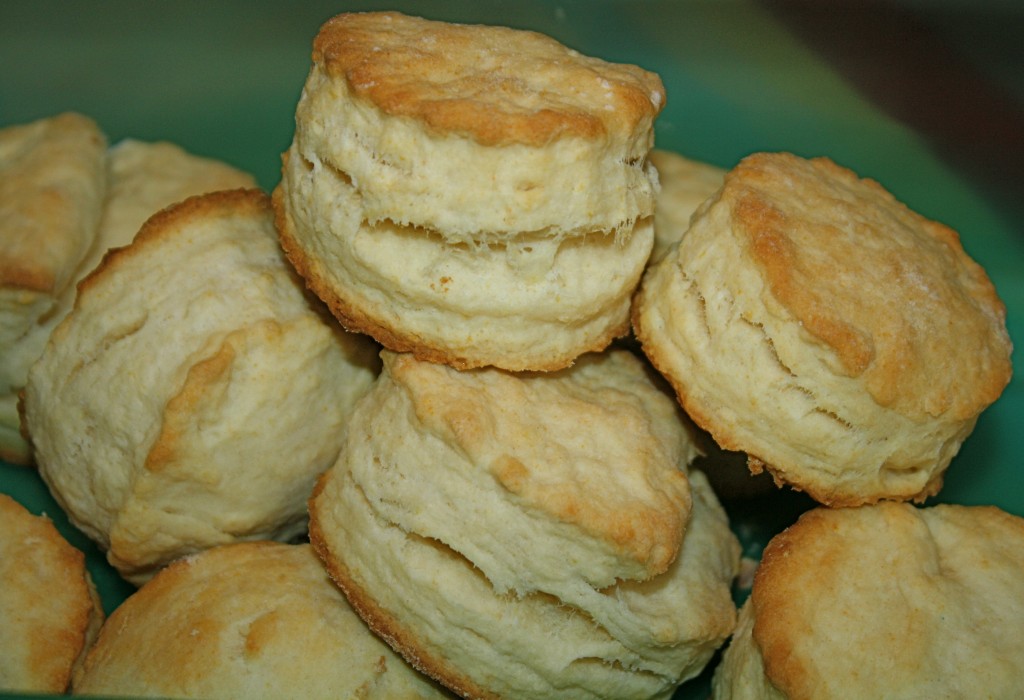 When I think of biscuits it brings to mind images of flaky layers, warm butter, and the subtle smell of honey. Biscuits are so versatile; they go with everything! I've eaten these biscuits for breakfast, with tea or coffee. I've also paired them with a salad for lunch, and the other night I served these as a side to a delicious chicken dinner we were having. This is definitely one of my favorite recipes to bake.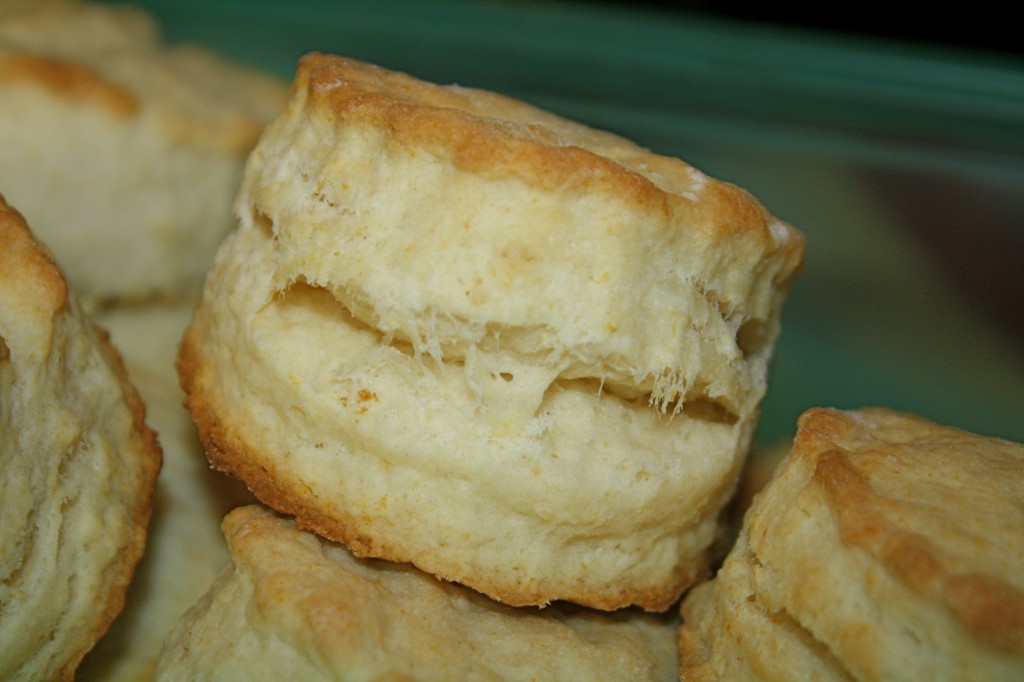 It took me several attempts to get the technique down to creating the flaky layers, but once its mastered you'll end up with perfectly layered biscuits each time! As with other bread recipes, there is some work required in rolling out the dough, folding the dough, and re-rolling it, but once you're used to the method it's easy to bake a batch of these biscuits in no time.
First you begin by rolling out the dough into a rectangle, then folding the layers over top of one another (like you would fold a piece of paper to fit into an envelope). Next you re-roll the dough into a rectangle, and again fold the layers.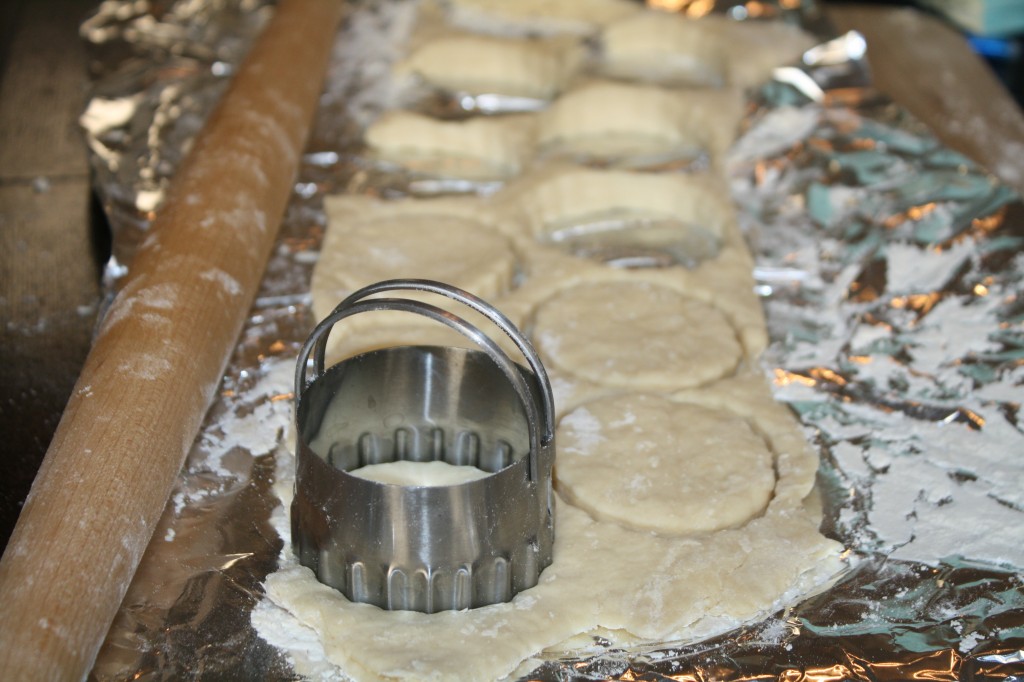 After repeating the above process, all that's left to do is cut the biscuits. I've experimented with a few different sizes. I use a biscuit cutter that measures 2 & 1/2″ in diameter to yield 14 biscuits. If I want to make slightly larger biscuits I have another cutter that I'll use which usually yields 10 biscuits. I haven't tried making miniature biscuits but I'm sure when I do they will be adorable, because everything is adorable when its mini, except for the six dollar bag of popcorn at the movies. I mean, really? That much money for a small? Anyway – onto the biscuits recipe…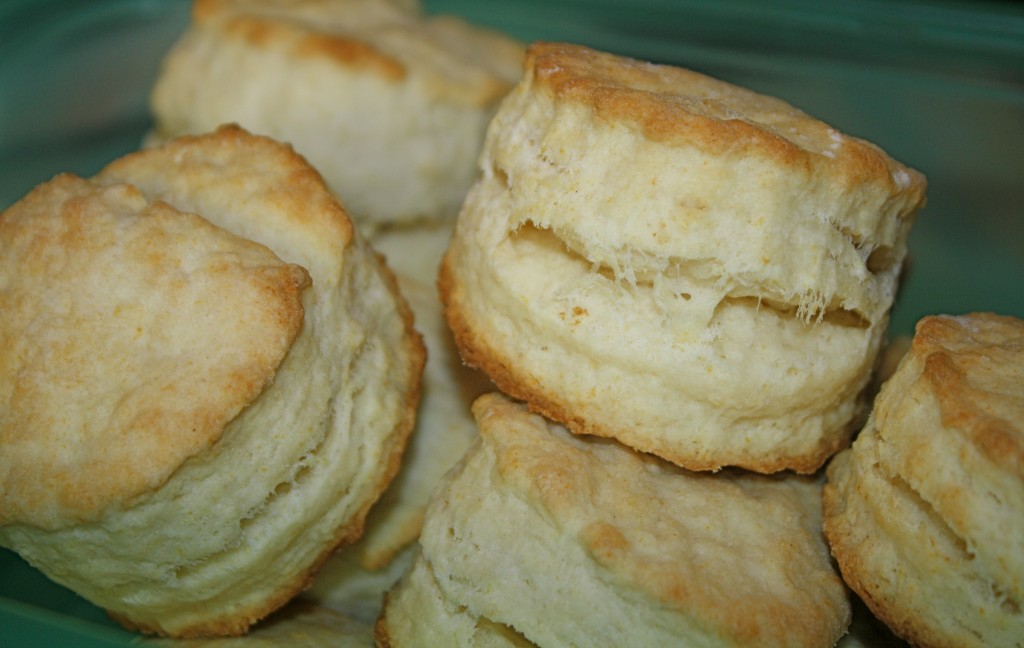 Layered Buttermilk Biscuits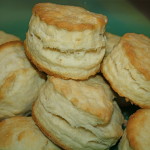 Adapted from, Cooking Light Everyday Baking
Instructions
Preheat oven to 400°.

Weigh or lightly spoon flour into dry measuring cups; level with a knife. Combine flour, baking powder, and salt in a large bowl; cut in butter with a pastry blender or 2 knives until mixture resembles coarse meal. Chill 10 minutes.
Combine buttermilk and honey with a whisk, stirring until well blended. Add buttermilk mixture to flour mixture; stir just until moist.
Turn dough out onto a lightly floured surface; knead lightly 4 times (be careful not to overknead, it will create hard biscuits).
Roll dough into a (1/2-inch-thick) 9 x 5–inch rectangle; dust top of dough with flour. Fold dough crosswise into thirds (as if folding a piece of paper to fit into an envelope). Re-roll dough into a (1/2-inch-thick) 9 x 5–inch rectangle; dust top of dough with flour. Fold dough crosswise into thirds; gently roll or pat to a 3/4-inch thickness. Cut dough with a biscuit cutter to form 14 dough rounds.
Place dough rounds, 1 inch apart, on a baking sheet lined with parchment paper.
Bake at 400° for 12 minutes or until golden.
Remove from pan; cool 2 minutes on wire racks. Serve warm.
NUTRITION FACTS (from Cooking Light Everyday Baking): Serving Size, 1 biscuit - CALORIES 121, FAT 4.2g (SAT. 2.6g, MONO 1.1g, POLY. 0.2g), PROTEIN 2.4g, CARBOHYDRATES 18.4g, FIBER 0.5g, CHOLESTEROL 11mg, IRON 0.9mg, SODIUM 198mg, CALCIUM 63mg.
Print