"Life is a combination of magic and pasta."  –Federico Fellini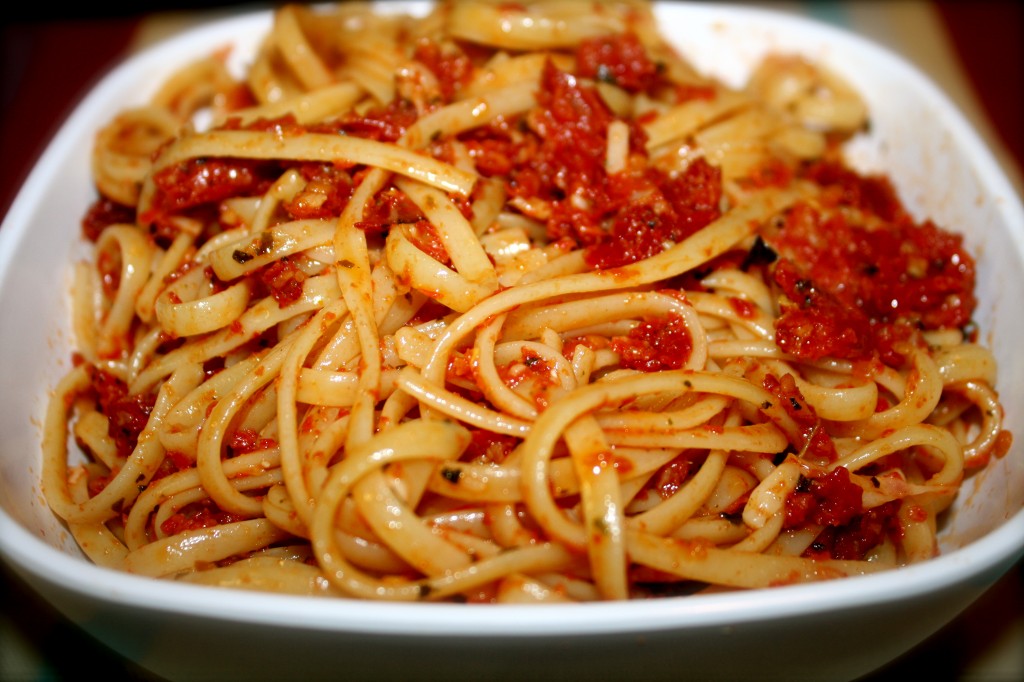 For Meatless Monday, you really can't go wrong with pasta. It has a natural way of pleasing people and its also one of the easiest dishes to put together. This recipe definitely relies on the simplicity of cooking pasta but the main highlight is the sun-dried tomato pesto. People will think you spent hours in the kitchen preparing this recipe, when in reality it only takes about 20 minutes! It's a great recipe for a weeknight meal.
Sun-dried tomatoes are the key flavor for the pesto. Its rich, flavorful and will leave you feeling satisfied that you skipped the usual jarred pasta sauce!
Linguine with Sun-Dried Tomato Pesto & Parmesan Cheese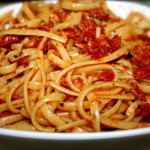 Adapted from, Cooking Light
Instructions
Cook pasta according to package directions. Drain through a sieve over a bowl, reserving 1/2 cup cooking liquid. Return pasta to pan.
While pasta cooks, place tomatoes and next 6 ingredients (through pepper) in a food processor; process until smooth. Mixture should resemble texture of pesto.
Combine tomato pesto and the reserved 1/2 cup cooking liquid, stirring with a whisk. Add to pasta; toss well to coat. Sprinkle with salt & pepper if desired. Serve warm.
Nutrition Facts (from myfitnesspal): CALORIES 275 FAT 3g, PROTEIN 11g, CARBOHYDRATES 53g.
Print