"Family traditions counter alienation and confusion. They help us define who we are; they provide something steady, reliable and safe in a confusing world." – Susan Lieberman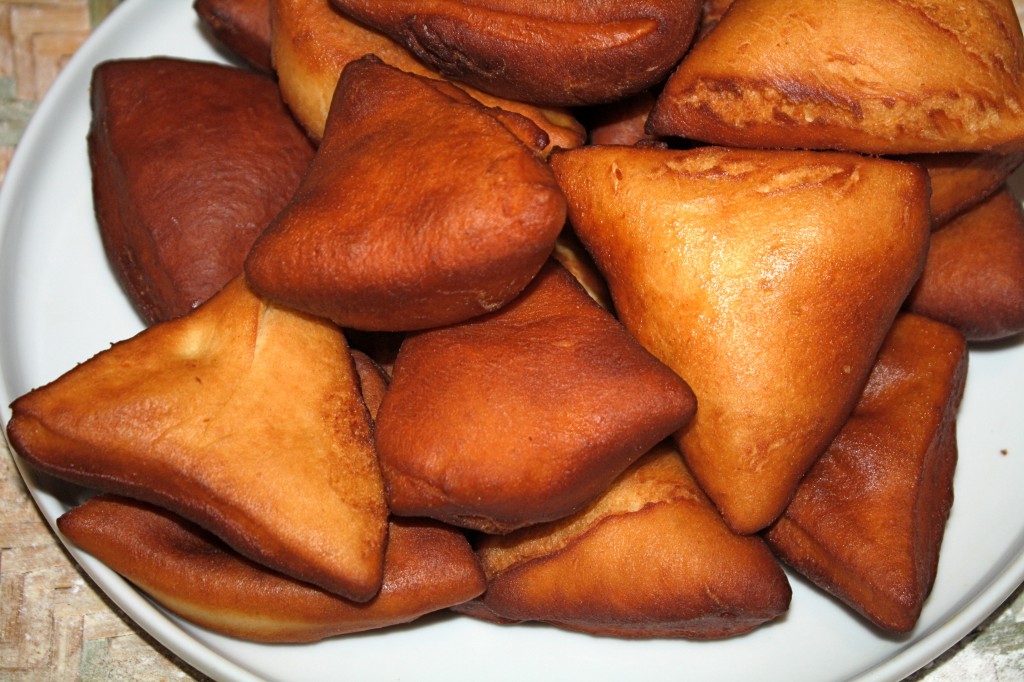 A tradition can be many things – it can be a belief, a celebration, a behavior or a custom. Regardless, traditions live on because they are passed down through generations of families, societies and cultures. When I started dating my boyfriend, I was introduced to a whole new set of family traditions and customs, and for that I am eternally grateful.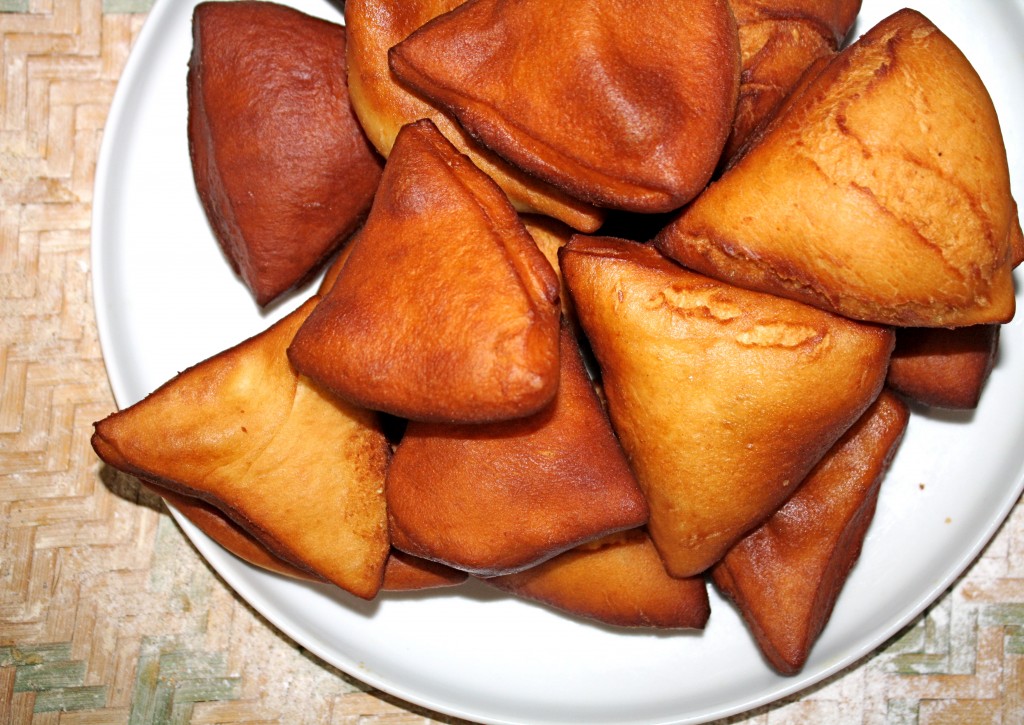 Naturally, any tradition involving food sparks my curiosity and eagerness to learn something new. When I first had a bite of this delicious fried bread, I knew immediately I wanted to learn how to make it someday. Mandazi (also known as Mahamri or Mamri) is an East African fried bread made with coconut milk. Mildly sweet, spiced with cardamon, and golden brown: these beauties are a favorite of mine at special occasions.  Mandazi is often served with tea or coffee, but I personally love it when paired with a curry for dinner.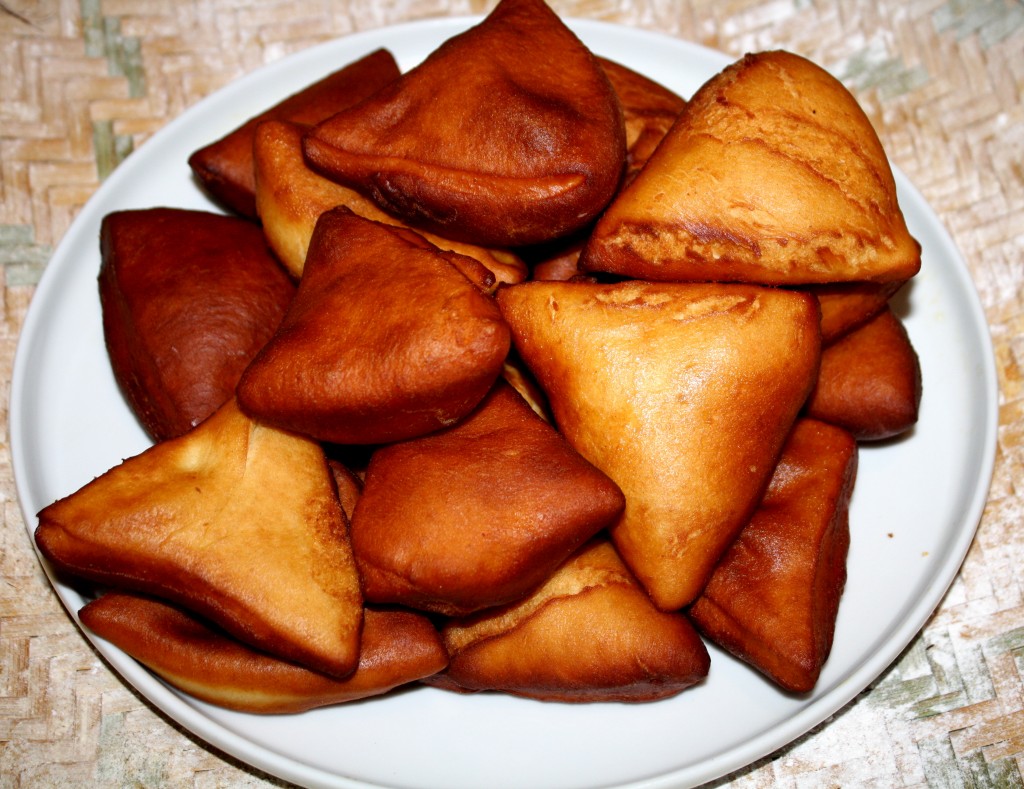 I was taught this recipe by my boyfriend's aunt, who had been taught by her mom, who taught all of her sisters. It's a recipe that is also made by my boyfriend's mom and his grandmother, who lives in Tanzania. When I first made this recipe I felt honored to be part of a tradition that had been passed on to so many individuals.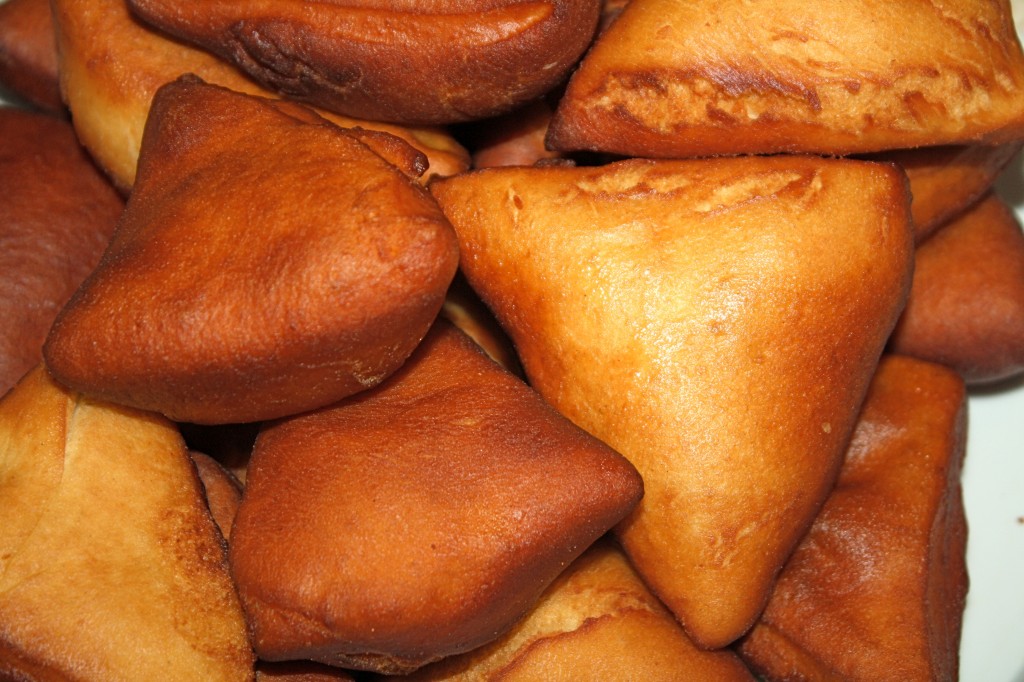 The first step for this recipe is to activate the yeast. Place the warm water in a bowl and sprinkle the yeast on top. Stir to combine and (this is optional) add a pinch of sugar to the mixture, which helps the yeast start metabolizing. After preparing the yeast, mix together the dry ingredients and add them to the yeast mixture.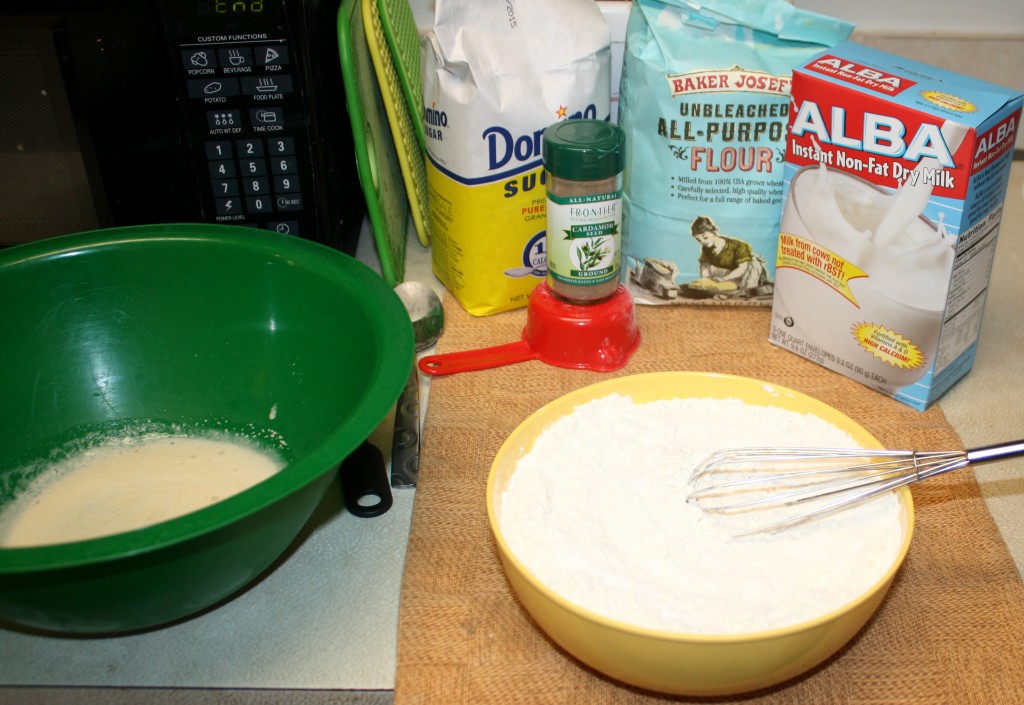 Next, whisk together the egg and coconut milk. Add to the dry ingredients and mix with hands until the dough sticks together. I generally use a little less than a full can of coconut milk (and use the extra to make coconut rice!)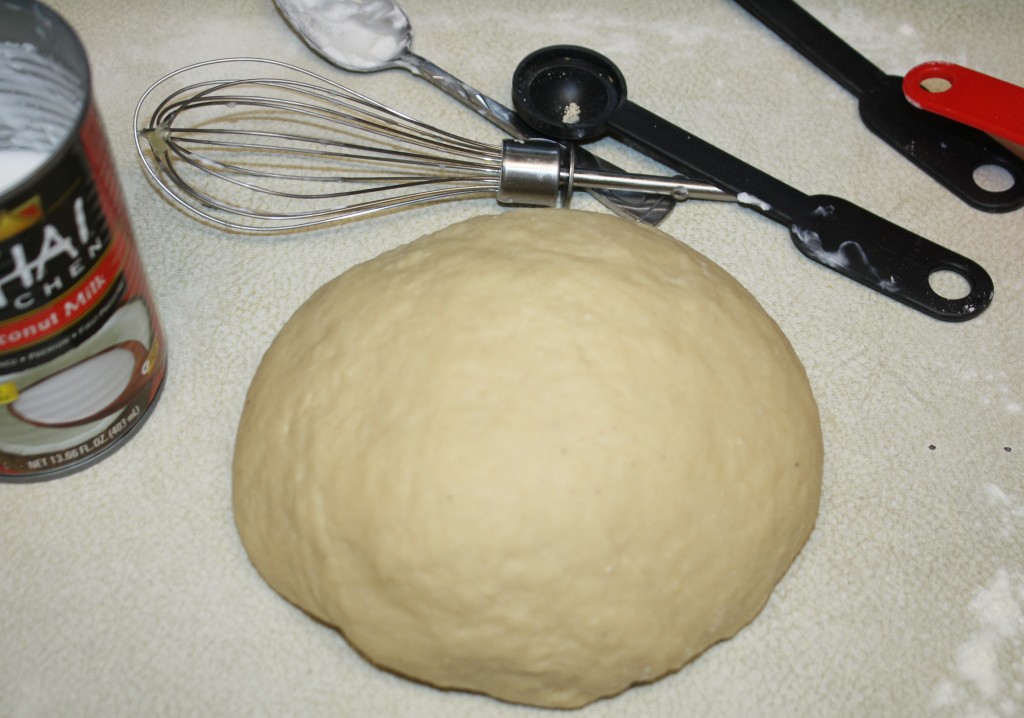 You don't want the dough to be too sticky so you can also add a little more flour, if needed.
Next, on a lightly floured surface, knead the dough with both hands until smooth and elastic. Knead for about 10 to 15 minutes, coating hands with oil (or flour) to work into the dough to prevent sticking.
After kneading the dough, allow it to rise in a warm place for an hour. Once the dough has risen and doubled in size, divide the dough into four equal portions. Starting with one portion, flatten with a rolling pin and shape into a small circle.
Cut the circle into six triangles, and repeat with remaining dough portions. Allow the triangles to rise a second time on a baking sheet for about 10 minutes. Meanwhile, you can begin to heat the oil for frying the mandazi.
A few tips for frying: be sure not to overcrowd the pan because it will drop the temperature of the oil. Only fry as many mandazi as can float in the pan without touching one another. Once you place the mandazi in the pan they will rise to the top and you can use a slotted spoon to flip the mandazi over until golden brown. Remove from oil and cool on paper towels.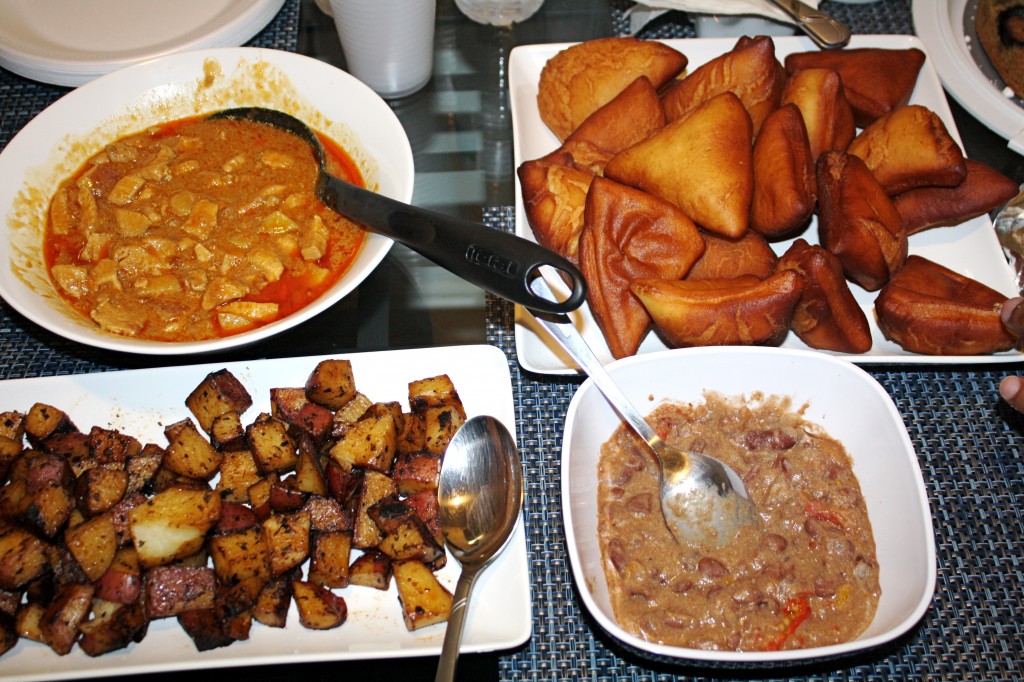 Pictured above: mandazi with potatoes, beans and curry – my favorite!
Mandazi (East African Donuts)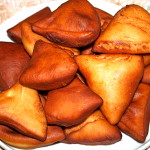 Adapted from a family recipe (from Zanzibar)
Yield :

24 Mandazi Triangles
Instructions
Pour the warm water in a large bowl; sprinkle the yeast over the water and stir to combine. Allow the yeast to dissolve in the warm water for five minutes. The mixture should begin to bubble which means the yeast is active and ready to use.
Once the yeast is ready, mix together the flour, milk powder, sugar, baking powder and cardamon in the same bowl. Add to the yeast mixture and stir to combine.
In a separate bowl, whisk together 1 cup of coconut milk and 1 egg. Add the coconut milk to the flour mixture until the dough sticks together (you can add more coconut milk if necessary, I usually use a little less than one full can). You can also add more flour, if necessary. The dough should be soft but not too sticky.
Knead the dough with hands until smooth and elastic (about 10 minutes), coating hands with oil or flour to work into the dough if needed.
Place the dough in a large bowl, coated with cooking spray, turning once to coat. Place plastic wrap over the dough and let the dough rise for about an hour in a warm place or until doubled in size.
Punch the dough down and divide evenly into four portions. With a rolling pin, flatten a portion into a circle and cut into six triangles. Repeat previous steps with remaining dough portions.
Place triangles on a baking sheet, cover with plastic wrap and let sit for another 10 minutes.
Meanwhile, heat the oil in a large pan (you want to fill the oil about 3 inches high).
Fry the mandazi (in batches) on one side until mandazi turns golden brown then flip and fry remaining side for 1 to 2 minutes until golden brown. Cool on paper towels. Repeat with remaining mandazi.
Mandazi is best served fresh but can be reheated for later use.
**Note about cardamom: you can also use cardamon seeds instead of ground cardamon.  I prefer the spice ground, others like the seeds - it just depends on personal taste.  If using the seeds you only need about 1 teaspoon.
Print