"Never work before breakfast; if you have to work before breakfast, eat your breakfast first." – Josh Billings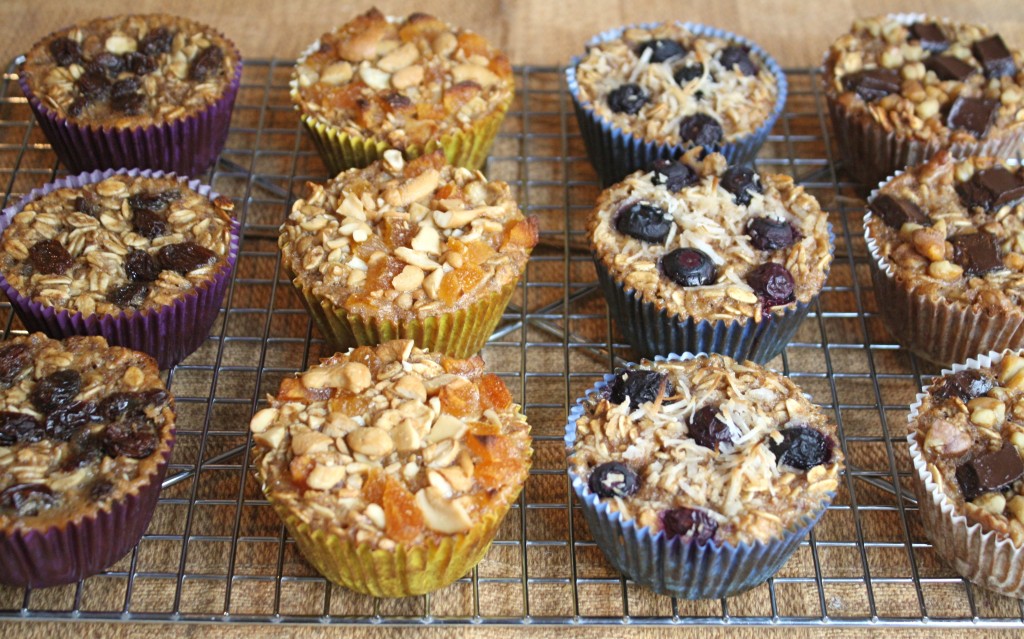 I'm not the type of person to skip breakfast – ever. Regardless of the occasion, if I'm late or just in a hurry I always make sure to grab something before heading out the door. Part of the reason I don't skip breakfast is habit and also because  I know myself well enough to recognize that I am not at my best when I haven't eaten, especially in the morning.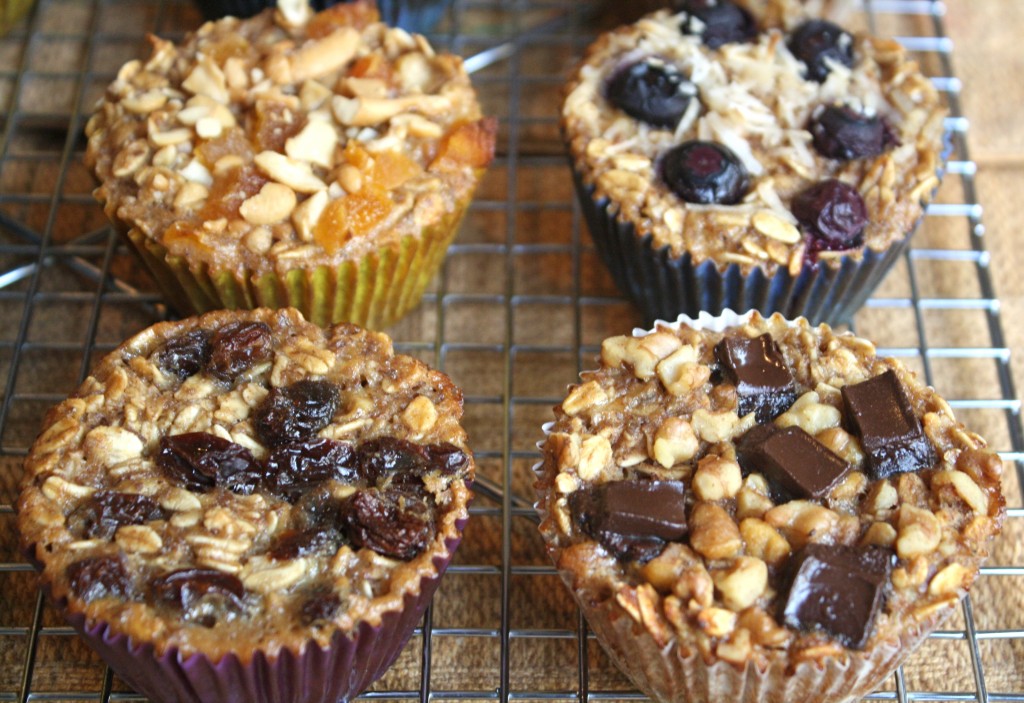 I'm definitely a creature of habit when it comes to what I eat for breakfast, but once in a while I get tired of eating the same things, especially during the week when more often than not I grab a piece of fruit and granola bar and head out the door. That being said – I'm always on the lookout for new breakfast recipes to try that are fast, filling, and easy to take with me to work.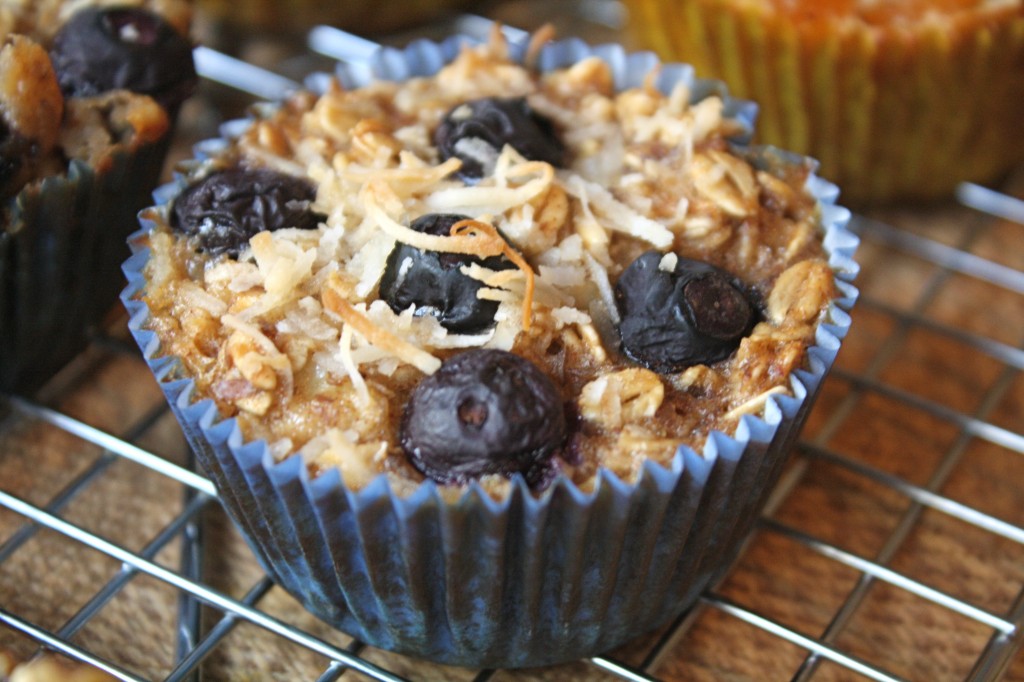 When I saw this recipe I was instantly drawn to it for a number of reasons. Oatmeal is a great healthy option for breakfast. It fills you up and keeps you full because it contains a high fiber content. That being said – I don't eat it as often as I want to because I never thought of it as a quick breakfast option. I have purchased oatmeal to-go cups from the grocery store but I tried them once and they just didn't do it for me.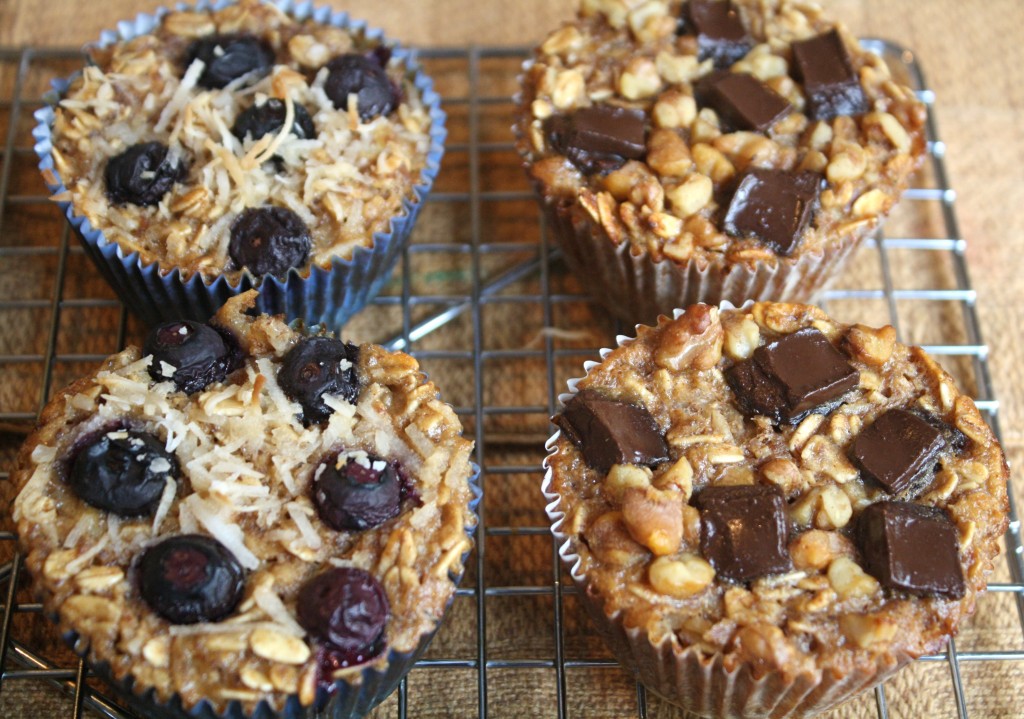 This recipe is completely customizable and you can change around the toppings to please all members of your family. I created four flavors: blueberry coconut, dark chocolate & walnut, apricot cashew and maple raisin. There's something for everyone and you can really get creative thinking up new flavors.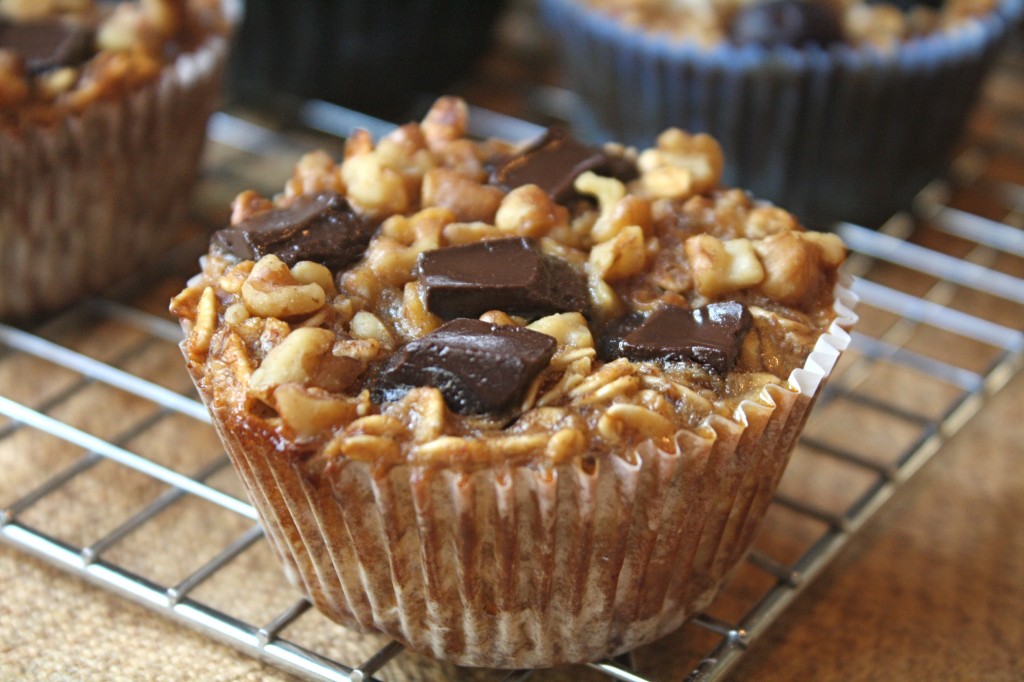 I'm a fan of any recipe that contains dark chocolate. Let's be honest – that was really the selling point for me. Dark chocolate for breakfast? Sold.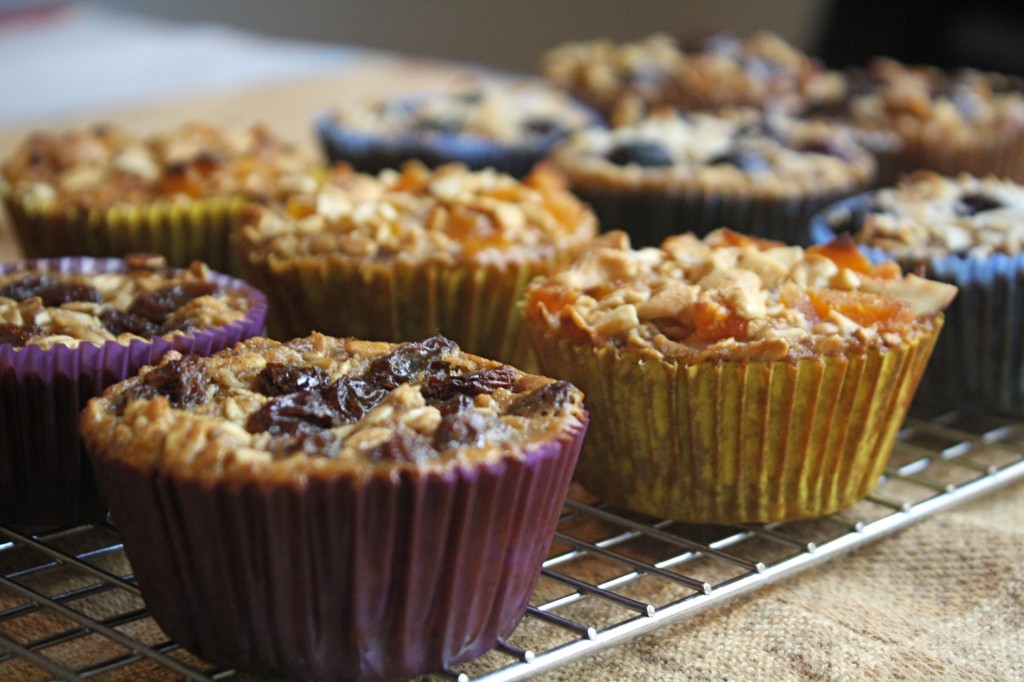 This recipe comes together so quickly. It requires minimal effort and it's ideal to make Sunday night so that you can have a healthy breakfast option to eat throughout the week. Another great aspect of this recipe is that you can freeze these ahead of time to eat later. To reheat: either thaw in the refrigerator overnight or pop them in the microwave for 30 seconds in the morning.
Personalized Baked Oatmeal Cups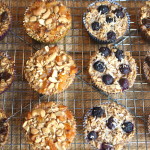 Adapted from, Cooking With Trader Joe's
Instructions
Preheat oven to 350° and line a 12-cup muffin pan with cupcake liners. Spray the liners with cooking spray and set aside.
In a small bowl, combine the mashed banana, applesauce, egg, honey, milk and vanilla extract. Set aside.
In a large bowl, mix together the baking powder, cinnamon, flaxseed, salt, and rolled oats.
Make a well in the center of the dry ingredients and pour in the wet ingredients. Mix until combined.
Pour batter into prepared muffin cups and top with desired toppings (the batter will be thin but you can fill to the top of each muffin cup). Top with 1 teaspoon chopped walnuts and 1 teaspoon dark chocolate chunks. One teaspoon each of unsweetened shredded coconut and blueberries (fresh or frozen). One tablespoon of chopped dried apricots and 1 teaspoon chopped cashews. Or 1 teaspoon maple syrup and one teaspoon dried raisins.
Bake for 25-30 minutes or until toothpick inserted into center comes out clean. Let rest for five minutes before removing from pan. Cool on wire rack and enjoy hot or cold.
NUTRITION FACTS:
Plain baked oatmeal cups: CALORIES 110, FAT 2.2g (SAT 0.7g, POLY 0.3g, MONO 0.1g), PROTEIN 4.1g, CARBOHYDRATES 19.8g, FIBER 2.1g, SUGARS 9g, CHOLESTEROL 21mg, SODIUM 239.7mg.
Dark Chocolate & Walnut: CALORIES 150, FAT 5.9g (SAT 2.2g, POLY 0.3, MONO o.3), PROTEIN 4.8g, CARBOHYDRATES 22.8g, FIBER 2.9g, SUGARS 10.7g, CHOLESTEROL 21mg, SODIUM 239.7 mg.
Blueberry Coconut: CALORIES 123, FAT 3.3g (SAT 1.7g, POLY 0.3g, MONO 0.1g), PROTEIN 4.2g, CARBOHYDRATES 20.7g, FIBER 2.4g, SUGARS 9.4g, CHOLESTEROL 21mg, SODIUM 240.3mg.
Apricot Cashew: CALORIES 141, FAT 3.4g (SAT 1g, POLY 0.3g, MONO 0.1g), PROTEIN 4.8g, CARBOHYDRATES 24.8g, FIBER 2.7g, SUGARS 12.8g, CHOLESTEROL 21mg, SODIUM 246.4mg.
Maple Raisin: CALORIES 136, FAT 2.2g (SAT 0.7, POLY 0.3, MONO 0.1), PROTEIN 4.2g, CARBOHYDRATES 26.8g, FIBER 2.2g, SUGARS 15.4g, CHOLESTEROL 21mg, SODIUM 239.7mg.
Print