"Cupcakes make people happy." – Author Unknown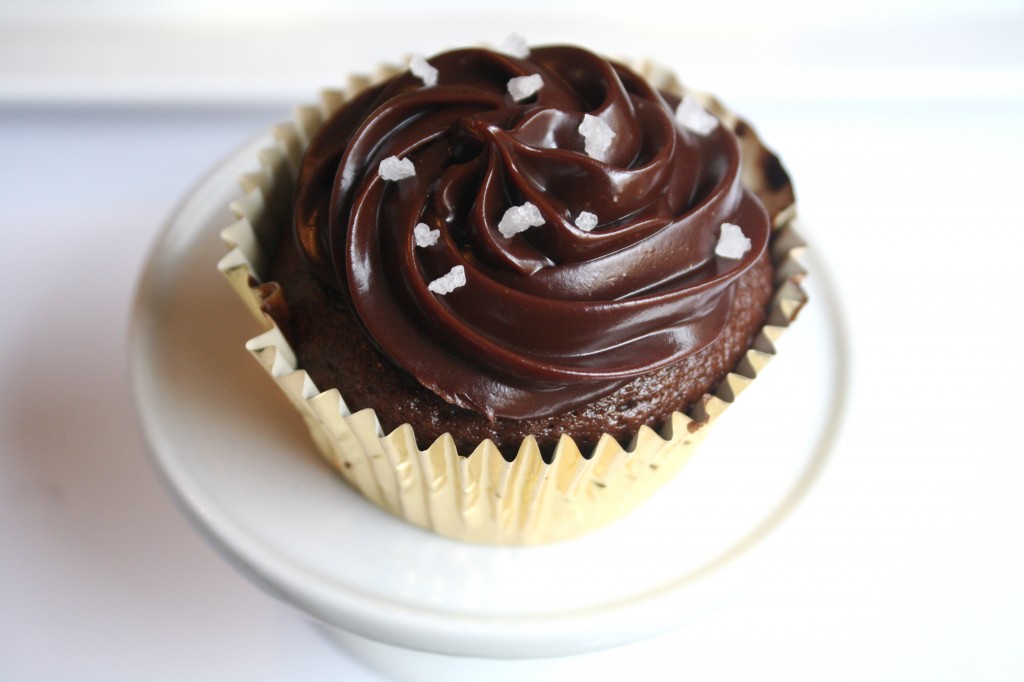 The more I bake cupcakes, the more I realize how much I LOVE baking cupcakes! Even more so than cookies, brownies or cakes. Cupcakes are my favorite. There are endless flavor combinations, and they can be as simple or as fancy & decorated as you want. I have my go-to recipes all set, but I still like to try new flavors, especially when celebrating a birthday.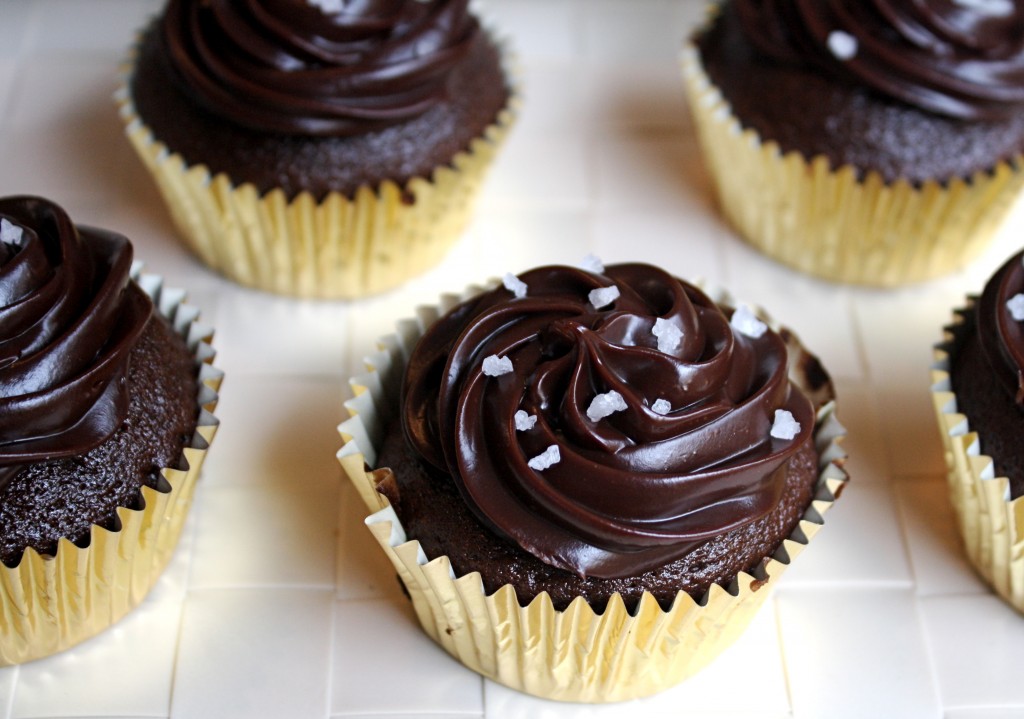 For my sister's birthday, she requested "anything with the flavors salted caramel, chocolate and sea salt." I immediately thought of baking a cupcake incorporating all these delicious flavors and began my research to find the perfect recipe. My sister and I have very similar tastes when it comes to dessert and I knew these would be a hit.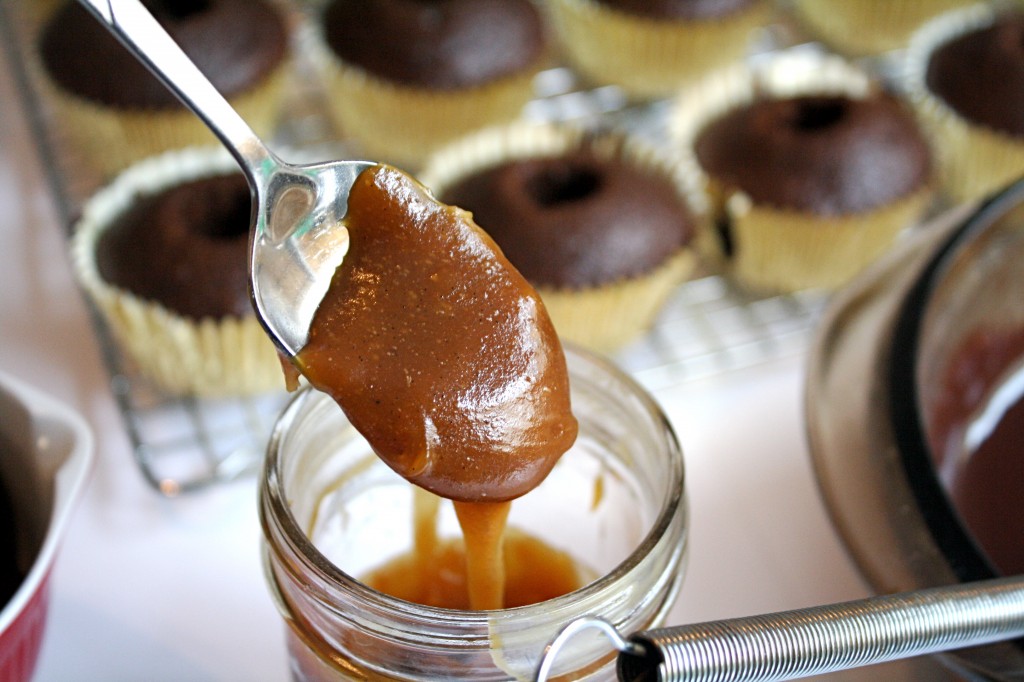 This recipe includes a homemade vanilla bean salted caramel sauce that is used to fill the cupcakes. I have to say hands down, it's the best sauce I've ever made. I had leftover sauce and drizzled it over some fudge brownies I made for Valentine's Day – they were delicious!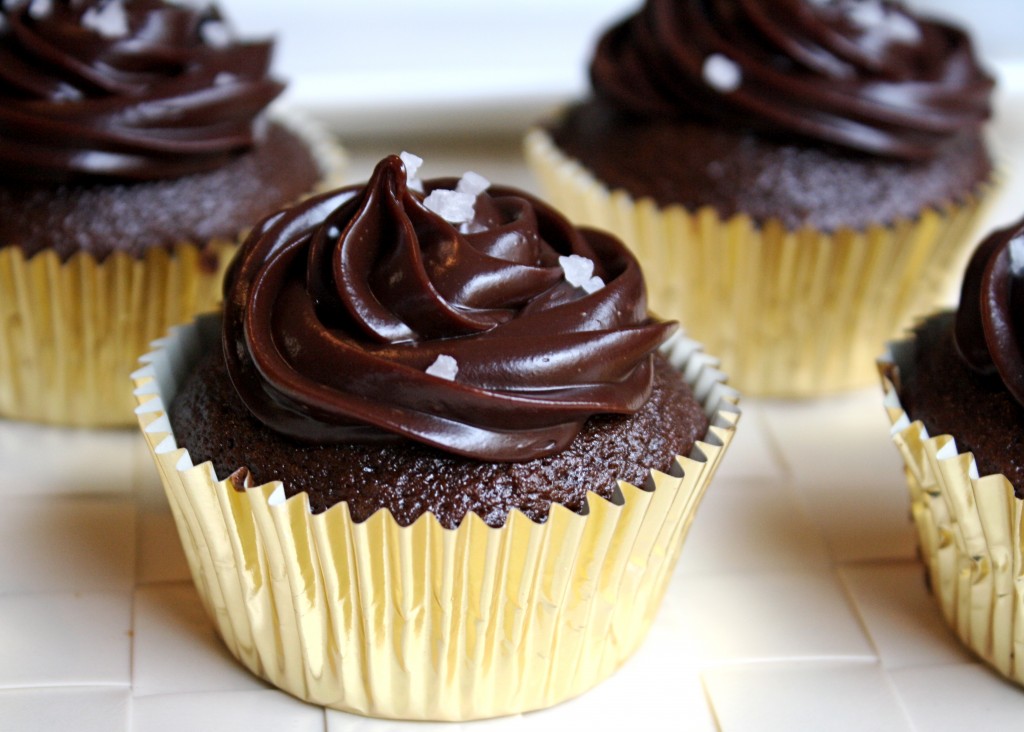 Making caramel from scratch can seem intimidating, but it really is worth the effort. I started a blog in hopes of being more motivated to experiment in the kitchen and try new things. I myself, am still learning the process but making caramel takes patience, and of course, lots of practice. I'm sure it will probably take me a couple more tries to get the technique down but this sauce is my motivation! It's creamy and delicious, full of vanilla flavor and just a hint of sea salt.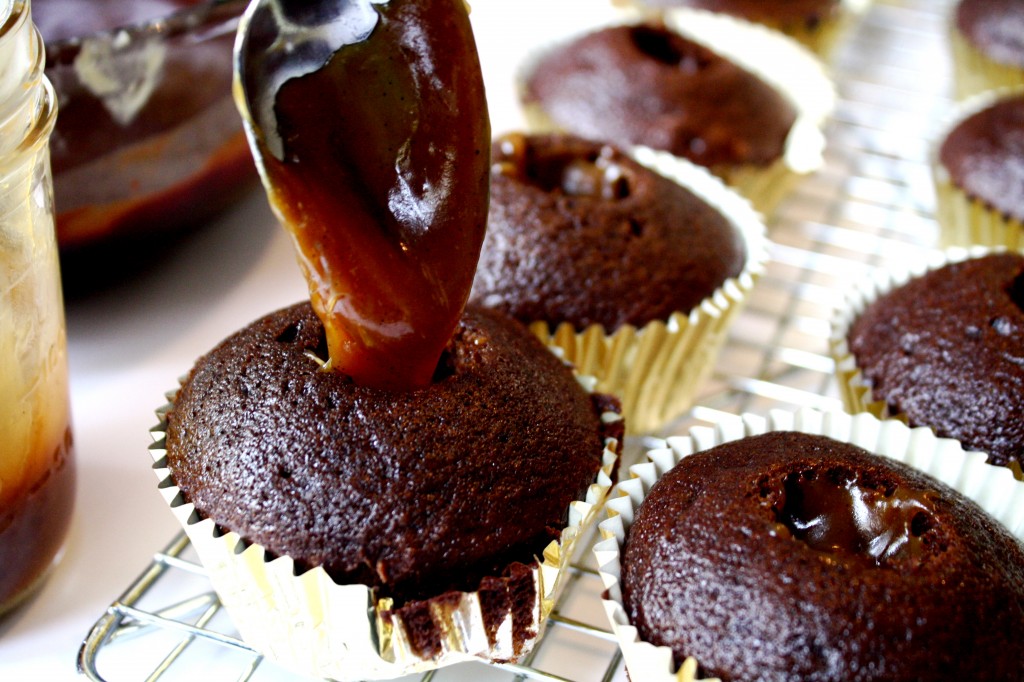 I used a cupcake corer I bought from King Arthur Flour to remove the center from the cupcakes, but you can easily use a spoon. I used this technique before when I made Starbucks Caramel Frappuccino Cupcakes.
Once you fill the cupcakes with the caramel sauce, simply pop the tops back on and then get ready to decorate with some chocolate ganache frosting. At this point, you could also just eat the tops. I'd be lying if I said I didn't do that for a few of these cupcakes. Even though I've made this recipe before, I had to, you know, taste the recipe to make sure it was right…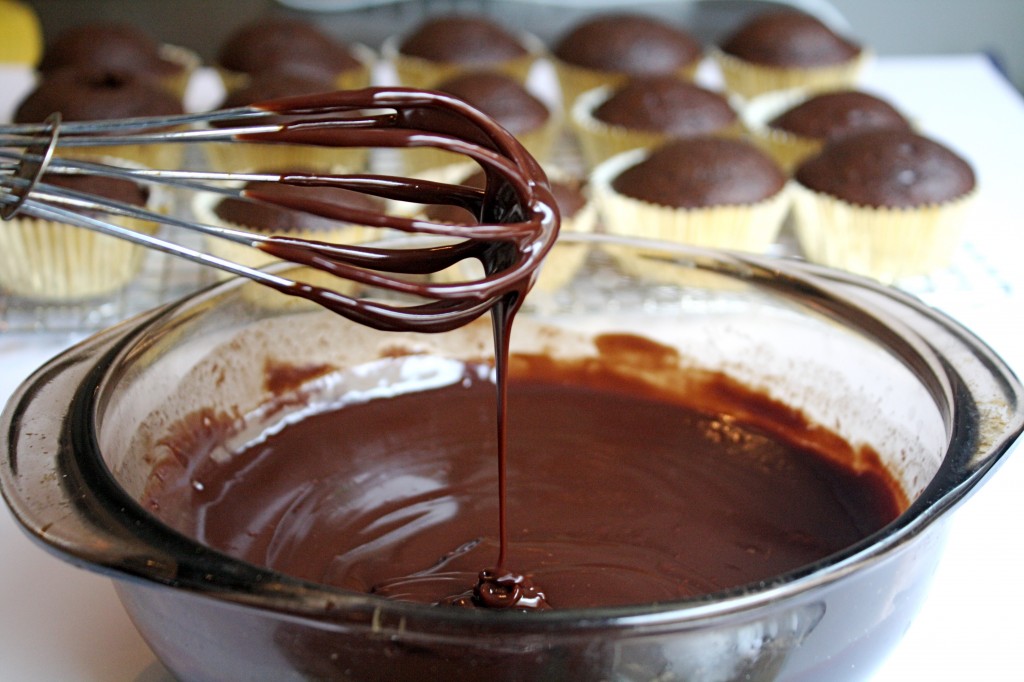 This chocolate ganache frosting couldn't be easier to make – it's only five ingredients! I've made this frosting before and used it as a glaze, but you can also let the frosting cool so that it can be piped on top of cupcakes. I used the Wilton 1M swirl to decorate the cupcakes.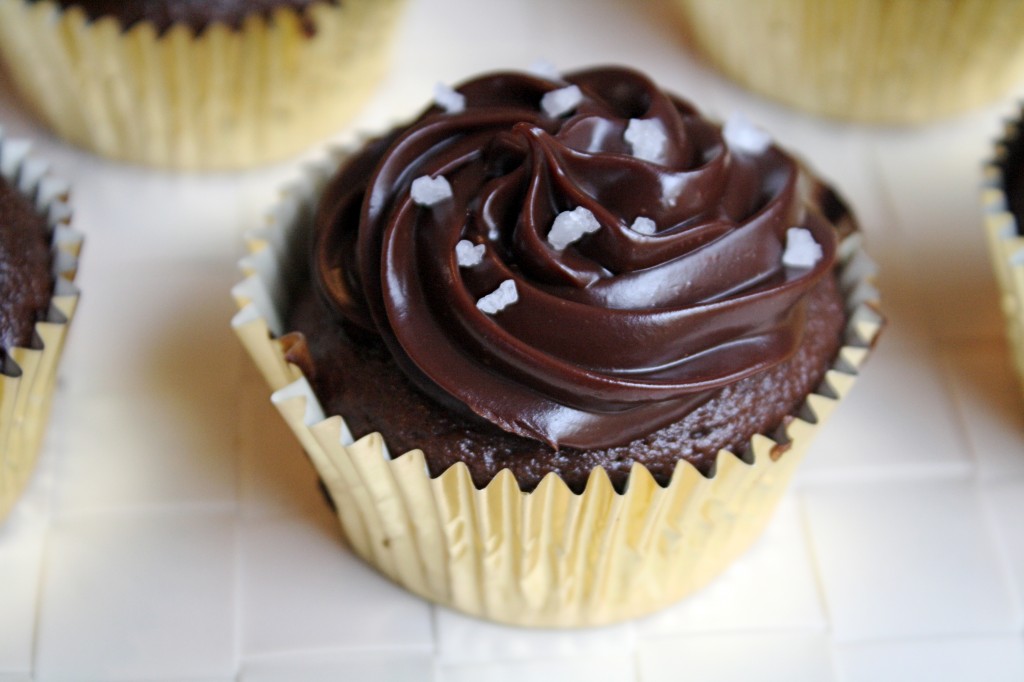 So just to recap: here we have a dark chocolate cupcake, filled with vanilla bean salted caramel sauce, topped with a chocolate ganache frosting AND sprinkled with sea salt. Perfection in a cupcake, if I do say so myself…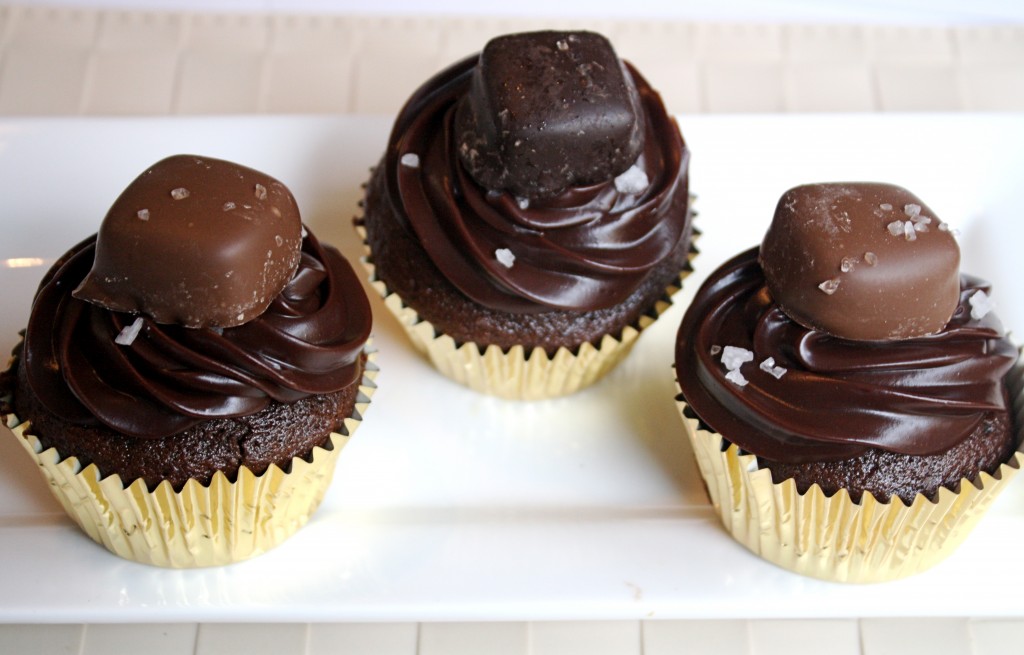 AND just when I thought I couldn't possibly pack any more flavor into these cupcakes…my mom came home from the grocery store with individual salted caramel chocolates. Naturally, they had to be placed on top of the cupcakes for the final "wow" factor. Happy Birthday to my awesome sister! Time to eat some cupcakes…
Salted Caramel Chocolate Cupcakes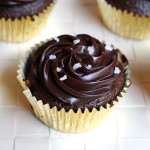 Cupcakes adapted from King Arthur Flour & She Makes and Bakes. Caramel Sauce adapted from She Makes & Bakes, Original Source: David Lebovitz
Instructions
FOR THE CUPCAKES:
Preheat oven to 350° and line muffin tins with paper liners.
In a large bowl, whisk together all the dry ingredients (through the salt).
Make a well in the center and add in the eggs, oil, and vanilla; beating with a hand mixer until smooth.
Gradually add the water into mixture, beating until smooth.
Pour batter evenly into prepared muffin tins (about 3/4 full).
Bake for 20-25 minutes or until toothpick inserted into center comes out clean.
Let the cupcakes cool in pan for a few minutes, then remove to a wire rack to cool completely.
While the cupcakes are cooling, prepare the frosting: In a small saucepan, mix together the heavy cream, sugar and corn syrup with a whisk. Heat over medium-high heat until the sugar has dissolved and the mixture is hot. Place the chocolate in a large heatproof bowl and pour the heavy cream mixture over the chocolate. Let it sit for about two minutes, giving the chocolate time to melt. Stir the chocolate with a whisk, add the butter and stir until melted. Let the frosting sit for about 10-20 minutes, stirring once in a while. The ganache will firm as it cools. If it hardens too much, simply reheat the mixture in the microwave until it's spreadable.
Once the cupcakes have cooled completely, use a cupcake corer or spoon to scoop out the inside of the cupcake. Set the tops of the cupcake aside and the cupcakes with caramel sauce. Place the tops back on (or, in all reality, you could eat them because you'll be piping the frosting over top).
Once the ganache frosting has cooled to desired consistency, frost the cupcakes or pipe them and sprinkle with sea salt.
Print