"Make a list of important things to do today. At the top of your list, put 'eat chocolate.' Now, you'll get at least one thing done today." – Gina Hayes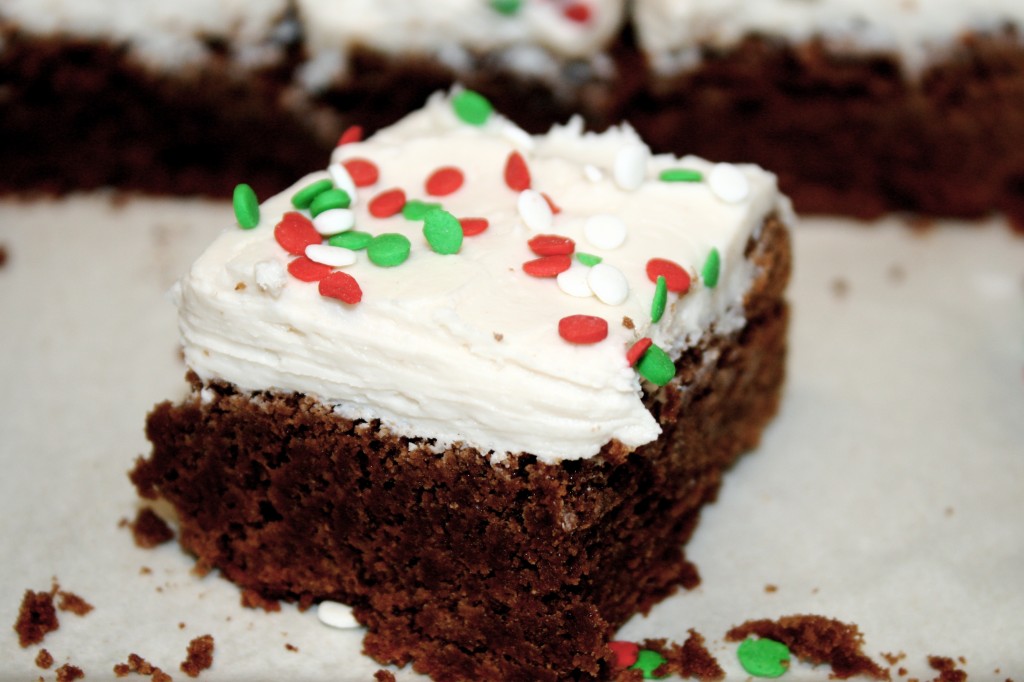 Well I can definitely say without a doubt that I am in full-on holiday baking mode. It's about time too – there's exactly one week until Christmas! I have my to-do list, my to-wrap list, my to-buy list….clearly I'm a list maker. Thankfully, I completed my to-bake list already and it was a success.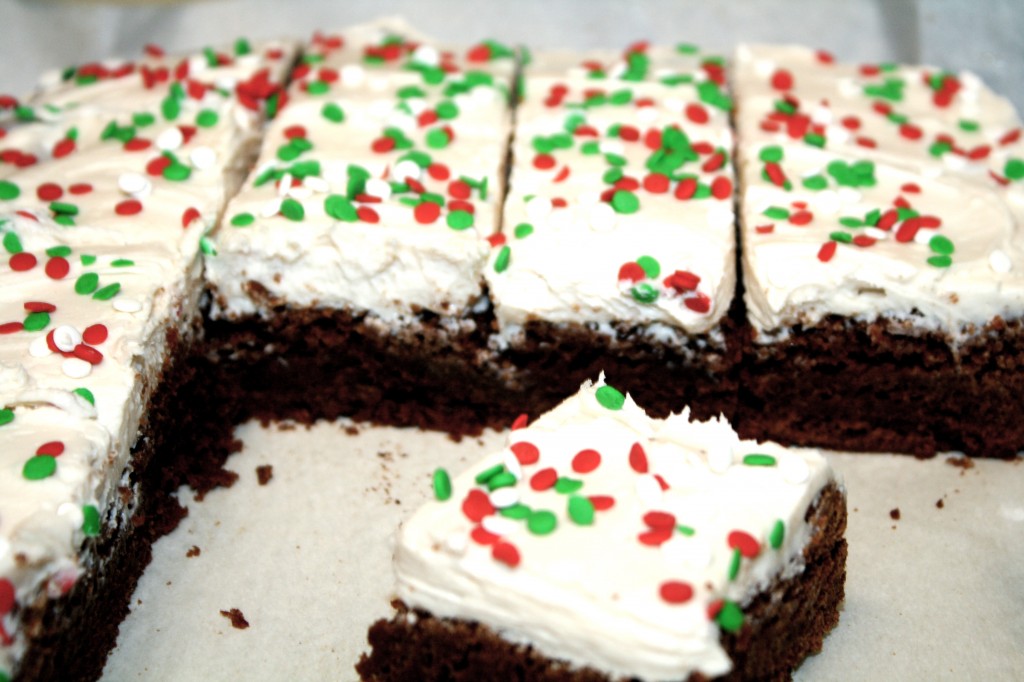 First I baked my favorite sugar cookie recipe decorated with royal icing. I cut out Christmas tree shapes, mittens, ornaments, and gift tags. I shipped some out to family and friends and shared the rest with my co-workers. I also baked some of my favorite peanut butter & chocolate chip cookies (recipe to come soon!) and some classic chewy M&M cookies. With all these cookies around my house you'd think I'd have had my fill of desserts….but no. I also needed to makes some brownies to get my chocolate fix.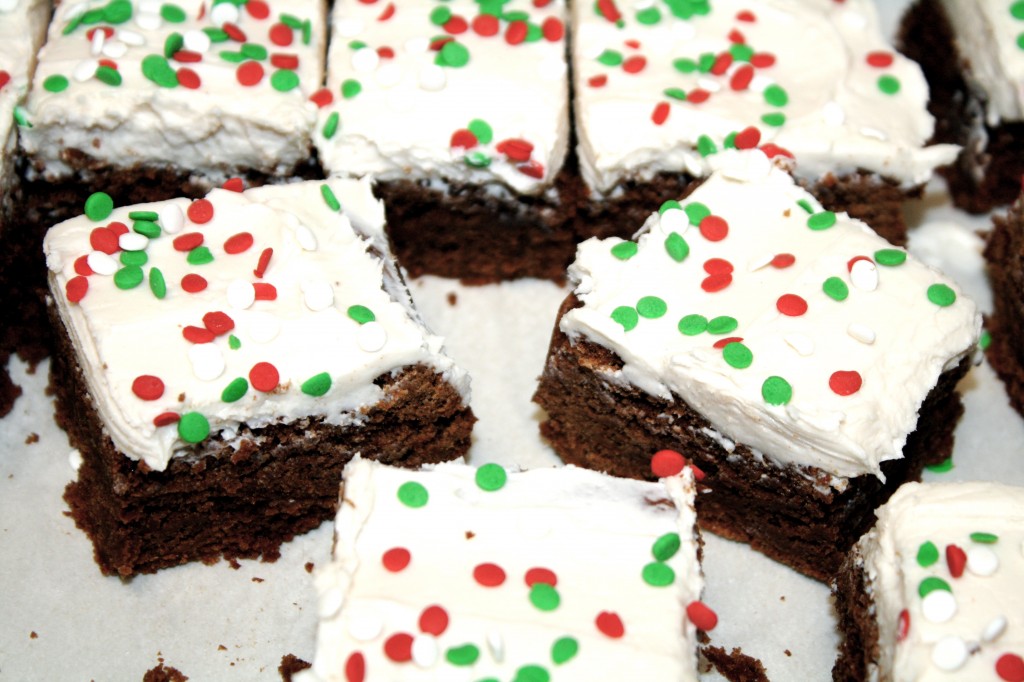 These brownies are delicious! They have a milk chocolate fudgy layer, and then are topped with a classic vanilla buttercream frosting. I actually prefer brownies without any icing but I just couldn't resist how festive these looked with holiday sprinkles atop a white, creamy frosting.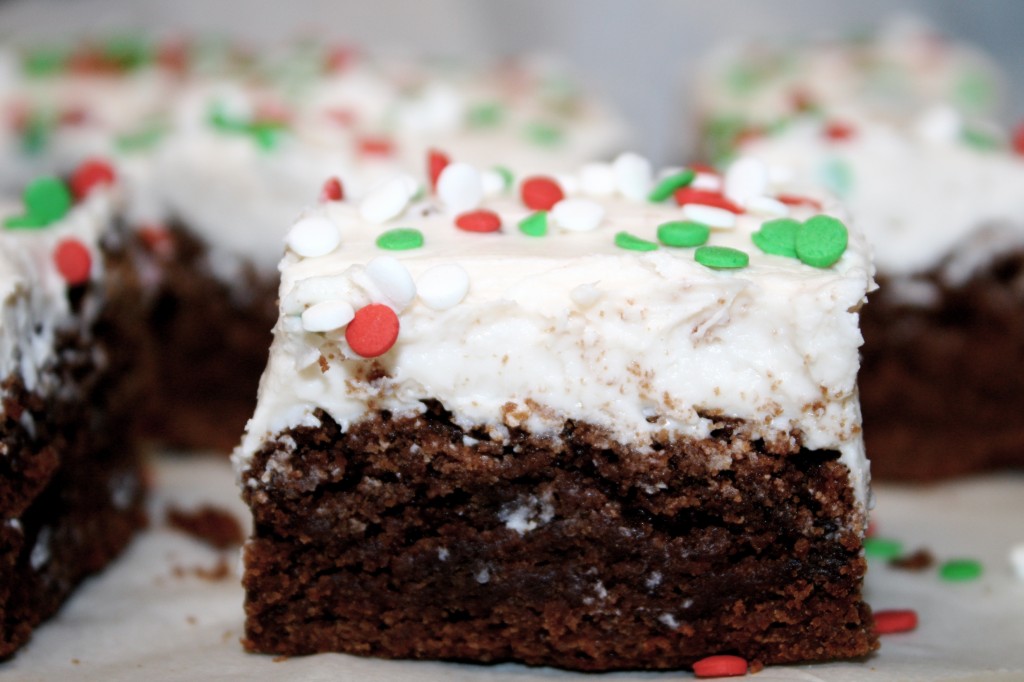 Cookies…brownies…what else can I bake? After all, it's the holiday season. Too many desserts? No such thing.
Santa's Favorite Brownies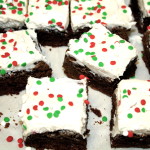 Adapted from, 100 Best Holiday Cookies
Instructions
FOR THE BROWNIES:
Preheat oven to 350°F. Spray a 9-inch square baking pan with cooking spray or line with parchment paper.
Melt milk chocolate chips and butter in a medium saucepan over low heat, stirring constantly. Pour in the granulated sugar and continue stirring until combined. Pour into a large bowl.
Add in the eggs and vanilla. Beat with an electric mixer at medium speed until well blended. Stir in the flour, cocoa powder, baking powder, and salt; blend well. Spread in prepared pan.
Bake 25-30 minutes or until toothpick inserted into center comes out clean.  Place pan on wire rack; cool completely.
Frost with buttercream frosting. Decorate with sprinkles, if desired.
Yield: 16 brownies.
FOR THE BUTTERCREAM FROSTING:
Combine powdered sugar, butter, two tablespoons milk and vanilla in a large bowl. Beat with an electric mixer at low speed until blended. Beat at high speed until light and fluffy, adding more milk, 1 teaspoon at a time, as needed to reach spreading consistency.
Yield: 1 & 1/2 cups frosting
Print