"A nutritionist has told me to have very little butter and very little spices, but I can't live like that." -Jill Scott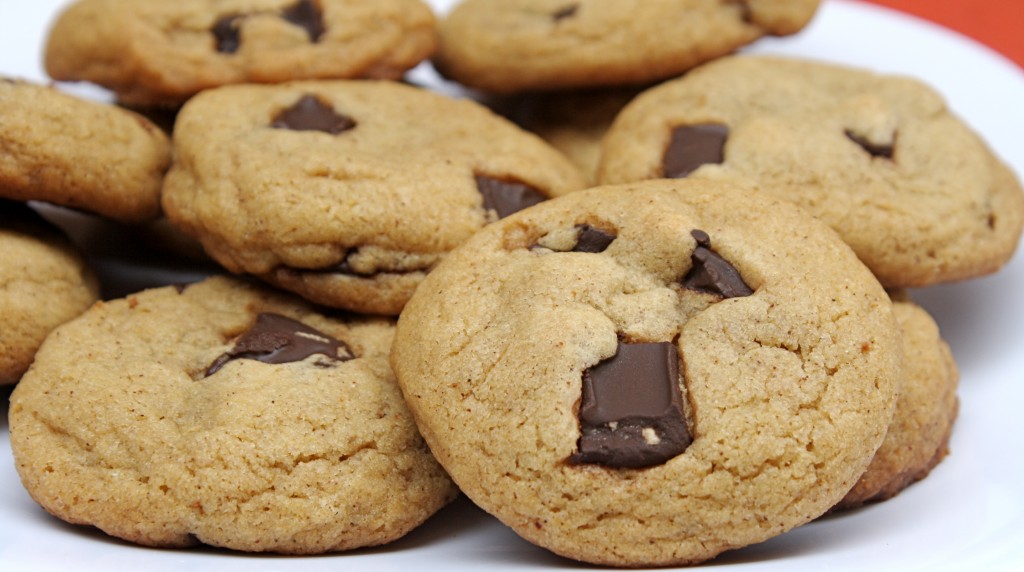 Once in a while I come across a baking technique that is just too fantastic not to share. I have more than a few tricks up my sleeve when it comes to baking delicious cookies. For example, the addition of powdered sugar in my sugar cookie dough recipe yields soft and fluffy cookies. I've also learned how to create the perfect "jagged edged" technique in my thick & chewy chocolate chip cookies recipe. So when I saw this recipe – I had a feeling I was about to discover another amazing trick to broaden my cookie-baking skill set.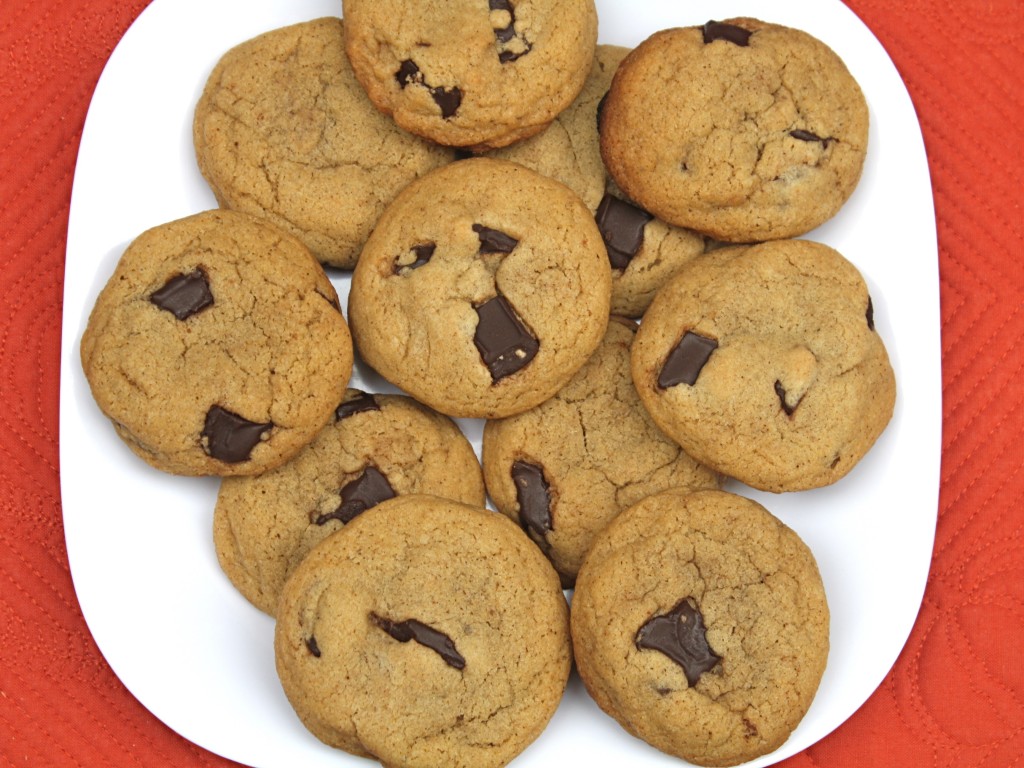 I've heard the term "browned butter" before but had never baked using this technique. While browning butter may sound fancy (it does have a fancy name, after all: beurre noisette) it's actually a pretty simple way to enhance the flavor of baked goods. By adding a nutty and buttery aroma it creates that little something extra that sets this recipe apart from others. Combine that with some fall spices and chocolate chunks and you have an above average chocolate chip cookie.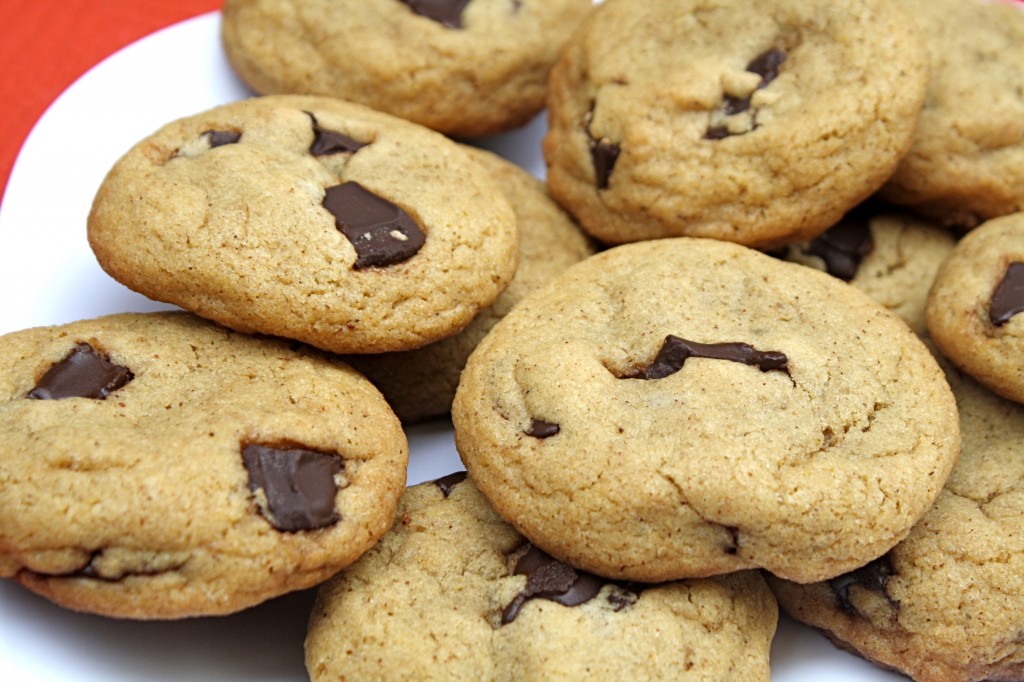 This recipe yields about 2 dozen cookies, and while I could've happily eaten them all by myself I let my boyfriend take some into work with him. He said his co-workers really enjoyed these and were pleasantly surprised by the spices. I was really impressed with this recipe as well. As soon as fall hits I immediately start baking everything with pumpkin, but these cookies opened my eyes a little bit to realize there are other ways to incorporate the many flavors of fall in baking.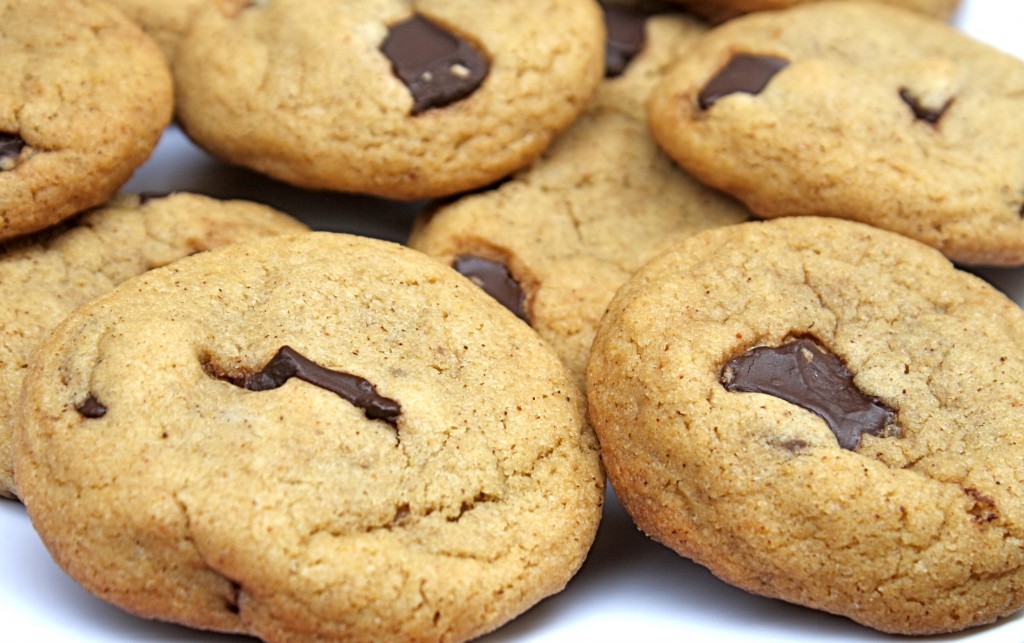 Spiced Browned Butter Chocolate Chunk Cookies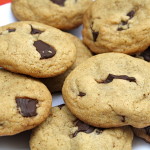 Adapted from, Taste of the South's Fall Baking Special Issue 2013
Instructions
Preheat the oven to 375°. Line two baking sheets with parchment paper and set aside.
In a medium bowl, whisk together the flour, cinnamon, ginger, baking soda, allspice and cloves.
In a small skillet, melt 10 tablespoons butter over medium-high heat. Cook until butter is golden brown, 3 to 4 minutes. Transfer to a large bowl. Add remaining 4 tablespoons butter, and stir until melted.
Add both sugars, vanilla, and salt to butter, stirring to combine. Add egg and egg yolk, whisking until well combined (about 3 to 4 minutes).
Add flour mixture to butter mixture, stirring with a wooden spoon until combined. Add chocolate chunks and toasted pecans (if using) and mix thoroughly.
Scoop dough by heaping tablespoonfuls, and roll with hands to form balls. Place dough at least 2 inches apart on baking sheets.
Bake until edges are golden brown and cookies are puffy, 8 to 14 minutes. Remove from pans, and let cool completely on a wire rack.
Print