"Happiness unshared can scarcely be called happiness; it has no taste." – Charlotte Bronte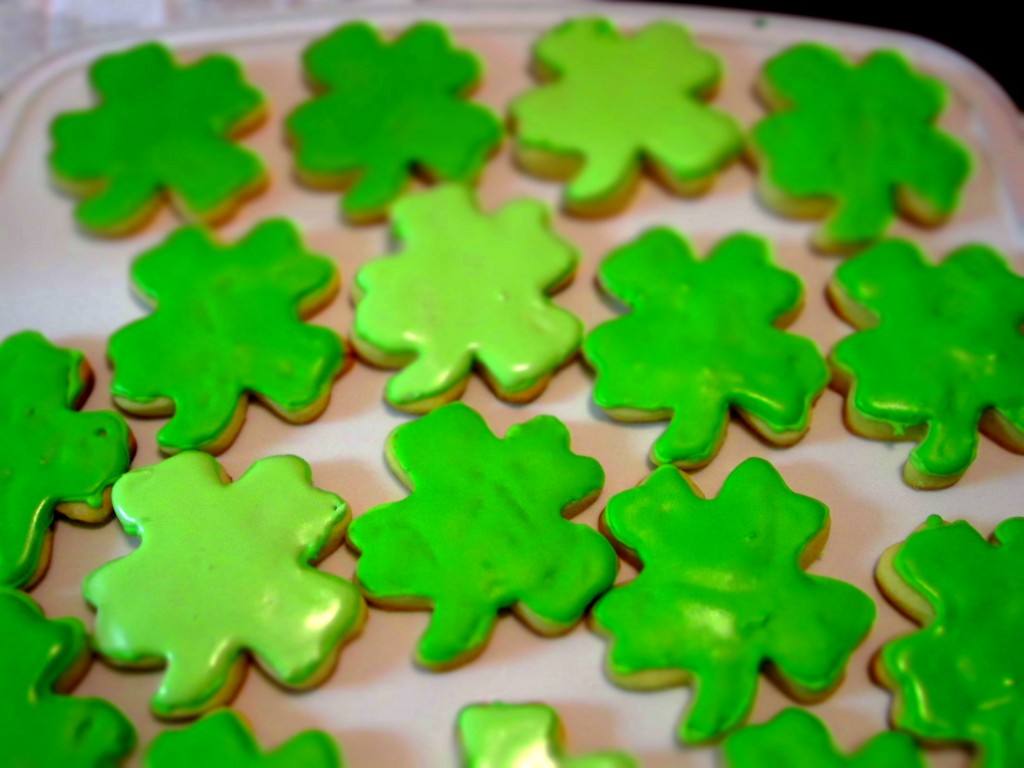 Everyone searches for a perfect go-to sugar cookie recipe, and I definitely feel confident that I've found mine. These cookies are extremely simple but they taste like bakery style cookies and are sure to impress any crowd. In fact, after baking these cookies I realized that they taste more like shortbread cookies (but hey, who whose complaining?) its just another reason why you will thoroughly enjoy eating and sharing these delicious cookies.
This sugar cookie recipe makes a big enough batch to share with anyone. I managed to get 50 four-leaf clovers (probably could've gotten a little more but I definitely ate a few through the process), but size will vary depending on the cookie cutter used. I was able to send out a few packages of these cookies in the mail, as well as make up some gift bags to give out to friends. For tips on shipping cookies go

here

.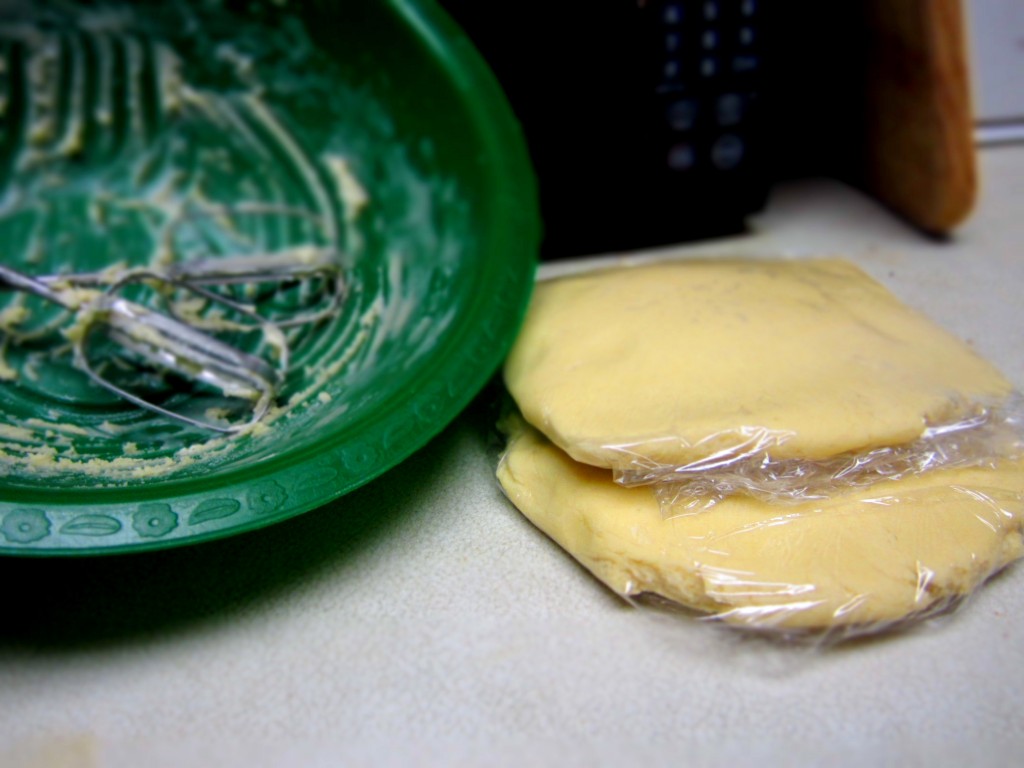 Patting the dough into disks and refrigerating them is the key to making perfect dough for this recipe.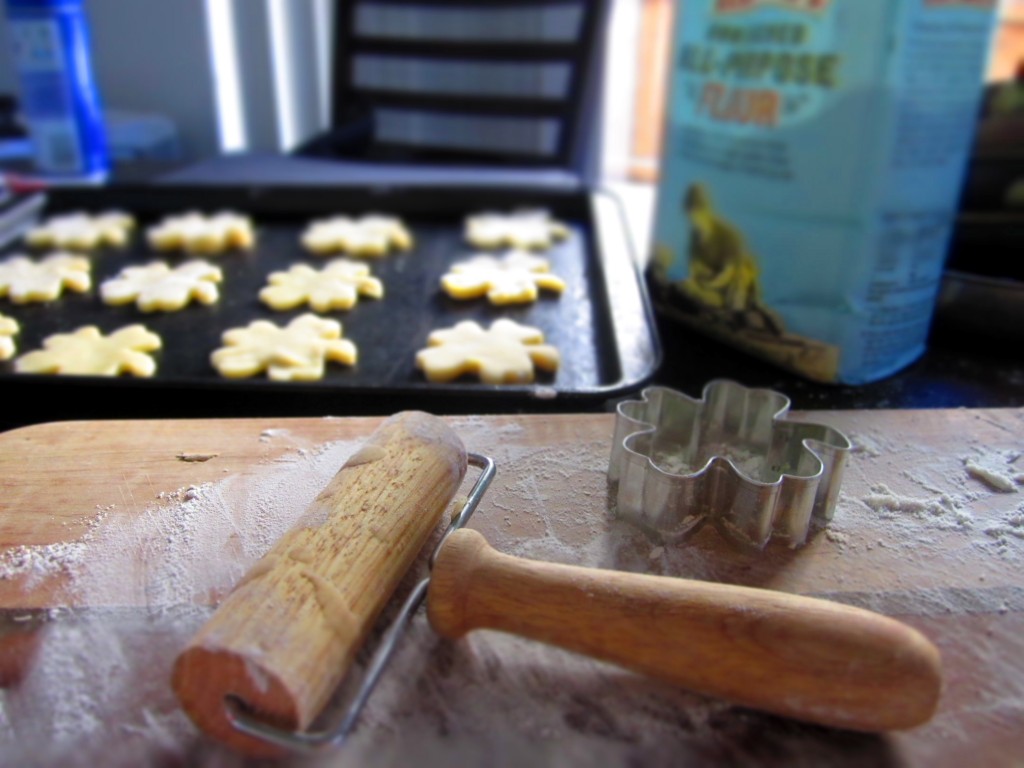 Rolling & cutting out the cookies…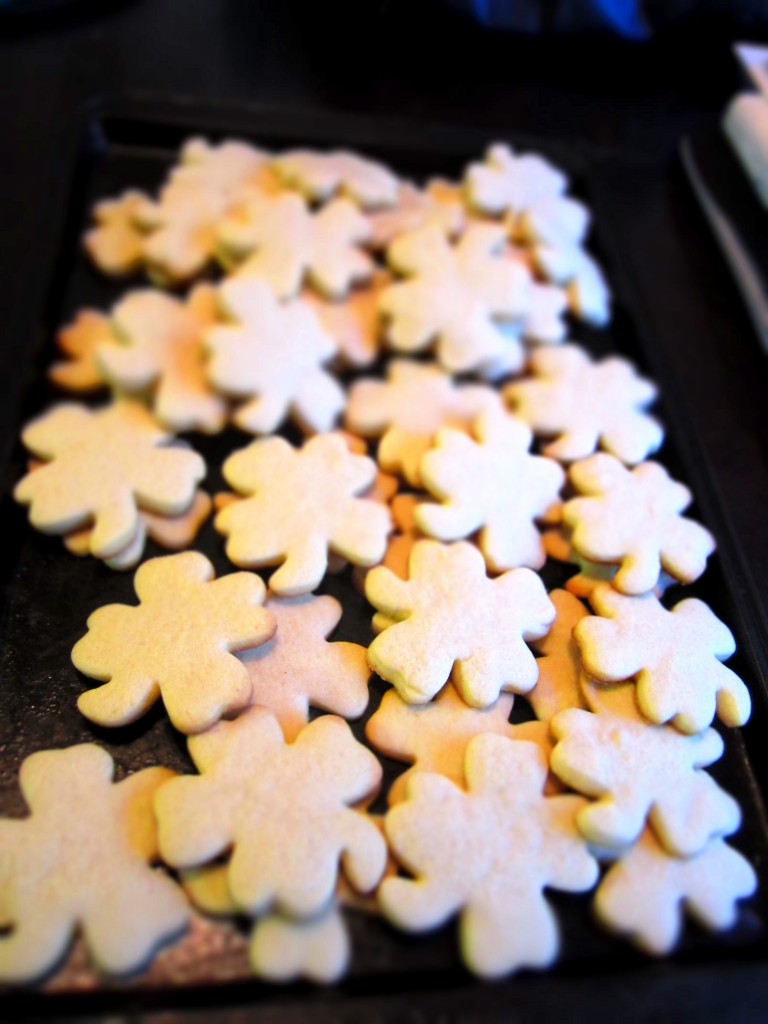 A blank canvas of cookies waiting to be decorated!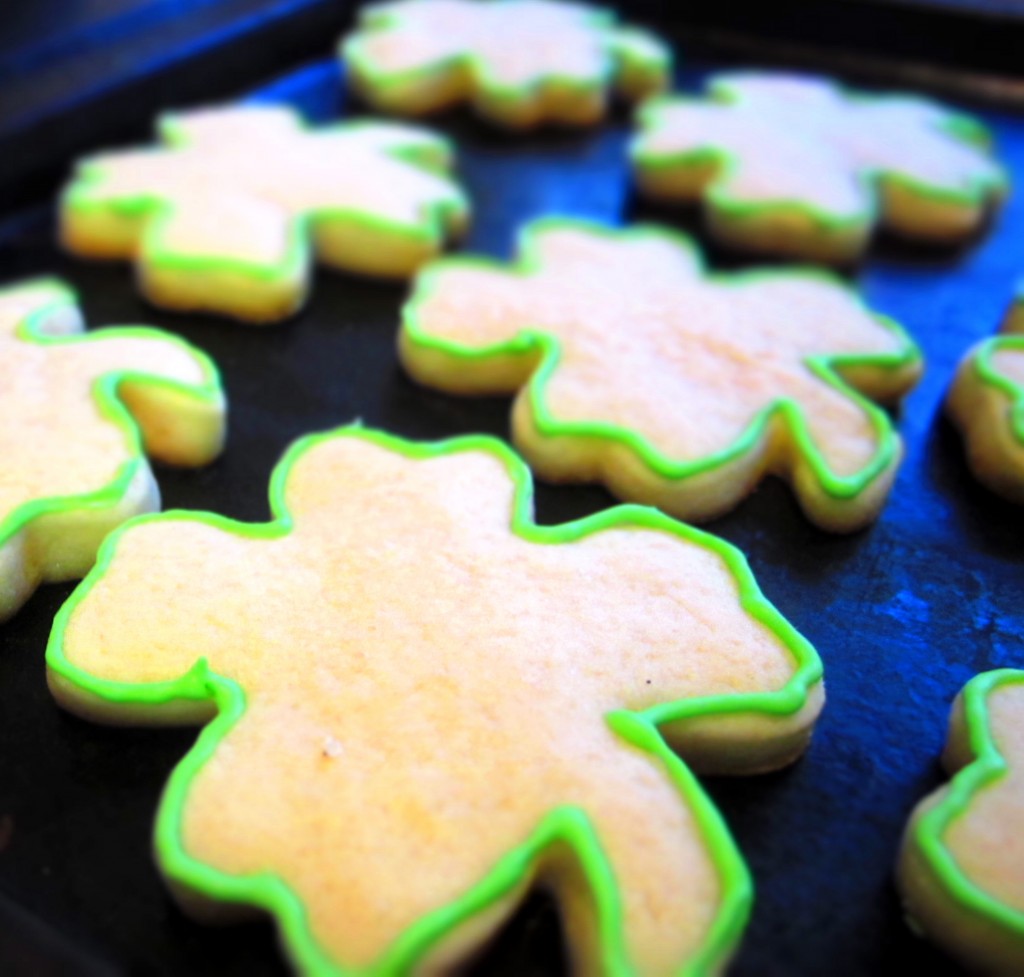 First step of royal icing: outlining the cookie. 
This was the first time I ever attempted to decorate cookies with royal icing and I absolutely love the results, however, I think it definitely takes practice. I followed a few online tutorials in order to learn the basics. 

Annie's eats

has a great tutorial found 

here

 and I also used

this

tutorial as a guide. Royal icing is great because it is so easy to adjust the icing depending on your decorating needs. If the icing is too thick, just add water a tablespoon at a time and if you accidently add too much water, just add more confectioners sugar. 
Sugar Cookie Dough
2 & ½ cups all-purpose flour

½ teaspoon baking powder

½ teaspoon salt

1 cup (2 sticks) unsalted butter, room temperature

¾ cup granulated sugar

½ cup confectioners' sugar

2 large eggs

1 & ½ teaspoons vanilla extract
Royal Icing
4 tablespoons meringue powder

6 tablespoons water

1 pound confectioners' sugar (approximately 4 cups)

food coloring, as desired
St. Patrick's Day Sugar Cookies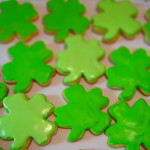 Adapted from The Food Network
Ingredients
Instructions
Whisk the flour, baking powder and salt together in a medium bowl. Beat butter and both sugars in another medium bowl with an electric mixer on medium-high speed until light and fluffy, approximately 30 seconds. Beat in eggs and vanilla. Slowly add flour mixture, and beat just until dough comes together. Divide dough in half, pat into disks, wrap in plastic wrap and refrigerate until firm (at least 2 hours).
Preheat oven to 350 degrees F and begin to flour a clean work surface (I used a large cutting board). Roll dough to about 1/4 inch thick. Cut into desired shapes with cutters, working quickly enough so dough remains chilled. If the dough gets too soft you can just put it back into the refrigerator but I had no need to.
Bake cookies in oven until bottoms are golden, approximately 12 to 15 minutes depending on the shape of cookies. Cool until firm enough to transfer to a wire rack to cool completely.
To prepare the royal icing: combine all ingredients in a large bowl and mix on low speed until the frosting thickens and stiff peaks appear. At this point the icing needs to be thick to outline the cookies. Add food coloring to icing as desired.
Place several spoonfuls of icing into decorating bag (or sandwich bag) and begin to outline cookies with icing.
While the outline dries begin to prepare the icing used to fill the cookies. Add water one tablespoon at a time to royal icing until it thins out. If you dip a spoon into the icing and it runs off that should be thin enough, but you can always add more water.
Fill decorating bags (or squeeze bottles) with royal icing and fill the cookies. Use a toothpick to help guide the icing, if needed.
Let cookies dry and continue decorating (if needed) or serve.
Print