"By failing to prepare, you are preparing to fail." -Benjamin Franklin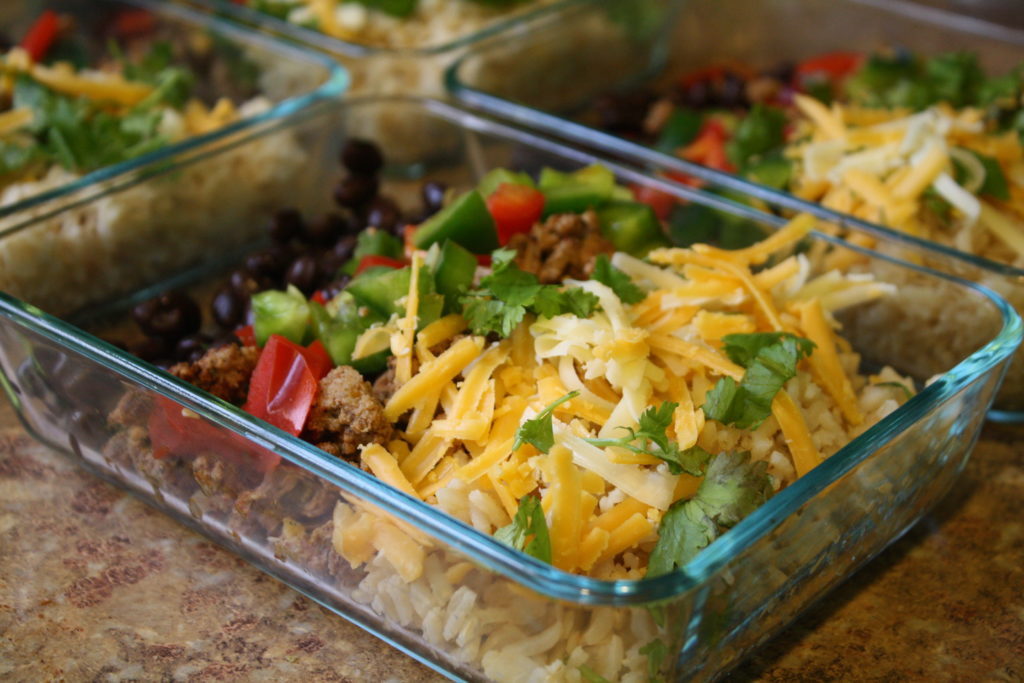 Eating healthy is a daily goal of mine and I can't underestimate the importance of meal prep in helping me achieve this goal. While some weekends are busier than others, I always set aside time on Sunday to prepare healthy lunches and snacks for the week ahead. If I have extra time I'll even bake up a batch scones or a delicious quiche for breakfast to eat during the week. A little preparation goes a long way.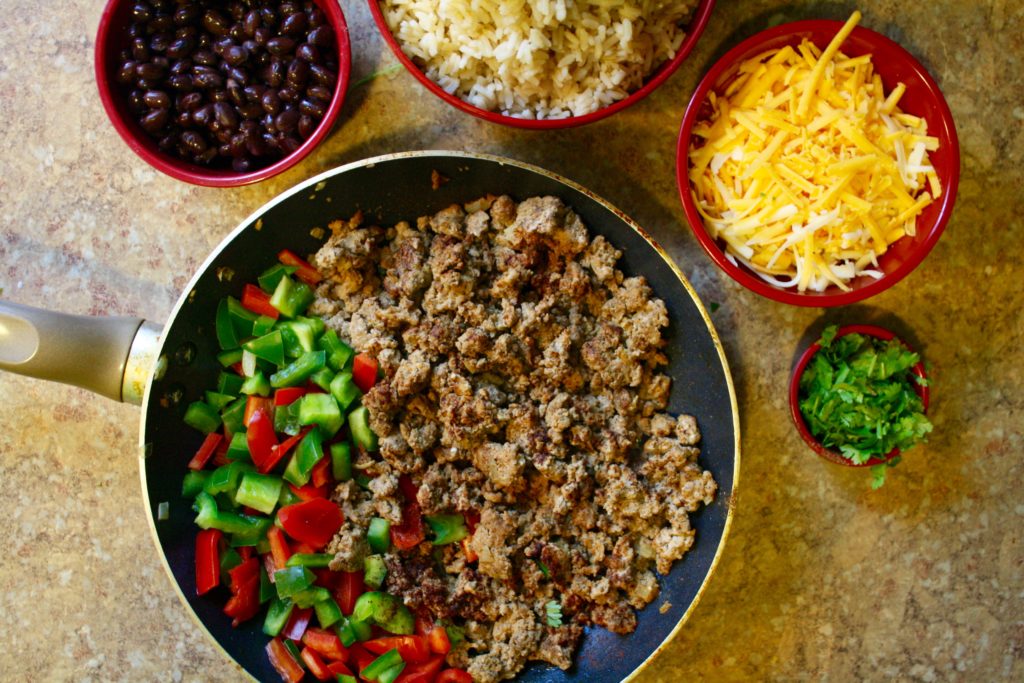 Working in Center City Philadelphia I'm surrounded by food vendors selling Philly cheesesteaks, burgers & fries, tacos, falafels…you name it and I can probably buy it for lunch. While there are healthy options too, I can't justify spending $12 on a salad when I can save money by making it at home. Preparing meals at home helps me stay on budget, stay on track with my health & fitness goals, plus its just fun! I used to be skeptical of preparing meals ahead of time, saying that I didn't have time or I didn't know where to start. After talking with some friends in my run club I realized I wasn't the only one feeling this way. So if you are just starting out here are five reasons to start preparing your meals at home & a quick and easy recipe to start you out: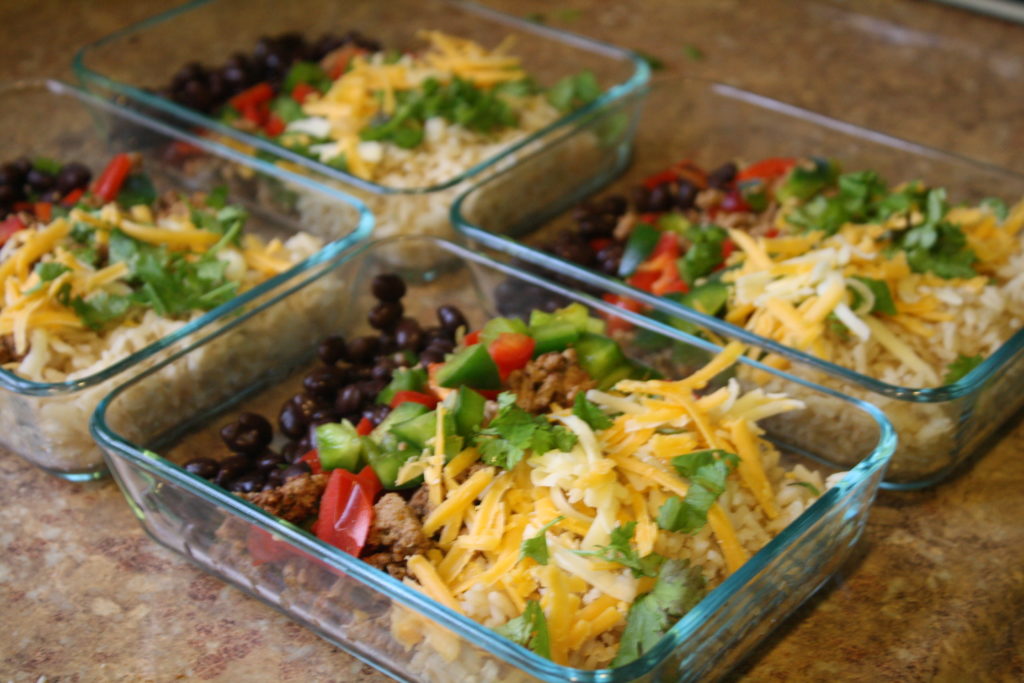 1. Meal Prep Saves You Time
I think the biggest excuse I hear from people regarding meal prep is "I don't have enough time." I myself used that excuse over and over until I started to realize how much time I actually wasted standing in front of the refrigerator figuring out what to cook or having to run out to the grocery store again because I forgot the main ingredient to a recipe, or the time I wasted in the morning throwing together a lunch because I was rushing to get to work on time. It didn't take me long to realize I was wasting a lot of time by NOT preparing my meals. I started small, using a little extra time on the weekend to prepare lunches for the week and suddenly time wasn't a barrier to meal prep. I began by preparing lunches for the week while I was cooking Sunday dinner. All it takes is a little multitasking!
2. Meal Prep Saves You Money
Eating out for lunch can cost you anywhere from $10-$30 per day depending on where you eat. Even a simple salad or sandwich will take you into double digits, so it's no secret that preparing your meals ahead of time will save money. I choose to ignore the naysayers of healthy eating that claim its "too expensive." Use coupons, apps, and grocery circulars to find the best deals. For this recipe, I bought most of my ingredients at Shoprite (coupons baby!) but the meat is from Trader Joe's and it didn't break my budget. I love that this recipe uses ground turkey, not only is it a little healthier than ground beef but way cheaper. At Trader Joe's ground turkey is $2.99/lb versus ground beef which is $4.99/lb and I've seen ground beef prices at other grocery stores for $6.99/lb.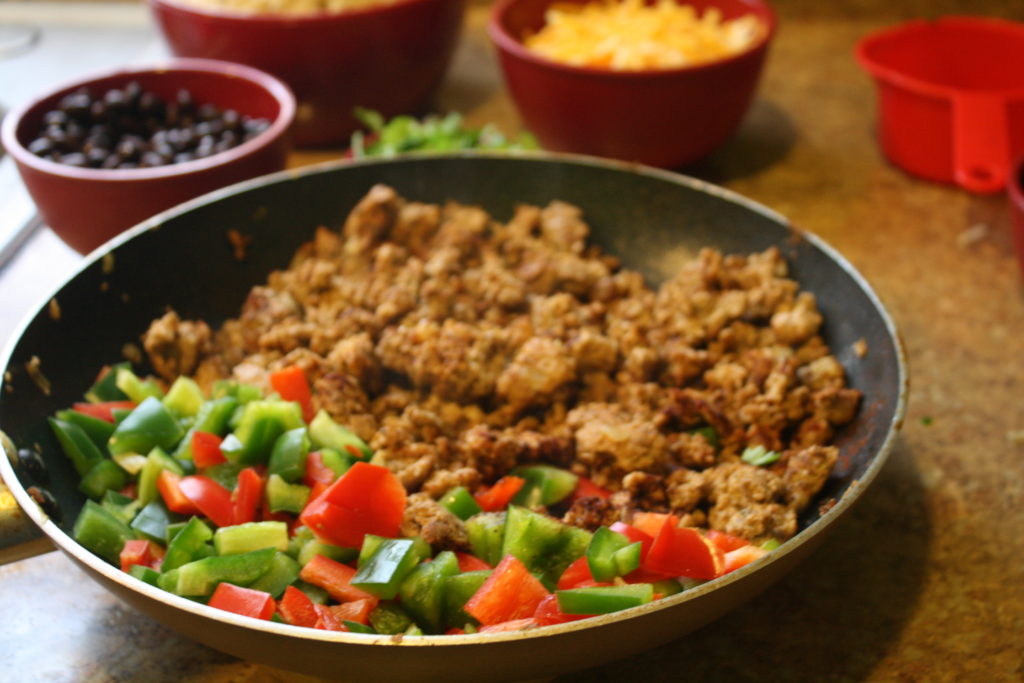 3. Meal Prep Helps You Learn Portion Control
Another downside to eating out is the portions are always huge! I'll be the first to admit when I'm served a large potion I'm likely to eat most, if not all of it, in one sitting. Preparing my meals was one of the first ways I remember actually learning what individual servings looked like. If you are trying to lose weight or just maintain a healthy style, when you prepare your meals in advance you know exactly what ingredients went into your meal and how many calories you are consuming.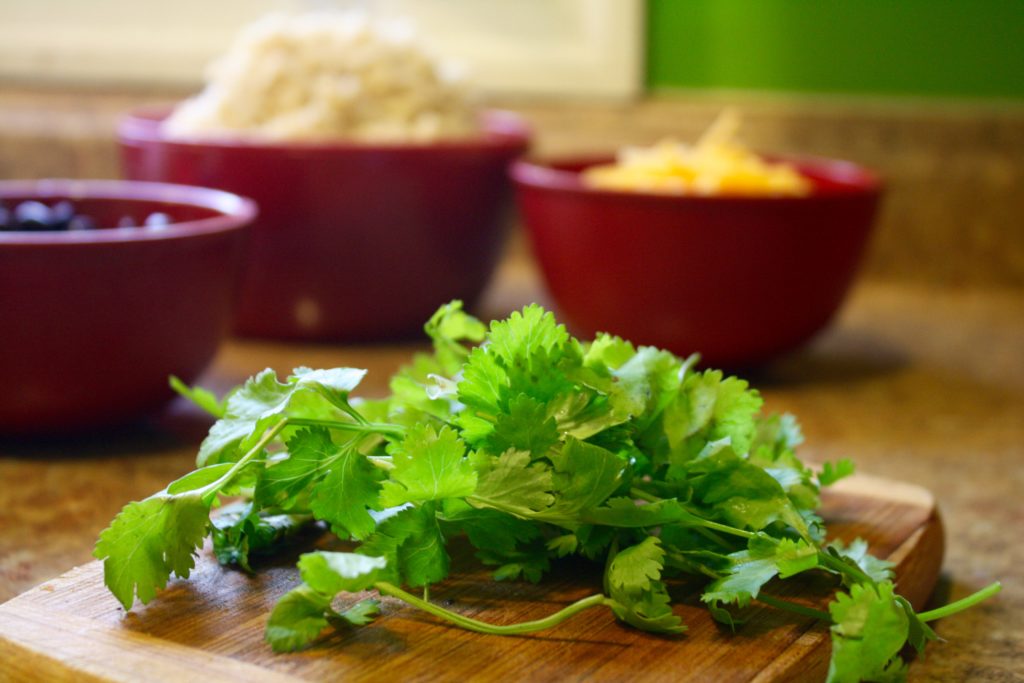 4. With Meal Prep, You Won't Waste Food
Meal prep helps you be more organized, especially with your grocery lists. I know I am guilty of having to throw out produce that went bad because I never used it. Luckily, it's been a long time since that happened because when you are armed with a list and recipes to utilize all your ingredients, food waste won't occur.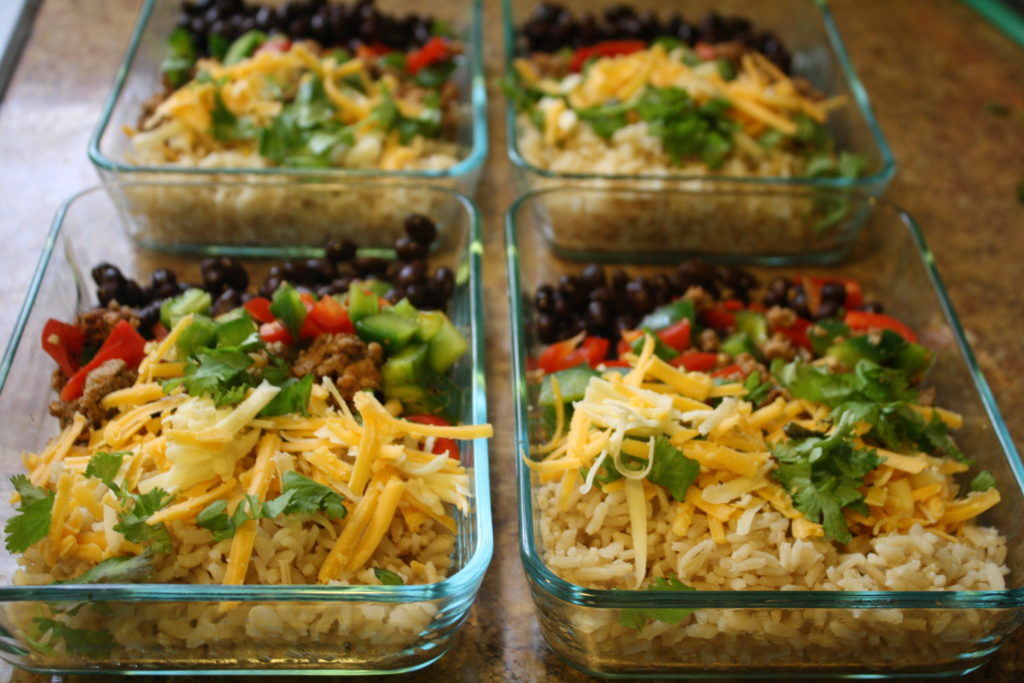 5. Meal Prep Brings Variety To Your Meals
If it wasn't obvious already – I love to cook. I will happily spend my time sitting on the couch with a cup of tea and cookbooks scattered around me. If you are just starting out, think of some of your favorite meals and use that to plan your prep. My husband and I love tacos, so when I saw this recipe for Turkey Taco Bowls I knew it would be a hit. Once you have a handful of recipes it's easy to rotate them each week so you don't get bored eating the same foods over and over. Meal prep invites  you to be creative, it's all about your personal tastes. There are always ways to re-create comfort foods in a healthier way. One of my favorite book series is the Eat This, Not That!  series which is full of nutrition tips and recipe make-overs. It's a great book series to help you kick off your meal prep with a bang. This brown rice salad is always one of my favorites!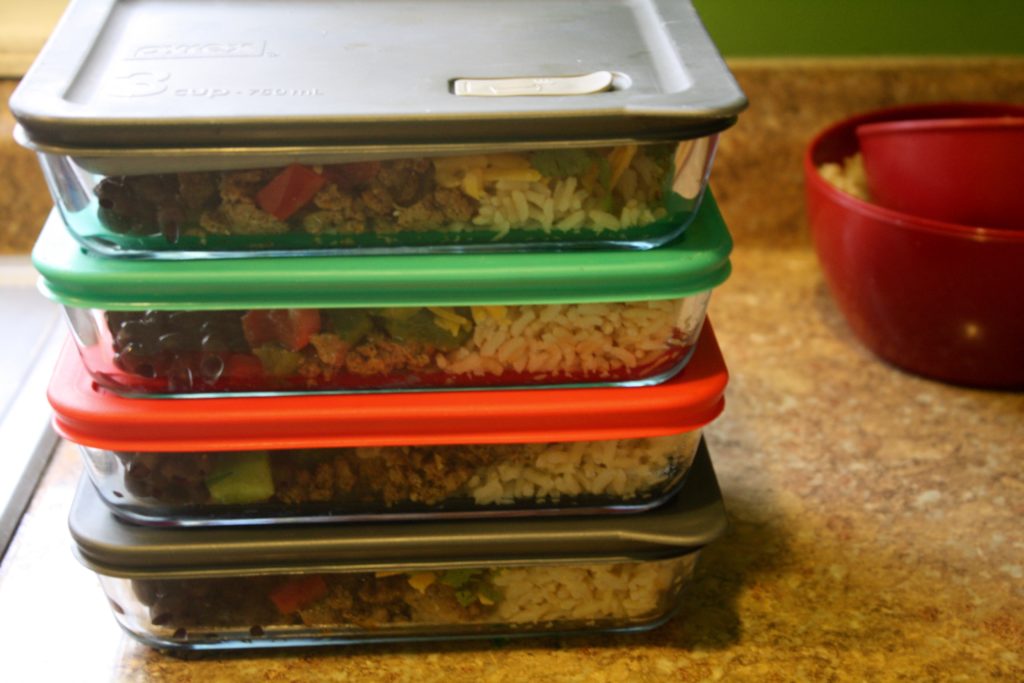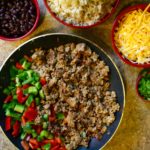 Print
Nutrition facts

(per portion)
Nutrition facts
(per portion)
Calories: 445
Carbohydrate Content: 48.2g
Cholesterol Content: 95 mg
Fat Content: 13.7g
Fiber Content: 8.9g
Protein Content: 34g
Saturated Fat Content: 5.1g
Sodium Content: 1,094 mg
Sugar Content: 10g
Unsaturated Fat Content: 1.5
Turkey Taco Bowls + 5 Reasons to Start Meal Prep
Ingredients
Instructions
Heat olive oil in a large skillet over medium-high heat.
Add the peppers and onions to the pan, season with salt & pepper to taste. Stir occasionally until the vegetables are soft. Remove from pan and set aside.
Add ground turkey to skillet and break apart with a wooden spoon. Season with taco seasoning and cook until meat is browned and cooked through.
Stir in diced tomatoes and bring to a gentle simmer for approximately 5 minutes. Remove from heat and set side.
To assemble the taco bowls: divide brown rice evenly among four tupperware containers, top each with black beans, corn, salsa, cheddar cheese, cooked peppers & onions, and taco meat. Garnish with cilantro or other additional toppings.
Store in the refrigerator for up to four days.