"We spend January 1st walking through our lives, room by room, drawing up a list of work to be done, cracks to be patched. Maybe this year, to balance the list, we ought to walk through the rooms of our lives…not looking for flaws, but for potential." -Ellen Goodman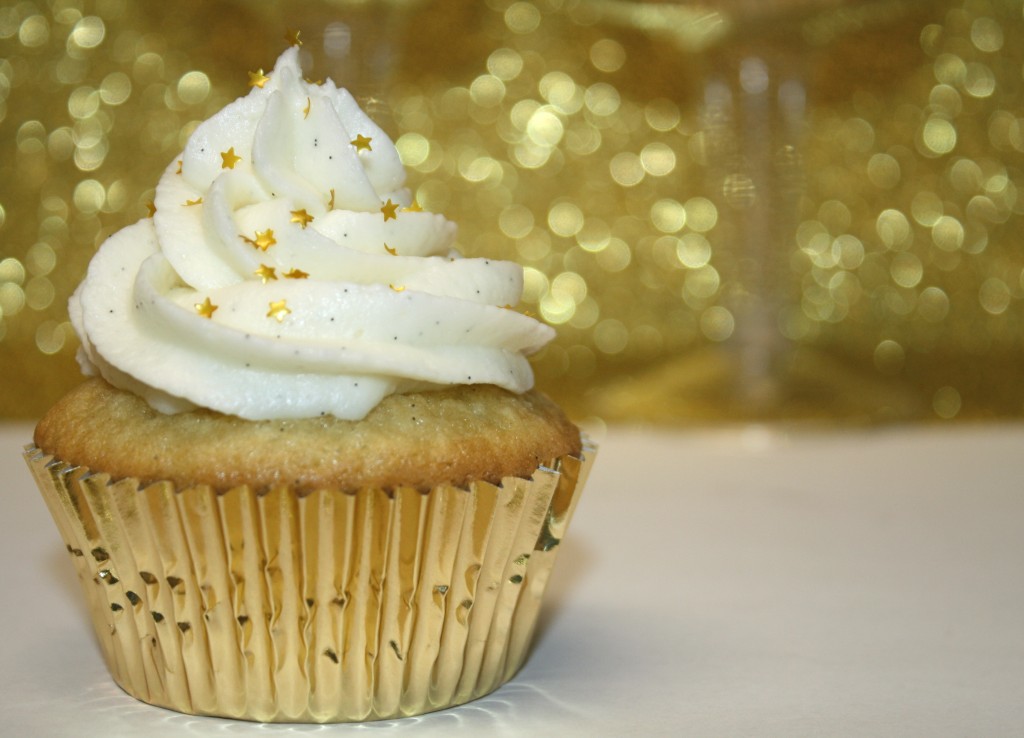 I've never been extremely excited about the idea of making New Years Resolutions…until I actually started following through on them. Last year on New Years Eve, while out to dinner with my family, we all discussed our resolutions. We wrote them down and vowed to make progress. I committed to running a consistent 10 minute mile, which I completed by February.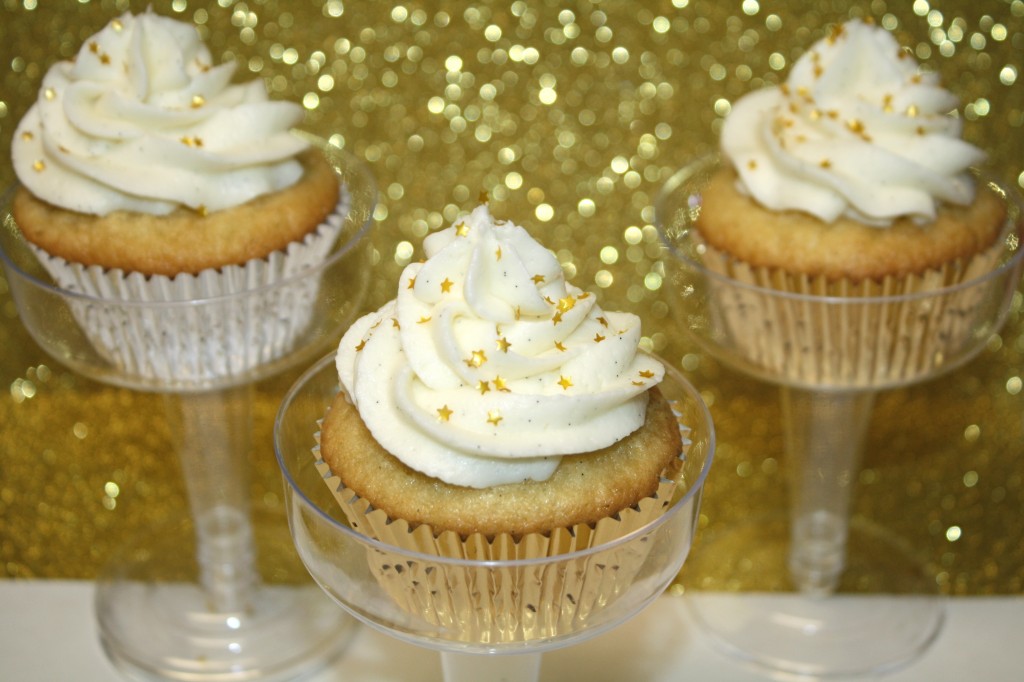 I remember feeling surprised and confused. I remember saying to myself "it's only February…now what?" So with that resolution reached, I decided it was on to the next –  because there is no rule that states you can only make resolutions on December 31st.  In April I came up with another goal for my boyfriend I to run five 5k races before the year was up (and we crossed our last finish line, sweating and smiling, in October). I think it's just as important to set year-round goals as it is to set goals on New Year's Eve. Writing down goals and sharing them with others is another way to be held accountable.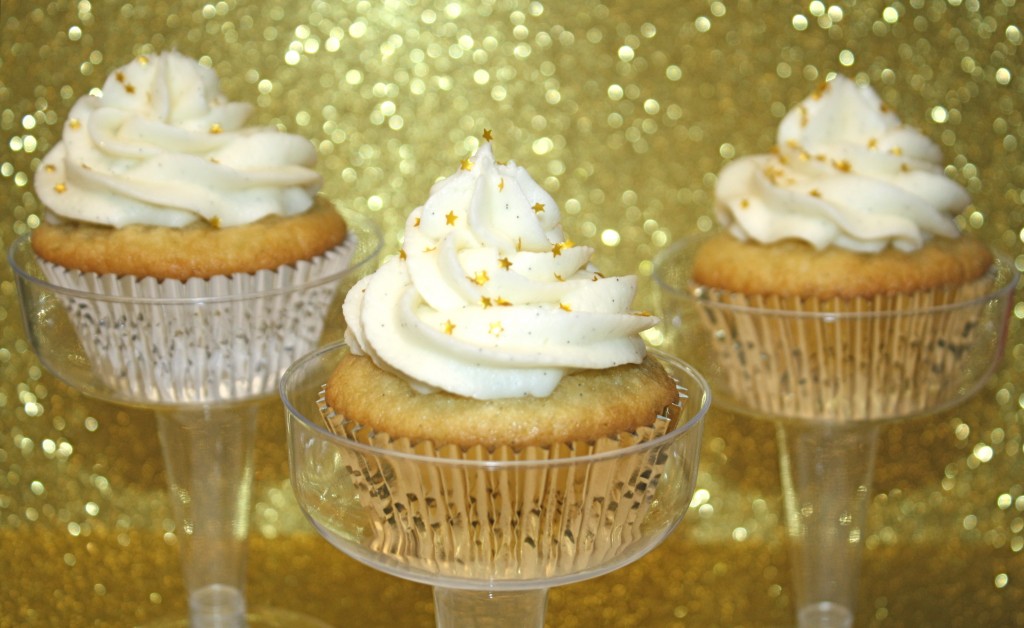 This year I have a few ideas in mind, but overall I want to focus on improving a few aspects of my blog, de-cluttering my life in general, and running a faster mile time. But I'll save the details for another post. Now it's time to celebrate the last day of 2013, and in my opinion, there's no better way to celebrate than with some delicious cupcakes.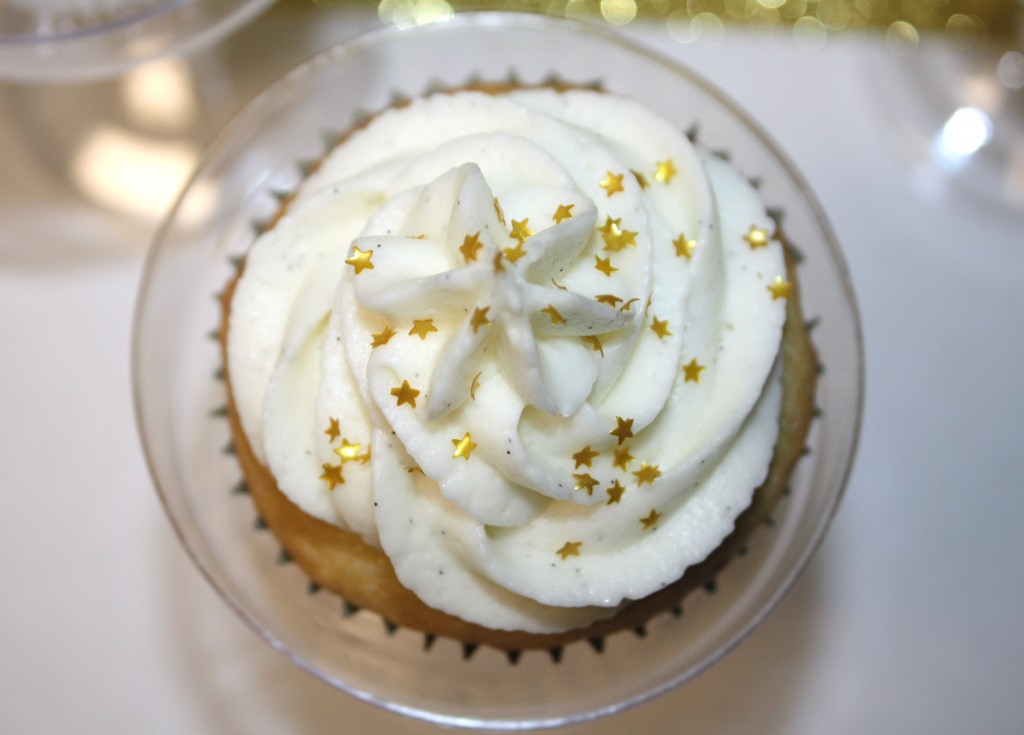 I've definitely had my fill of Christmas cookies and homemade apple pie slices the past week or so. However, I'm not entirely ready to say goodbye to desserts, thus the idea to bake cupcakes came to mind. Since it's New Years Eve, instead of relying on my classic yellow cupcake recipe I wanted to break out the fancy vanilla bean flavor.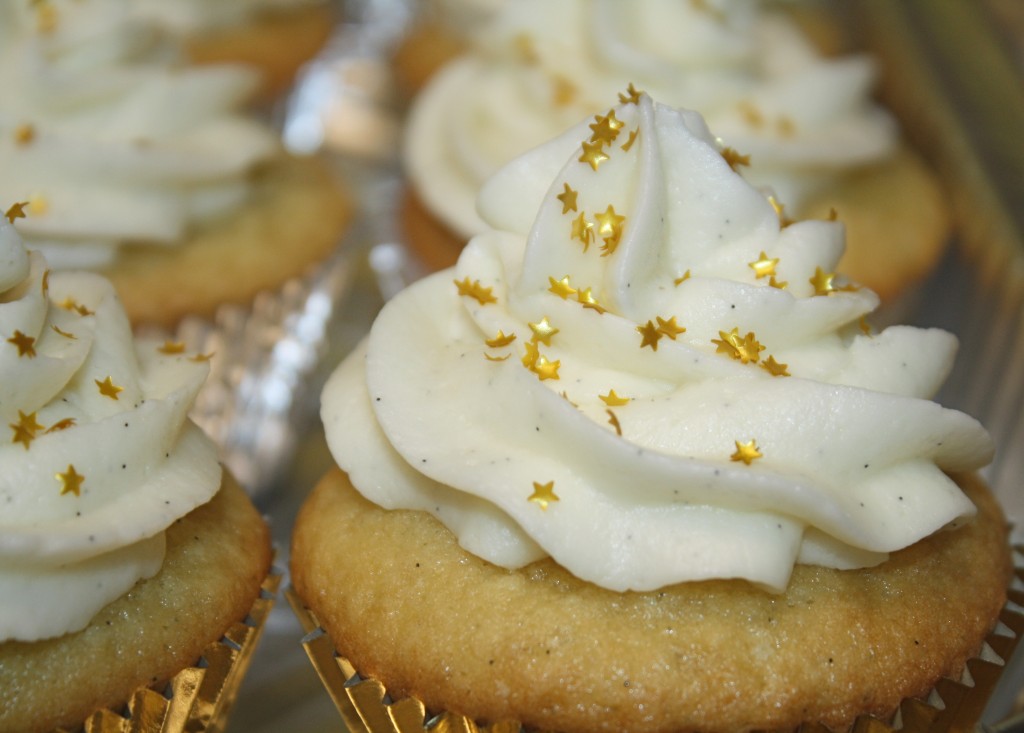 It actually took me a little while to find a vanilla bean cupcake recipe that I was happy with. Some were too dry, too crumbly, not even flavorful….I was surprised it took me this long to find a perfect one that resulted in moist crumbs and a light and airy texture. These cupcakes taste delicious and have the added visual delight of vanilla beans swirled in both the cupcake and the frosting. Perfect for celebrating any occasion!
Vanilla Bean Cupcakes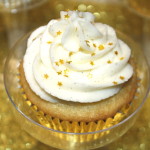 Adapted from, Buttercream Bakehouse. Original Source: Glorious Treats
Instructions
FOR THE CUPCAKES:
Preheat oven to 350°F and line a muffin tin with liners.
In a small bowl, whisk together the cake flour, baking powder, baking soda and salt. Set aside.
In a large bowl, with an electric mixer, beat the eggs for 10-20 seconds. Add the sugar and continue to beat on medium speed for about 30 seconds.
Using a sharp knife, split the vanilla bean lengthwise into two halves and scrape the pod halves to get the seeds. Add the seeds and oil to the bowl and mix until smooth.
Reduce mixer speed to low and slowly add half of the flour mixture. Once combined, add the buttermilk and then the remaining half of the flour mixture. Scrap down sides of bowl as needed but do not overbeat, just mix until flour is combined. The batter will be thin.
Pour batter in muffin liners, filling each about 1/2 of the way full.
Bake cupcakes at 350°F  for 12-14 minutes, until toothpick inserted into center comes out clean and cupcakes are golden.
Cool in pan for 1 minutes, then remove cupcakes to a wire rack to finish cooling.
FOR THE FROSTING:
Beat the butter with a hand mixer on medium speed for 3-5 minutes until light and fluffy. Beat in the sugar, 1/2 cup at a time, until combined. Using a sharp knife, split the vanilla bean lengthwise into two halves and scrape the pod halves to get the seeds. Add the seeds and mix until smooth. Add the half and half, one tablespoon at a time, until desired consistency is reached, adding more confectioners' sugar if necessary.
Print