"When tea becomes ritual, it takes its place at the heart of our ability to see greatness in small things." -Muriel Barbery, The Elegance of the Hedgehog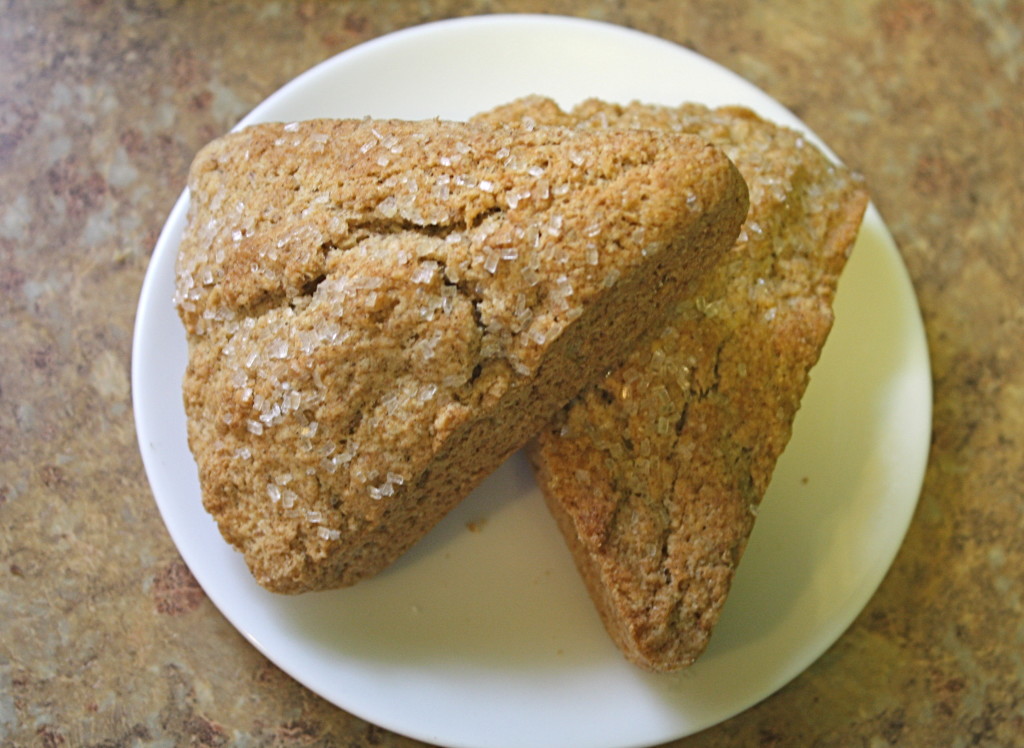 Drinking tea is part of my daily routine to get warm during the cold months of winter. I usually drink several cups of tea a day and I enjoy trying different flavors. My latest favorite is chai tea, specifically, vanilla chai tea. The combination of spices and the sweet hint of vanilla create a soothing and delicious drink to sip on throughout the day.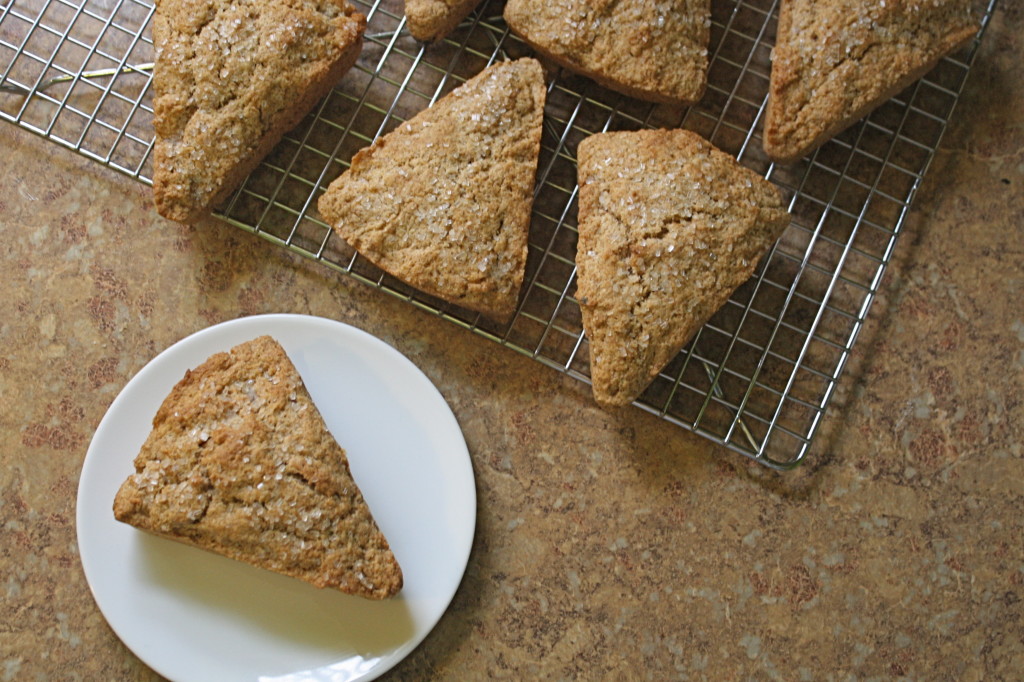 In addition to drinking lots of tea, I've also been baking multiple batches of scones. A cup of tea and scone fresh from the oven make quite a pair. I usually bake a batch of scones on the weekend and freeze a few so that I can eat them during the week. I was pretty excited when I found this recipe because I knew it would be a tasty companion to my chai tea.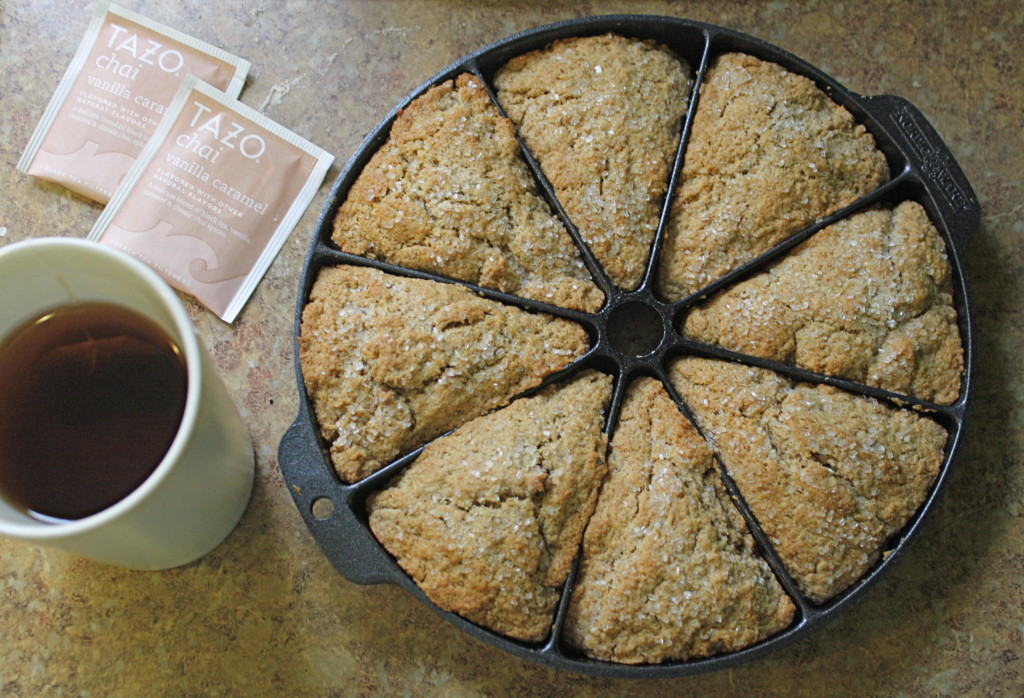 Aside from the spices and flavor of these scones, I really enjoyed this recipe for several reasons. The dough itself is easy to work with, not too sticky and easy to mold into the scone pan (or cake pan). I also like that this recipe incorporates whole-wheat flour, an ingredient I've been trying to bake with more often.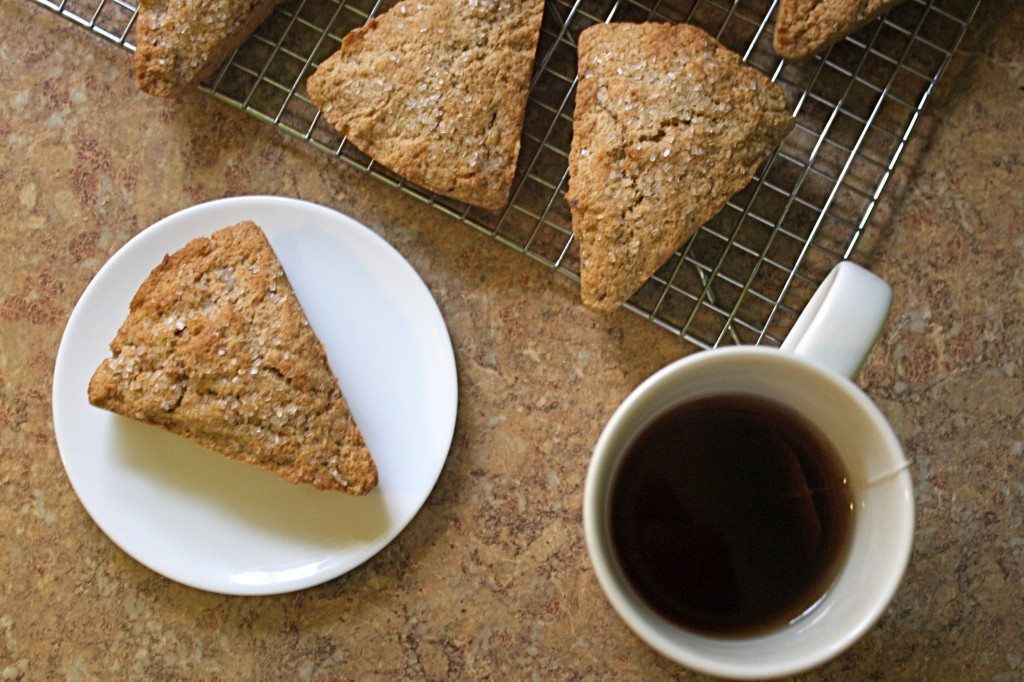 Whole-wheat flour has a rich flavor and darker color than all-purpose flour, due to the added nutrients and fiber. If you're not used to whole wheat flour the flavor can be a bit strong, and if that's the case you can also use white whole-wheat flour. White whole-wheat flour has all the nutrients of whole-wheat flour but with a milder flavor. I've experimented with all three kinds and each attempt has resulted in simply delicious scones.
Whole-Wheat Vanilla Chai Scones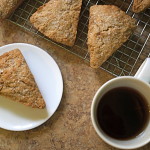 Adapted from, Simply Scones by Leslie Weiner and Barbara Albright
Instructions
Preheat oven to 400°F. Spray a scone pan or 8" round cake pan with cooking spray.
In a large bowl, stir together both flours, sugar, baking powder, baking soda, cinnamon, salt, ginger, nutmeg and cloves.
Using a pastry blender or two forks, cut in butter until the mixture resembles coarse crumbs.
In a small bowl, stir together the buttermilk, egg, vanilla and vanilla bean until combined.
Add the buttermilk mixture to the flour mixture and stir to combine.
With lightly floured hands, pat the dough into a scone pan, dividing the dough into 8 separate portions and pressing into the pan.
Alternatively, pat the dough into an 8-inch diameter circle on an ungreased baking sheet. With a serrated knife, cut into 8 wedges. Tip: using a round cake pan makes this easier - you can turn the dough out & then cut into wedges.
Bake the scones in the preheated oven for 16 to 18 minutes, or until the top is lightly browned and a toothpick inserted into the center of a scone comes out clean.
Serve warm, or cool completely and store in an airtight container.
NUTRITION FACTS (From MyFitnessPal): CALORIES 240, FAT 10g (SAT 6.5g, POLY. 01g, MONO 0.4g), PROTEIN 5.3g, CARBOHYDRATES 32.5g, FIBER 0.8g, SUGARS 9.4g, CHOLESTEROL 46.9mg, SODIUM 99.1mg.
Print