"Well," Claire said, "at least we have tacos. Everything goes better with tacos."  -Rachel Caine, Bitter Blood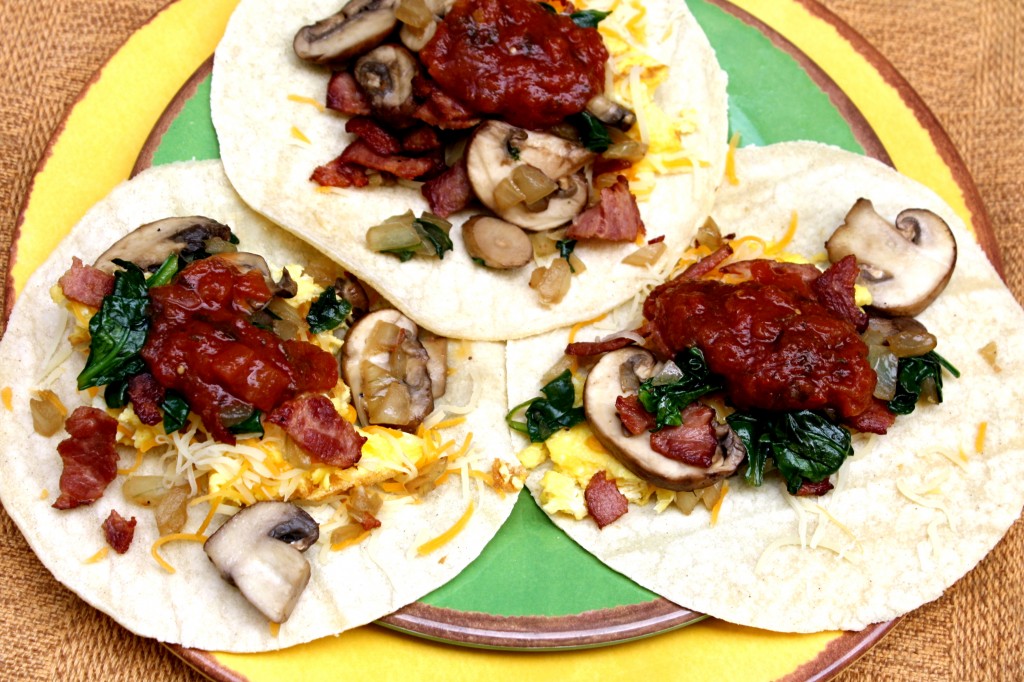 During the work week you can usually find me perusing my kitchen cabinets in search of a grab & go breakfast. With my travel mug of green tea in one hand and a granola bar, a piece of fruit or a muffin in my other hand – I'm out the door and ready to start the day. For this reason, when the weekend arrives I love to spend extra time in the kitchen creating a delicious and wholesome breakfast that I can sit down and thoroughly enjoy.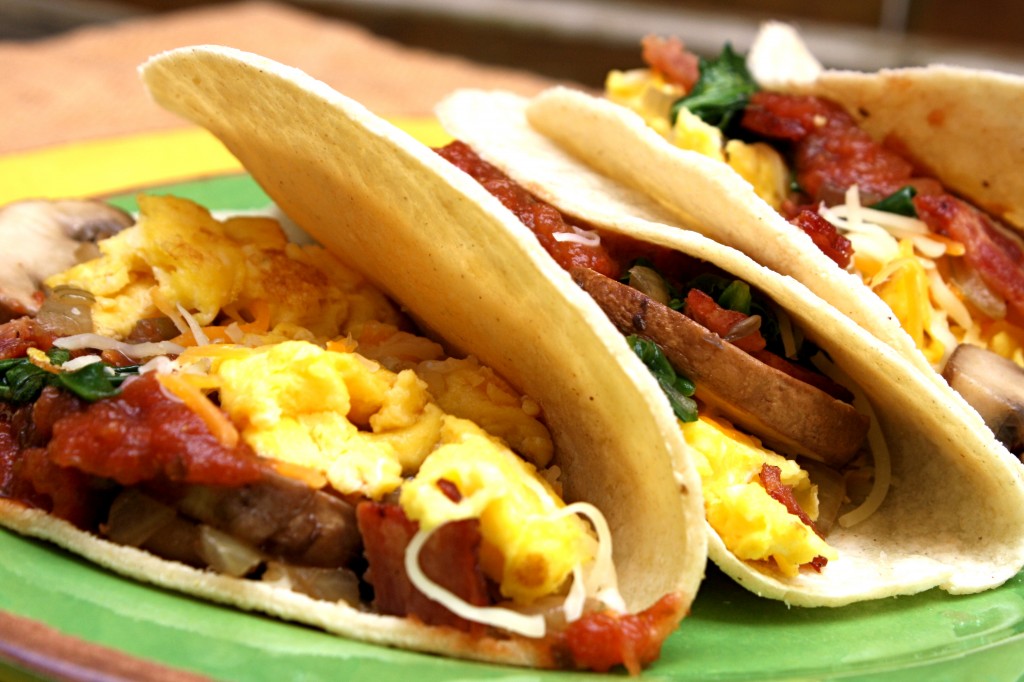 This recipe is relatively quick and combines many of my favorite ingredients to create one delicious meal. While the eggs are cooking, be sure to use constant movement of the spatula as the eggs set. This technique ensures light and fluffy scrambled eggs. If your short on time and don't want to heat the tortillas in a pan, simply wrap them up in damp paper towel and microwave for 30 seconds – it's as simple as that! Although I highly recommend heating them in a pan because the tortillas become warm and crispy.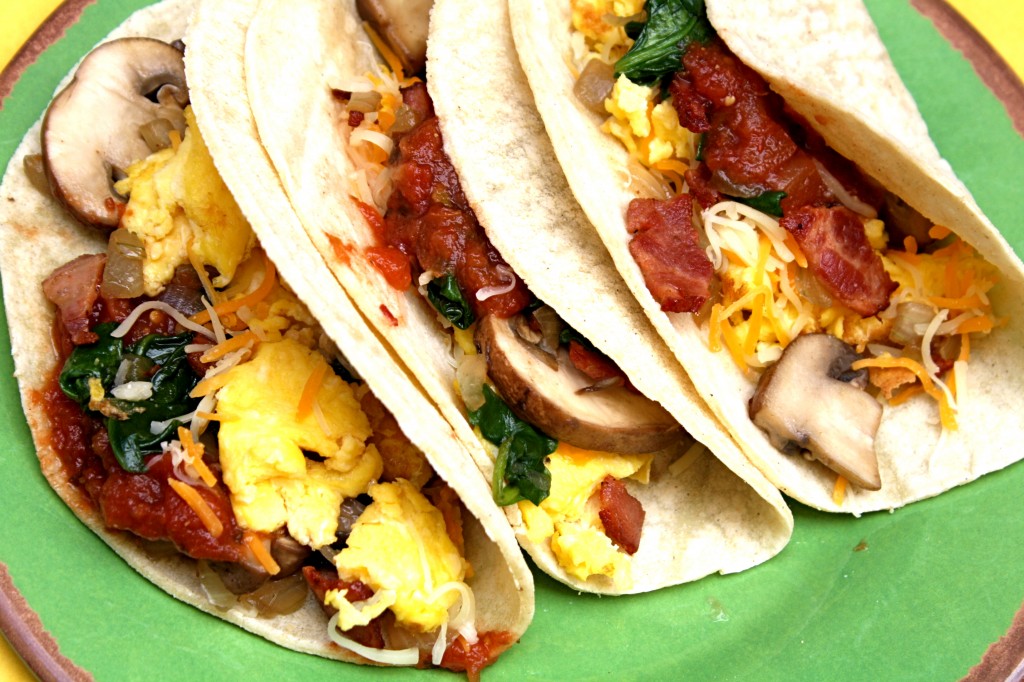 We made beef tacos a few weeks ago for National Taco Day (October 4th) and no, I'm not ashamed I know that and took the time to celebrate. Still – it never occurred to me to try and make a breakfast version. I mean really, who knew you could have tacos for breakfast?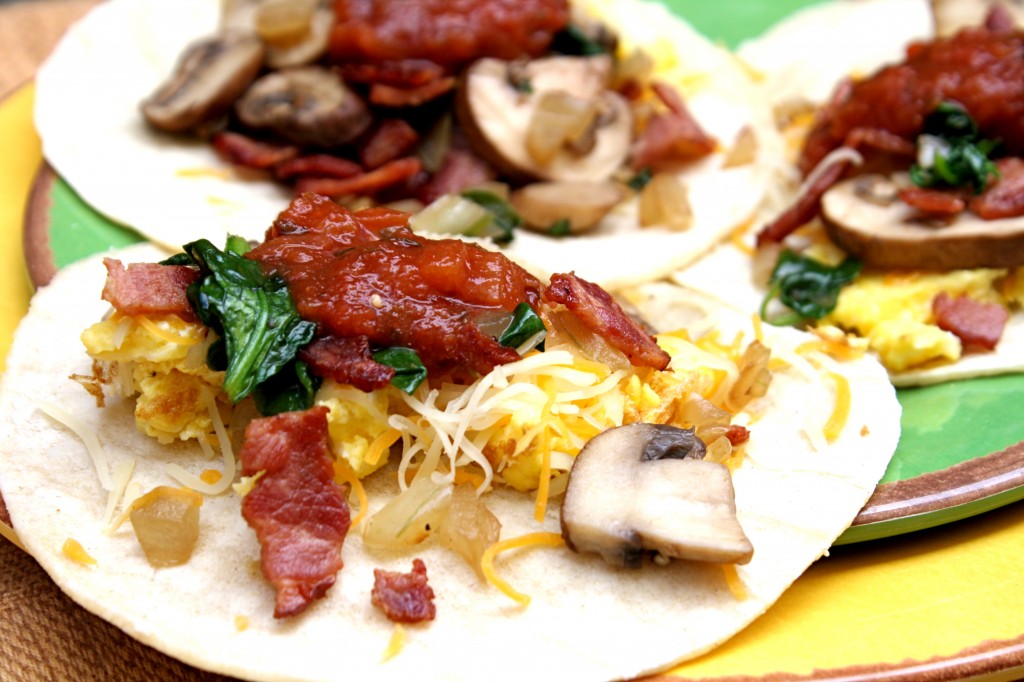 I think this is going to the be the beginning of a beautiful friendship.
Breakfast Tacos with Spinach & Bacon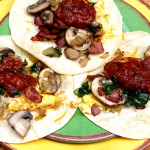 Adapted from, Cook This Not That: Easy & Awesome 350-Calorie Meals by David Zinczenko and Matt Goulding
Instructions
Cook the bacon in a large nonstick skillet over medium heat for 5 minutes, until the it begins to crisp. Remove from pan and place on a paper towel.
Add the onion and mushrooms to the same pan and cook for about 3 minutes, until the onion is soft. Add the spinach and continue cooking until the spinach is wilted and heated through. Set aside.
Add the eggs to the pan and use a spatula to consistently scrape them from the bottom of the pan as they set (this ensures fluffy eggs!!) Season with salt and pepper, if desired.
Heat the tortillas in a pan over medium heat. Divide the cheese among the tortillas, top with the eggs, bacon, and onion mixture. Spoon salsa over top of each & serve.
NUTRITION FACTS (From eatthisnotthat): CALORIES 360, FAT 17g (SAT 6g), SODIUM 450mg.
Print