"Eat food. Not too much. Mostly plants." -Michael Pollan, In Defense of Food: An Eater's Manifesto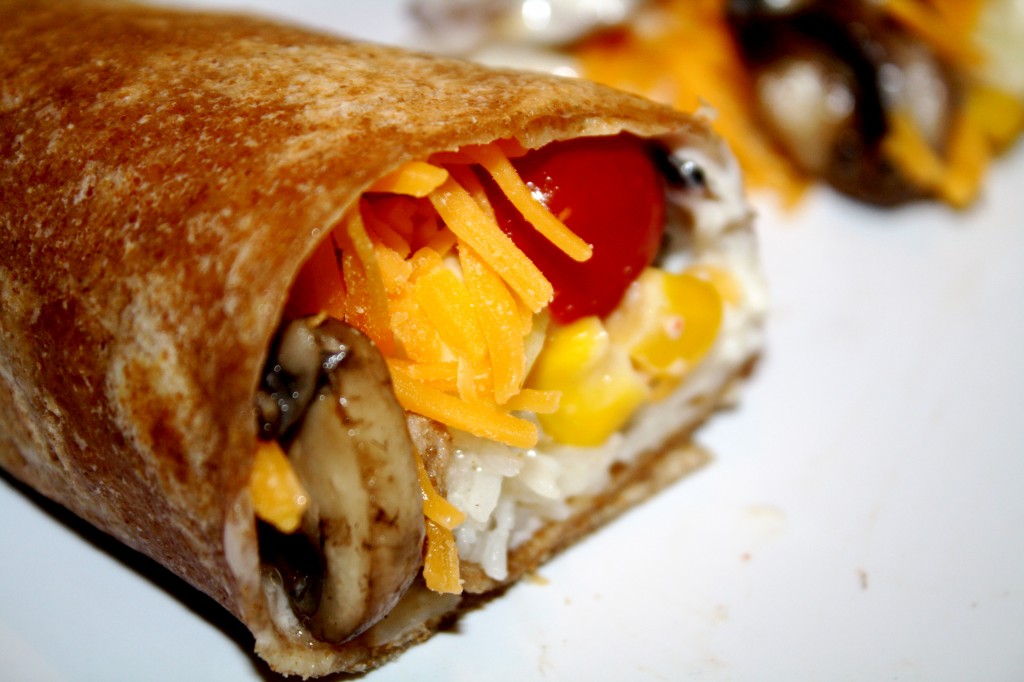 I must admit since beginning Meatless Mondays I'm definitely trying to incorporate more vegetables into the meals I create. Thinking consciously about it at the start of each week really helps me keep that mindset throughout the rest of the week.
Normally when I think of burritos the only thing that comes to mind is meat and cheese, I never thought I'd be making a burrito for Meatless Monday! Nor did I think I'd find a recipe for a vegetarian version in Cooking Light Magazine! I was excited to try this recipe and it turned out great! I had trouble with the original directions at first (it said after putting the filling in the tortillas to return them to the pan and cook seam side down) because the filling kept spilling out so I altered the recipe a little and it worked out fine.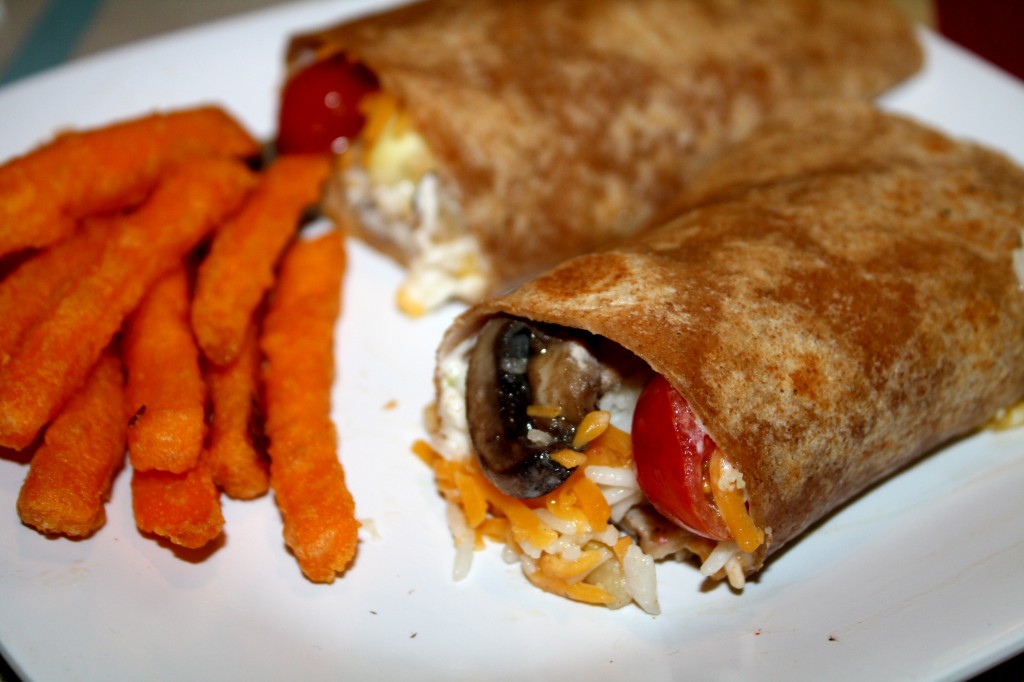 I served the burritos with some sweet potato fries – delicious & healthy!
Cheesy Vegetable & Rice Burritos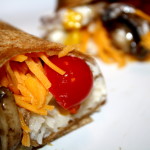 Adapted from, Cooking Light Magazine May 2012
Instructions
Heat a small saucepan over medium-high heat. Add 1 teaspoon canola oil to pan; swirl to coat. Add rice and 1/2 teaspoon garlic; saute for 1 minute, stirring constantly. Add 2/3 cup of water and 1/8 teaspoon salt; bring to a boil. Cover, reduce heat, and simmer for 15 minutes. Remove from heat & let sit for 10 minutes then fluff with a fork. Stir in jalapeno and set aside.
Combine the sour cream, lemon juice and red pepper in a small bowl. Set aside.
Heat a large nonstick skillet over medium-high heat. Add the remaining 1 tablespoon oil to pan; swirl to coat. Add onion and saute for 2 minutes, stirring frequently. Add remaining 1/2 teaspoon garlic, mushrooms, corn and zucchini and saute until tender; stirring frequently.
Add remaining 1/8 teaspoon salt and tomatoes; saute 30 seconds or until tomatoes are heated. Remove vegetable mixture from pan. Wipe pan clean with paper towel.
Heat tortillas in pan until lightly browned.
Divide sour cream mixture evenly among tortillas; spread to a thin layer leaving a 1/2-inch border.
Top each tortilla with 1/4 cup of cheese, about a 1/4 cup rice mixture, and about a 1/2 cup vegetable mixture.
Roll up each tortilla (jelly-roll fashion) and serve.
Nutrition Facts (from CookingLight): Serves 4 (serving size: 1 burrito) - CALORIES 363 FAT 12.4g (SAT 4.1g, MONO 4.9g, POLY 1.7g), PROTEIN 11.1g, CARBOHYDRATES 51.6g, FIBER 5g, CHOL 18mg, IRON 1.6mg, SODIUM 543 mg, CALC 101mg
Print