Mr. Steinbrenner:
Hey Costanza, what's that you're eating over there? It looks pretty tasty.
George:
It's a calzone, sir. –
Seinfeld
, "The Calzone".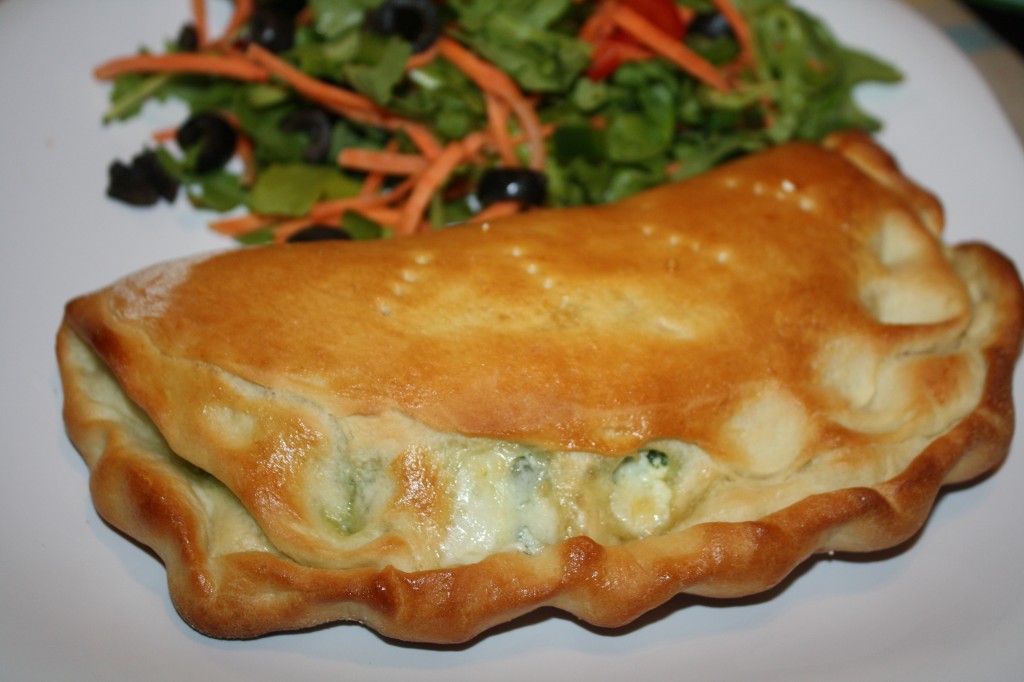 Whenever I make calzones I always think of the episode of Seinfeld where George gets his boss "hooked" on Calzones. Calzones are definitely easy to get hooked on, what's not to love? They're easy  to assemble and can be made with many different kinds of fillings. For Meatless Monday I decided to go with a classic combination of spinach & ricotta cheese.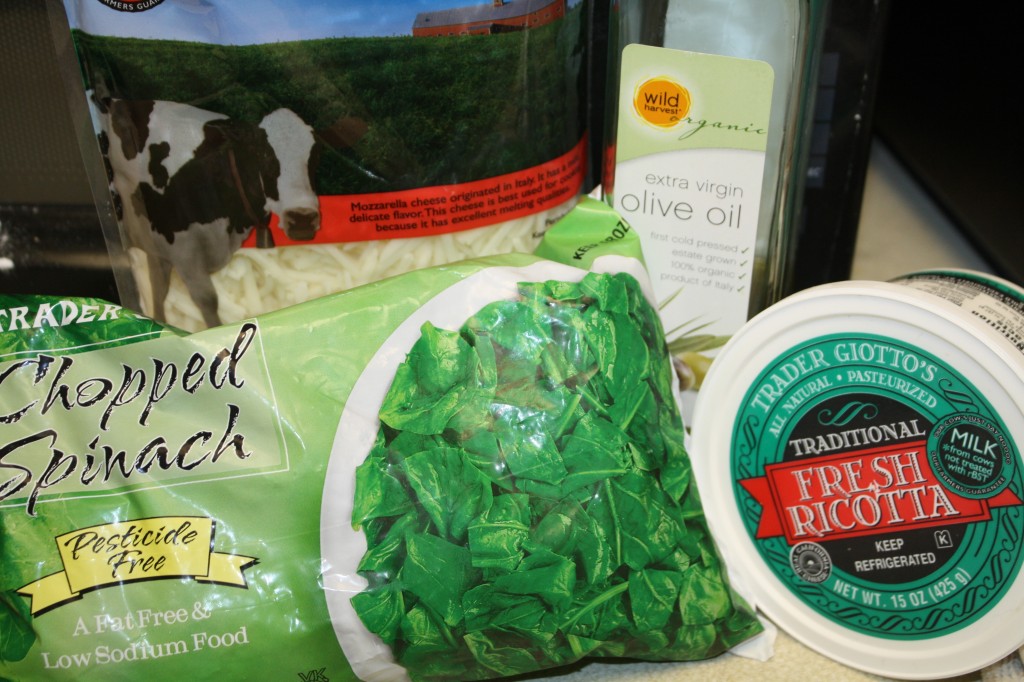 I always try to keep a bag of frozen cooked spinach on hand for recipes like this. Spinach is made up of almost 90% water, which is why when its cooked it wilts down to almost nothing. Bags of frozen spinach not only cost less than fresh spinach but also contain significantly more actual spinach.
For the calzone dough I used the same recipe from my classic cheese pizza. Once you make the dough, divide it into four pieces, roll out on a floured surface & brush with olive oil. Then spread desired toppings over the dough and brush the outer border with egg yolk. The egg yolk helps the dough stick together and creates a tighter seal for the calzone. Next all you have to do is fold the calzone together, brush with egg yolk before baking (which gives it a deep golden brown color) pierce with a fork & then put it in the oven!
Spinach & Ricotta Calzones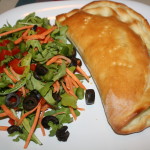 Adapted from, Cooking Light Way to Cook: The Complete Visual Guide to Everyday Cooking
Instructions
Recipe for pizza dough here.
Preheat oven to 425°.
Cook spinach according to package directions and mix with the ricotta cheese. Set aside.
Once you have your pizza dough ready, divide into four equal pieces. Using one dough piece at a time, place dough on a lightly floured surface and roll into a circle.
Brush the dough lightly with olive oil. Then spread about 1/4 cup of the spinach & ricotta mixture over one side of the dough. Be sure to leave a 1/2-inch border around the edges. Top the spinach and ricotta mixture with mozzarella cheese then brush the border with egg yolk.
Fold the unfilled side over the filling and pinch the edges together to seal the calzone. Transfer the calzone to a baking sheet coated with cooking spray.
Continue above steps with other calzone dough pieces.
Once all calzones are on a baking sheet, brush with egg yolk, then puncture with a fork to allow steam to escape during cooking.
Bake at 425° for 12 to 15 minutes or until golden brown.
Nutrition Facts (from myfitnesspal.com) Serving Size (1 calzone): CALORIES 440, FAT 15g, PROTEIN 24g, CARBOHYDRATES 51g
Print