"The only real stumbling block is fear of failure. In cooking you've got to have a what-the-hell attitude."  – Julia Child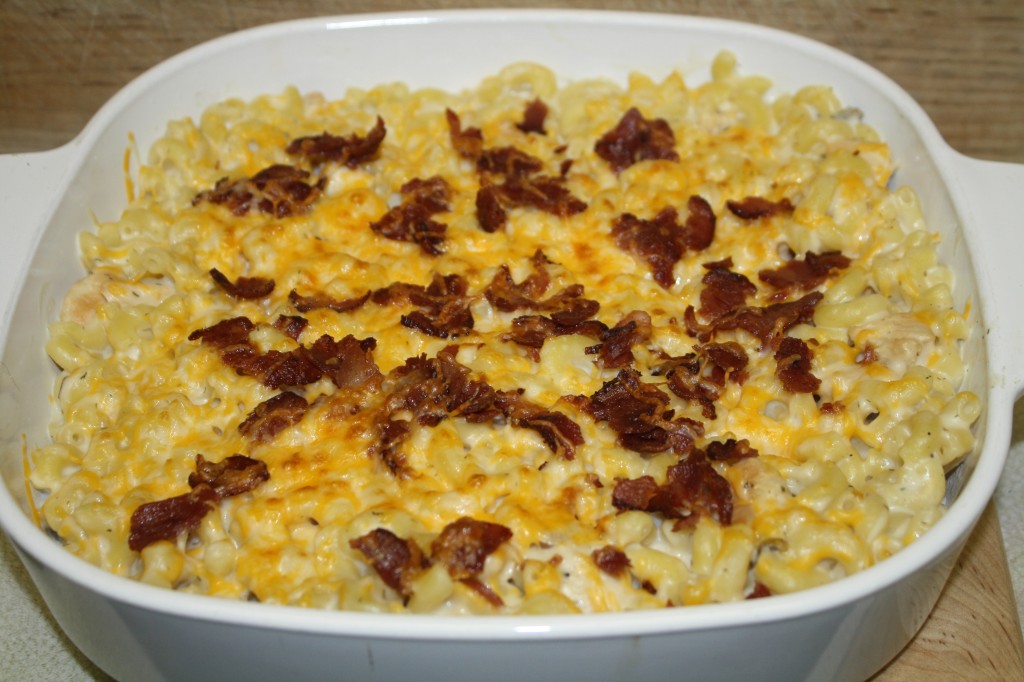 Bacon. Ranch. Chicken. Those flavors combined would have to yield delicious results, right? I have to admit though, I was a bit hesitant about this recipe at first for two reasons. There were two ingredients I was unsure about: dill and cream of mushroom soup. I thought "why would soup be an ingredient for mac & cheese?" "dill? what is that? dill pickles?" So silly…and eventually I decided to take a chance and see how this recipe would turn out. Let me tell you – it did not disappoint!
Mac & Cheese is a great recipe on its own but I love experimenting with different kinds because there are so many options. This recipe tasted great! Of course any dish topped with applewood-smoked bacon is going to be delicious but aside from that I loved the seasoning & the added chicken. This dish is healthy, easy to prepare & perfect for a comfort food craving on a weekend!
Once the cheese sauce is prepared; add in all the spices and mix well.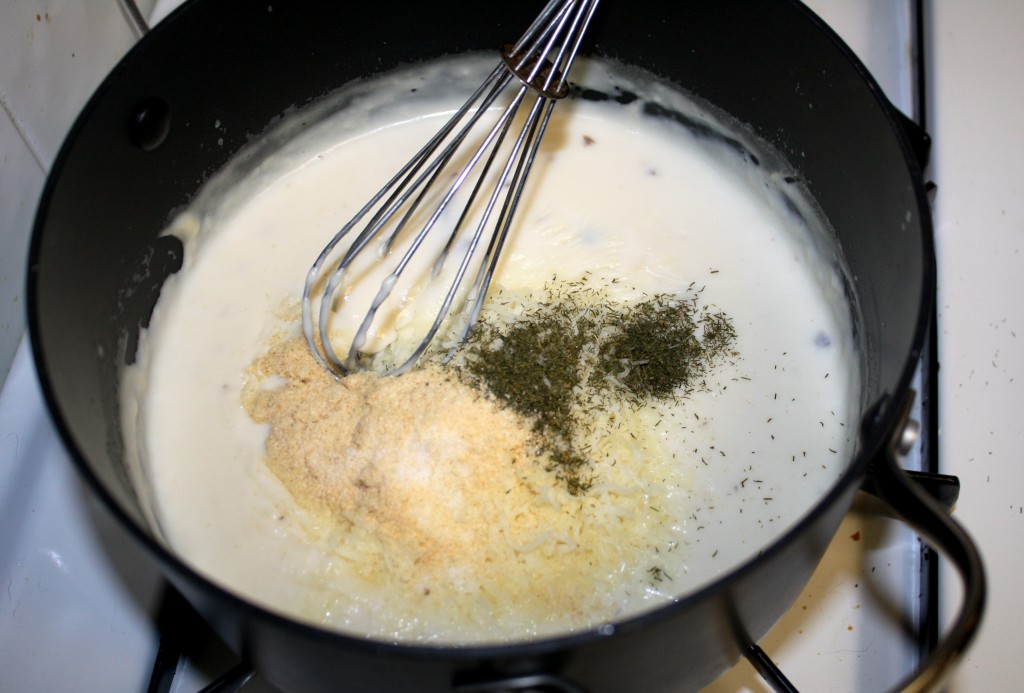 Then add in the cooked elbow macaroni and chicken.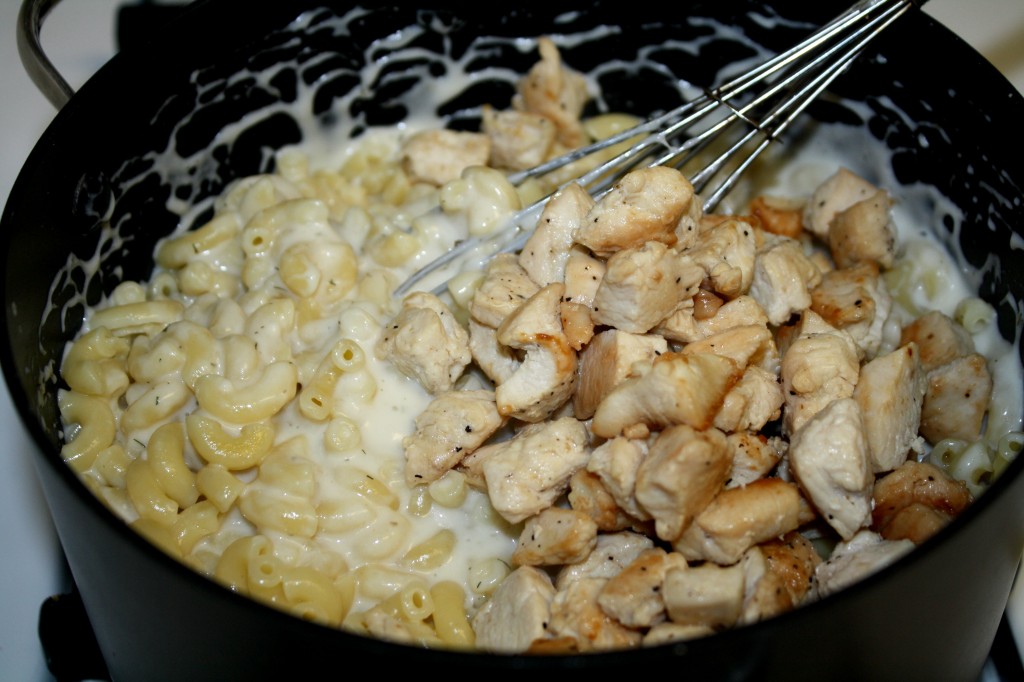 Once the chicken is evenly distributed; pour the mixture into a baking dish. Top the mixture with the colby-jack cheese and bacon & broil for a few minutes until cheese is crispy. I added a little extra bacon (I couldn't resist!)
Serve & enjoy!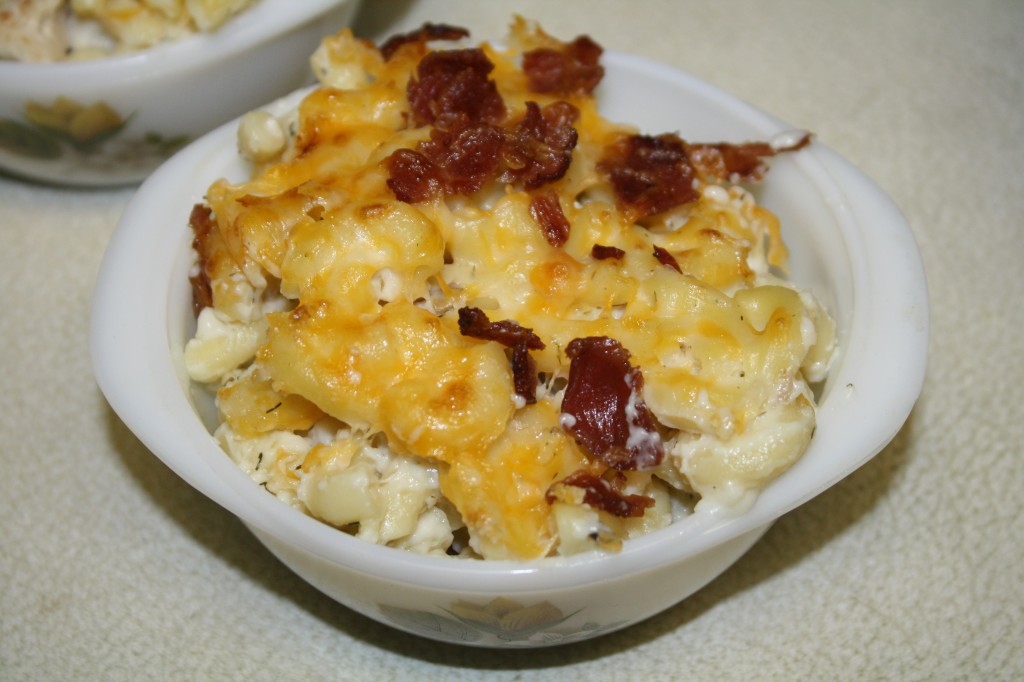 Bacon, Ranch and Chicken Mac & Cheese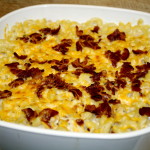 Adapted from, Cooking Light Comfort Food
Instructions
Cook pasta according to package directions, omitting salt and fat; drain.

Cook bacon in a large nonstick skillet over medium heat until crisp. Remove bacon from pan, reserving drippings in pan. Finely chop bacon; set aside. Increase heat to medium-high. Season chicken with salt and pepper (as desired) and add chicken to drippings in pan; saute 6 minutes or until done.

Heat oil in a large saucepan over medium heat; sprinkle flour evenly into pan. Cook 2 minutes, stirring with a whisk. Combine milk and soup, stirring with a whisk; gradually add milk mixture to saucepan, stirring with a whisk. Bring to a boil; cook 2 minutes or until thick. Remove from heat; let stand 4 minutes or until sauce cools. Add Italian cheese blend, onion powder, garlic powder, dill, and salt, stirring until cheese melts. Stir in pasta and chicken.

Preheat broiler and spoon mixture into an 8-inch square baking dish coated with cooking spray. Sprinkle evenly with reserved bacon and colby-jack cheese. Broil 3 minutes or until cheese melts.

**Note: dill weed can be used in place of fresh dill.
NUTRITION FACTS (From CookingLight): Yield 4 servings, serving size - about 2 cups. Per serving: CALORIES 497, FAT 17g (SAT 7.4g, MONO 4.7g, POLY 1.4g) PROTEIN 33g, CARBOHYDRATES 51g, FIBER 2g, CHOLESTEROL 74mg, SODIUM 545mg
Print