"Cupcakes are sweet and even sweeter when shared." ~ Marie Williams Johnstone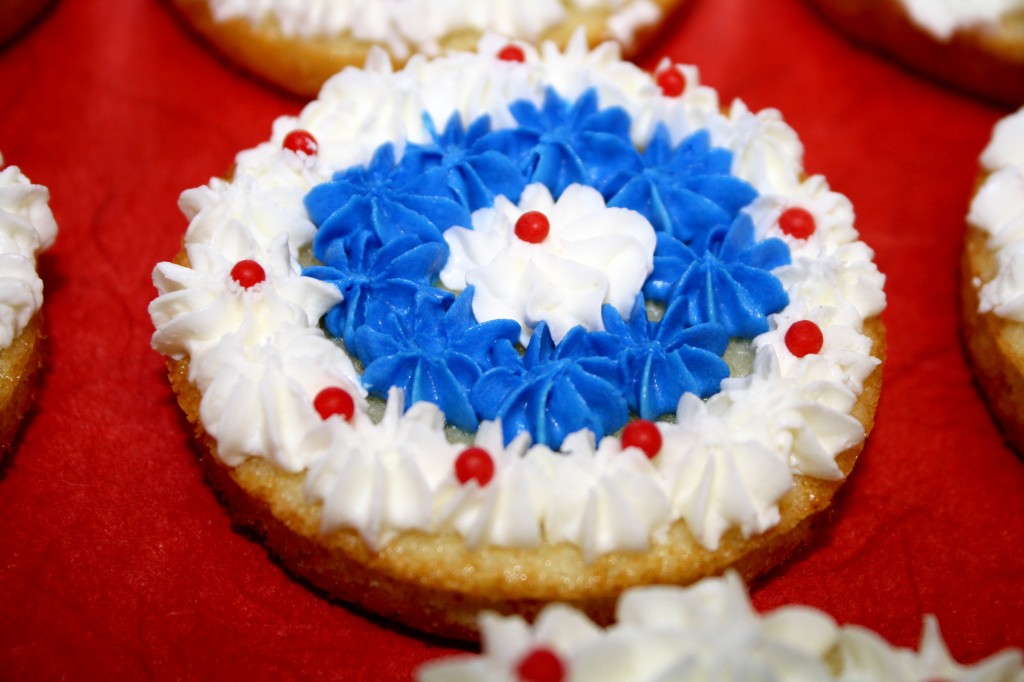 I was in the mood to prepare a fun & simple holiday-themed dessert and decided to try making cupcake tops! I found a great recipe for white cupcakes and I was able to make about 20 delicious cupcake tops total – perfect for sharing!
The baking time can vary depending on which pan you use ( this is the one I have) so be sure to keep an eye on the tops as they bake – it shouldn't be longer than 20 minutes.
As far as decorating goes – be creative! To obtain white icing I use clear vanilla extract & white icing color (it can be purchased at any craft store). I also planned on using red icing but I actually ran out of red food coloring so I opted for decorating with some red candy sprinkles I had on hand.As my mom reminded me: always have a backup plan!
Happy 4th of July!
Red, White & Blue Cupcake Tops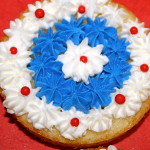 White cupcake recipe adapted from Can You Stay For Dinner? (original source: Cook's Illustrated) and buttercream frosting recipe adapted from Sweet Savory Life.
Instructions
For the cupcakes:
Preheat the oven to 350°. Spray two whoopie pie/muffin top pans with cooking spray.
Lightly whisk milk, egg whites, and clear vanilla extract in a large glass meauring cup.
Mix cake flour, sugar, baking powder and salt in a large bowl with an electric mixer. Add butter and beat at low speed until mixture resembles moist crumbs, with no large clumps of flour.
Add 3/4 of the milk mixture to the crumbs and beat at medium speed for 1 & 1/2 minutes. Add remaining milk mixture and beat for 30 seconds more. Scrape down the bowl and mix for about 30 more seconds.
Pour batter into muffin top pan (I used about 1/4 cup for measuring how much should be poured into each tin).
Bake for 15-20 minutes until done. Cool completely on wire rack.
For the frosting:
Beat butter for a few minutes on medium speed until fluffy. Add 3 cups of powdered sugar and mix on low speed (so the sugar doesn't blow everywhere) until the sugar is mixed in with the butter. Increase speed to medium and add the clear vanilla extract, salt, and 2 tablespoons milk/cream and beat for 3 minutes. If using, add a few drops of white icing color. Add more confections' sugar if frosting needs a more stiff consistency or, if the frosting needs to be thinned out add milk 1 tablespoon at a time.
Decorate cupcakes with frosting as desired (I used a small star tip & sprinkles).
Print